So, here is the rest of Telion. Hope you will enjoy it.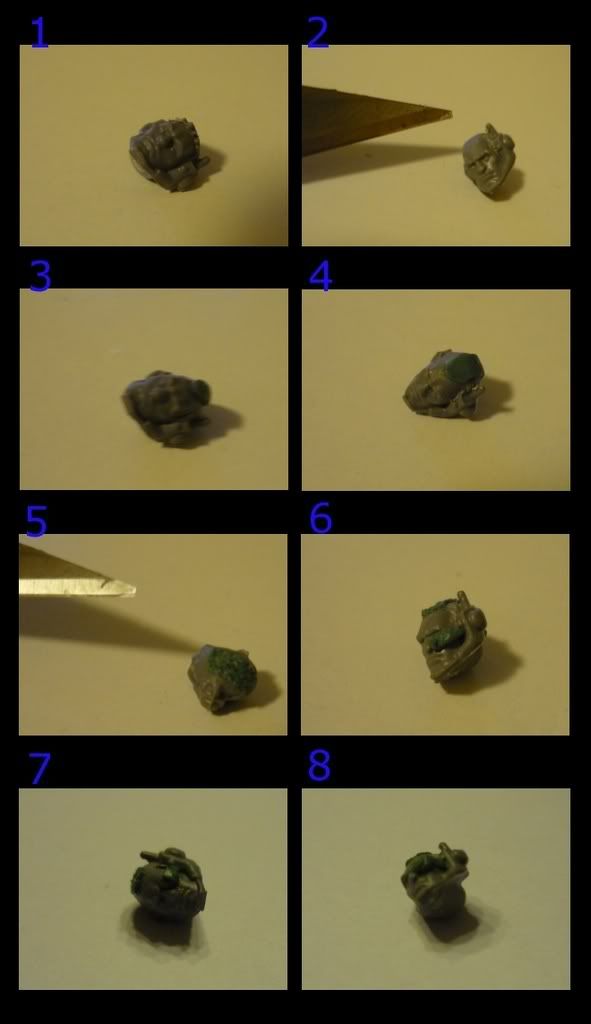 1:
Here is the original head. I decided to use another head as it is shown in the "what part I will use" picture (page 3)
2:
Use a sharp knife and cut away the hairs. Pull your knife opposite to the cutdirection of your blade over the bald head to even the scalp. You can also take a file to do this step. Do not forget the smalltalk. Every good haircutter should do that
3:
Take a short sausage of GreenStuff and place it were you want the mohawk.
4:
Use a flat tool and press the GreenStaff flat.
5:
Now use a knife again and stab it serveral times into the GreenStuff. You can also do some short cuts. The resulting pattern should be deep, otherwise it will be filled by the primer.
I decided to copy the sighting mechanism of the original modell of Telion. I know that there is such a head in the scout box, but I already used it.
6:
Use another thin GreenStuff sausage and lay it over the eye.
7:
Press it flat and bring it in form. i.e. make it angular.
8:
To make the lense, use a very tiny piece of GreenStuff and lay over the eye. Just press it in the shape of a very little rectangular prism.
So, now to the cape.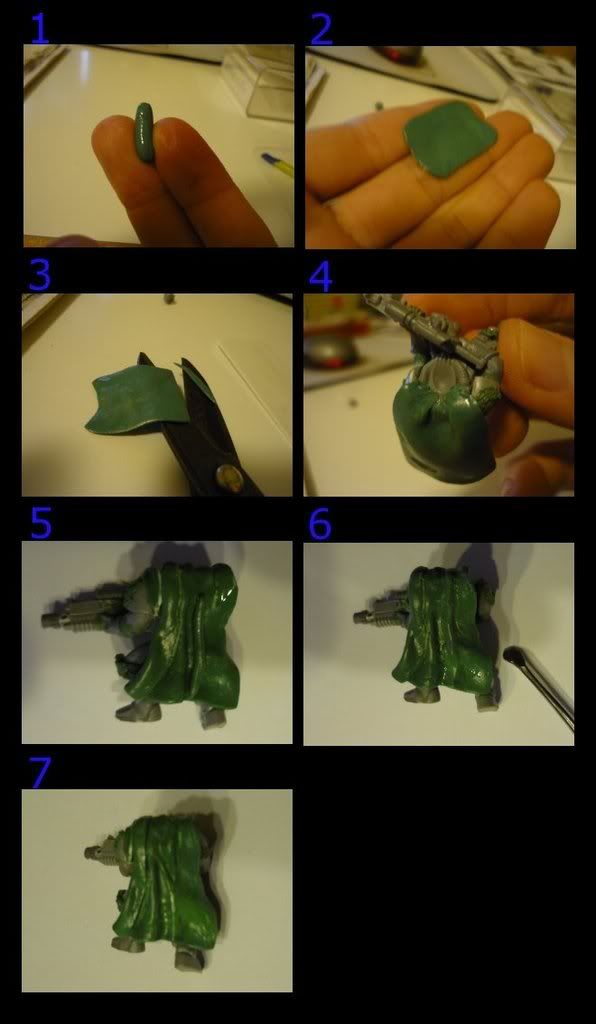 1:
For the cape you will need a lot of GreenStuff, more than usual.
2:
Take some rulers (... or something else) and press the GreenStuff flat. You will need a lot more pressure to get it flat, so take care that the GreenStuff does not stick on the rulers (no joke). Use your fingers to pull it in form. The cape should be wider than the back of the model and approximately as long as the model.
3:
Here is my secret to achieve sharp edges and angles. Use some scissors and cut off the ends of the flat GreenStuff. On the upside of the cape the cut should have a U-form. This will help to add the cape on the body.
4:
Add the cape to the body. You will find, that the cape will crinkle, but this is an intended effect. Use the folds to make the cape look naturally.
5:
If your cape does not have enough folds, wait until the GreenStuff get hard. Take some GreenStuff sausages and lay them on the place you want to have a fold.
6:
Now use a flat tool and press the GreenStuff on the outside of the sausage flat.
7:
Depending on how many folds you want, repeat Step
6
.
Che Gue'vesa wrote:
[eng] Thats so unfair, i can not compete that with my (nearly) standard german!
You gain no benefit from speaking with a bavarian dialect if you live in Franconia
Nobody understand me here
The pictures of the finished model will follow shortly.

_________________


Es ist soweit: Zwerge werfen weite Schatten