wartang wrote:
Can we see how much of a table you can cover?
I don't have quite enough to do a proper jungle table yet, but I am getting very close. I want to do one more round of plants and then I will do a complete jungle table shot.
Tael wrote:
The lighter tone seems more in sync with the full collection particularly shown by your more recent post. The jungle wet zone looks great
- Tael.
I think that I agree with you, the lighter tones do tend to look better to me also. However, for me I think it's because the lighter tones let in more light and therefore glow a little better than the darker ones. That being said, I also think that it is important to keep as broad a spectrum of shades as possible. To me this makes it look more natural.
Kern wrote:
you should definitely keep making both of them, since just that difference in tones is what makes your board so astounding (and the rate at which you produce them- are you a high speed train?)
I don't usualy make any more once I have made the first batch, I just move on to another type of plant. I try and make as many of that particular plant as I think I will need while I have the assembly line set up. The reason that I can produce so many of these is that they are very simple to make. Once heated the plastic usually only takes a second to reshape, or several seconds with rewarmming time in between for a really complex one. They almost all are only painted in one color (the lighting effects mean that I don't have to do highlights or shading). My bases are simply PVA and crushed rock that is left unpainted.
Tael wrote:
I've seen similar tall grasses (though not as translucent) in South Africa years ago. I suspect a childhood memory is drawing me to prefer one over the other.- Tael.
Kern wrote:
now you mention it Tael, that might very well be because our vacation house used to stand (still does) in the middle of a dark green fern forest
Personal preference is a strange thing with so many factors coming into the equation. Thanks, it's always interesting to hear other peoples reasoning behind their opinions. I know which ones I like and why but hearing your reasons gives me a new perspective on them.
As individual plants they really aren't all that impressive. Once you put them all together in mass is when the magic happens. I have made a wide variety of plants, some of them are very alien looking and others look like gelatinous versions of Earth plants. Strangely once placed together they seem to fit just fine.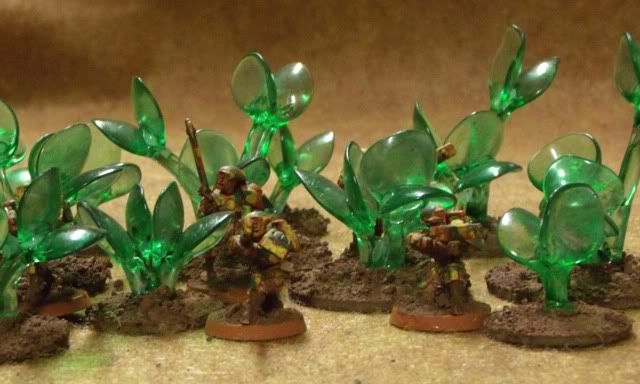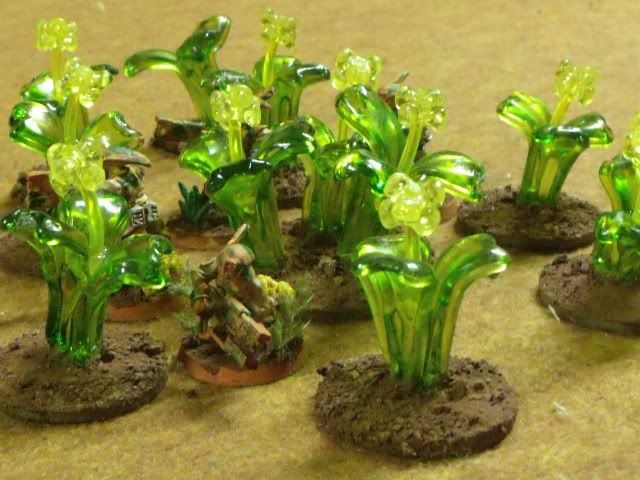 These are the last two plants in this round, they aren't my favorites, but they work fine mixed in with the others. The first one ended up looking a little spoon like for my tastes. If I were to do them again I would heat the spoons just a little bit longer. Also my glue is a slightly different color than the plastic used, and can therefore be seen. Some things just don't showup until you have painted them.
The second plant is a very small unobtrusive plant that gets lost among all of the others. Unless you are looking for it you probably won't notice it in the other pictures. I think that I really like the concept of the flower that I put on it. In the future I plan to make some small plants with brightly colored flowers to add a little bit of contrast to the rest of the green shaded plants.
Both of these plants were made from these small spoons that I found at a party supply store. If you are looking for a source of very cheap plastic, I recommend going to one of these stores. They had entire isles devoted to stuff like this, with many different sizes and types to choose from.