A playable Jungle table
This tutorial isn't about how to make terrain; it is about what to make to get the best results. It is about finding that balance between playability and realism. Everybody has their own idea of what makes a fun gaming table. I like the look of a jungle or wooded table, but they can be a bit difficult to play on sometimes. So, how do you get it to look like a jungle and still have room to move your army around in it?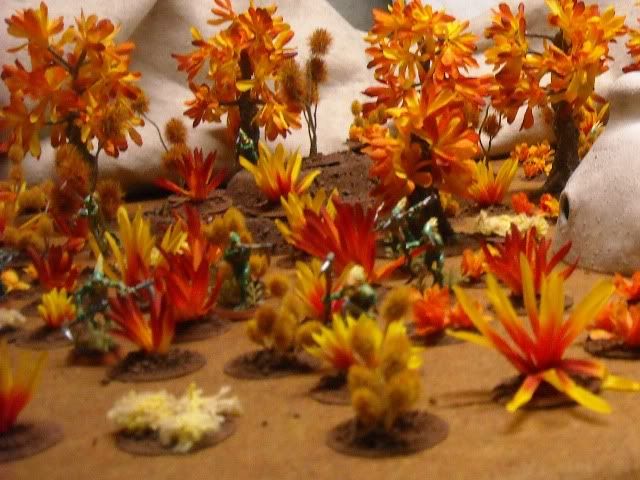 After many years of getting it wrong I think that I have finally got it right. It is all about tricking the eye into seeing something that isn't really there. When you paint a miniature you want it to stand out. When you make a piece of vegetation you want the opposite. You want it to blend in with the other plants and look like it belongs with them. You have to make it appear to be a dense jungle while still leaving enough room to play in. This can be very hard to do but I think that I have solved the problem.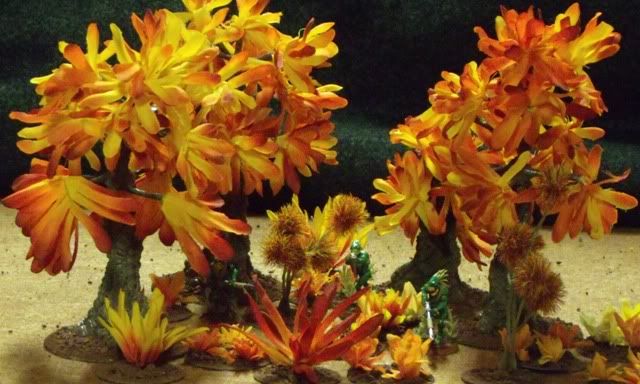 I call it "the rule of three," and here is how it works.
Rule 1, start with color; you should use at least three shades of the same color when making your plants. The more shades you use the better, but three is the minimum to make it look natural. That means three shades in one plant if possible, or three different plants if not.
Rule 2, type of plant, again you need at least three different types of plants to make it look natural. Nothing surprising in those first two, you have probably been doing them already.
Rule 3, is the game changer. I now make my plants in three different sizes. Each size of plant does something different, but needs the others to look right.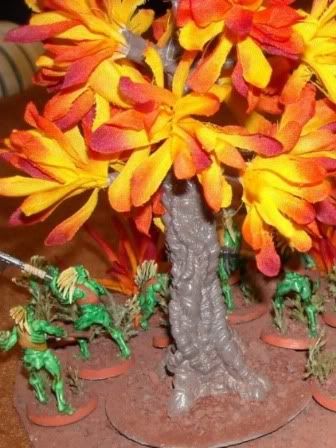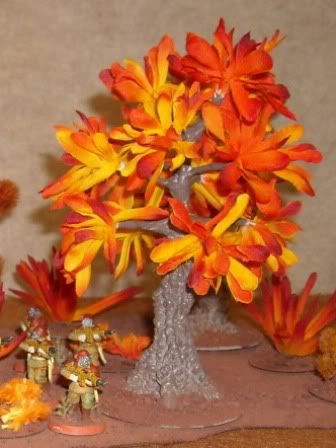 The first size is the large one or more commonly known as trees. I have found that they work best if you can fit a miniature underneath then. I now make my trees so that I can fit a fist underneath the branches. With this system you can get away with a surprisingly small number of these.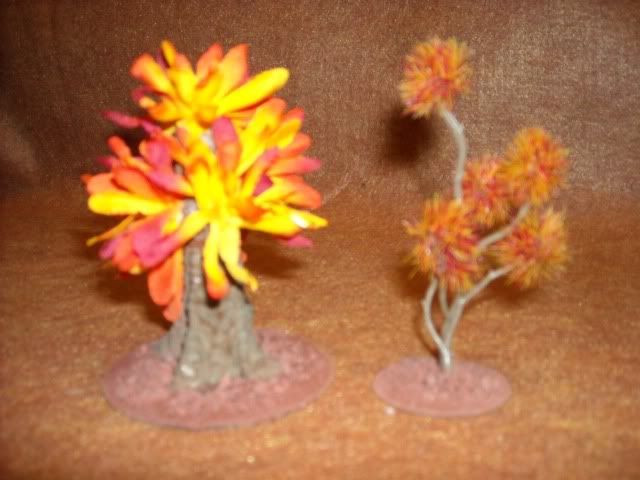 The next size is the medium, or more commonly known as bushes. These generally range in size from one to three times the height of a miniature. Again nothing surprising, you already probably have plants that fall into these first two categories.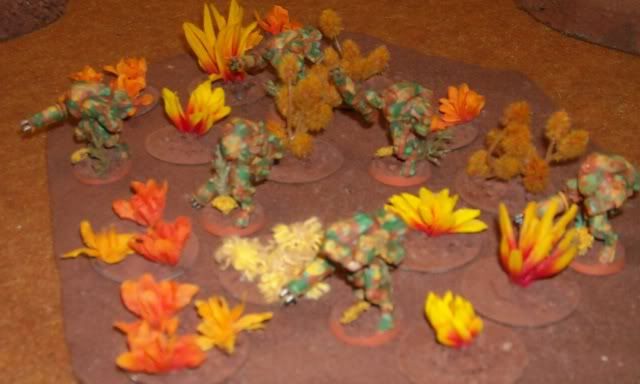 The last size is the small one, the ground cover or grasses. This is what makes it playable and look natural at the same time. These should ideally be about knee high on a miniature, but anything from ankle to head height will work. The idea is to keep them small enough that they don't get in the way of playing the game.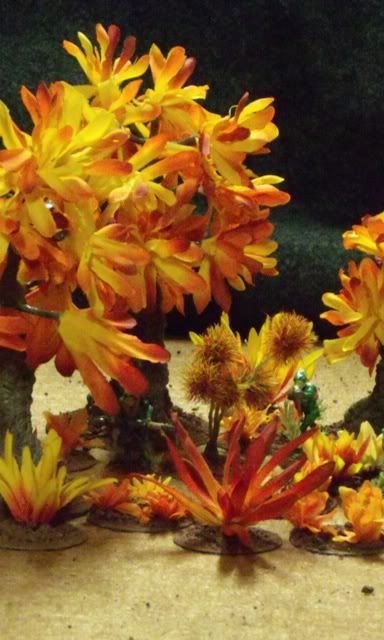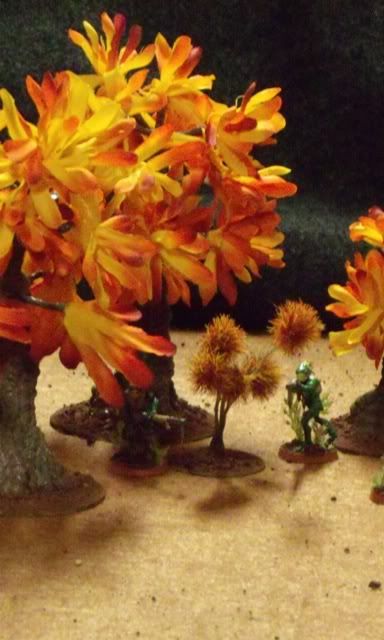 The small size ones are what give the patch of vegetation its full look. As you can see in this picture with the small size ones removed, the forest just doesn't look very full. They make the forest appear to be dense while actually leaving room for you to maneuver. The only time they should ever get in the way is when a model needs to move to that exact location. In which case you just push it to the side and continue moving the miniature.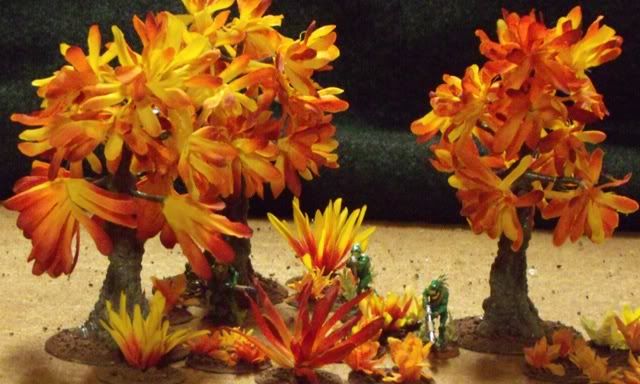 The medium ones are there to bridge the gap in sizes. When you remove them the forest looks very unnatural. Again when they get in the way, just move them to the side, and continue playing.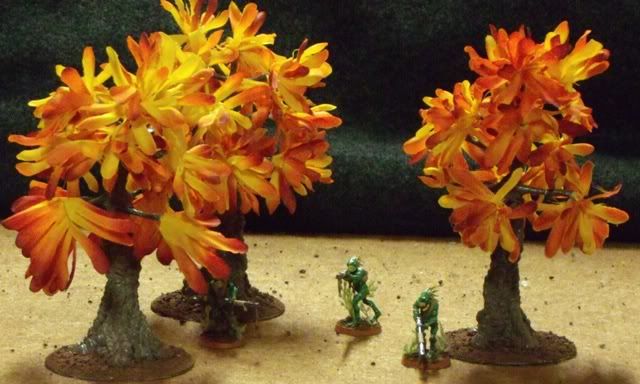 The large ones are the only ones that need to remain in place as per the Fifth Edition rules.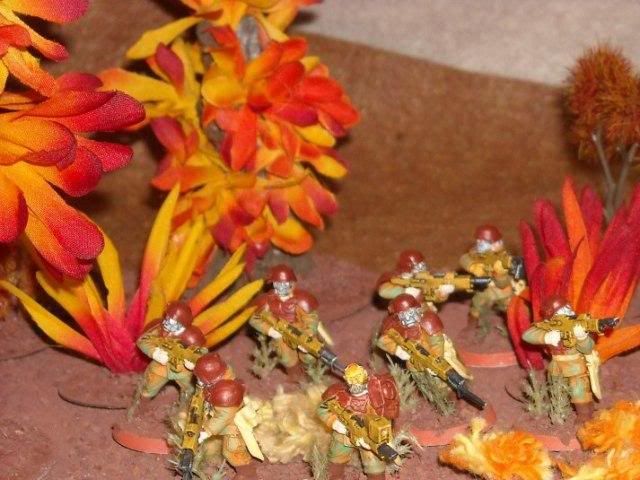 I like to make my vegetation out of soft materials, such as silk flowers, yarn, and pipe cleaners. Not only are these materials very cheap, but they tend to hold up better when vehicles and monstrous creatures are around. For some reason everyone seems to enjoy driving tanks over the top of things.