Alrighty, So ive been away for a few days on a family holiday (it was lovely, thanks for asking
) and now that im back I want to show some thing Ive been working on before I left. Its going to be tough competing for air time amongst all of this 6th ed buzz but ohwell, views don't pay the bills
. Im also planning a bit of a re-structure of this thread in the future to avoid the "wall o' stuff" look on the first page. Thats something for another day though.
Anyway, A few weeks ago I begun a little story over in the library called
seeds of fear
. In it I introduced a plucky young squad designated Dagger 3. I decided that I wanted to model each member of my team and so set about cutting (oh so very much cutting. There is pretty much 0 versatility in the fire warrior kit's arms). While I was away I had the chance to write up some background for a few characters. I was planning on showing these when they were all painted and pretty but seeing as that could be some time away, I decided to share.
I have the models finished for most of the squad (including an up till now unnamed character) and will post them up in groups. Today we have the first 3 members aswell as a synopsis of a previously posted unit; the pondskaters
Dagger 3
Dagger 3 -1
Shas'Ui Ro'yan
The 26th Tactical Interdiction cadre's fire team "Dagger 3" is led by an ambitious Shas'Ui by the name of Ro'yan. Unusually for a Tau, Shas'Ui Ro'yan is a highly physical warrior.
At all times, Ro'yan carries with him his prized possession, a finely crafted long blade which he gained after being ambushed by a lone Gue'La jungle fighter. The human warrior ripped loose the rifle from Ro'yan's grasp and a violent melee ensued. Ro'yan struggled for dear life against the burly Gue'la until help could arrive. Narrowly surviving the encounter, Ro'yan claimed the warrior's blade as a prize along with a newly forged respect for the importance of close quarters combat.
In addition to the completion of standard training drills structured by the Drill Shas, Shas'Ui Ro'yan also trains himself extensively in the practice of hand to hand combat. This has often been met with apprehension from his fellow Shas, who naturally prefer ranged fire fights to the brutality of hand to hand combat. This has caused Ro'yan to seek out others who share his affinity, and those with the knowledge to instruct him. Amongst the myriad Kroot attached to the cadre, Ro'yan found his teachers. While many amongst the kindred were originally suspicious of Ro'yan, Shaper Pasch took a keen personal interest in the Fire warrior seeking to learn the ways of his people. Under the authority of shaper Pasch, Ro'yan was taken in and instructed alongside the kindred. With time and no small amount of effort, Ro'yan has come to be largely accepted amongst the kindred as a training partner.
Ro'yan's physicality extends beyond his combat doctrine and also into his body language and behaviour as well. He is known to expresses himself through hand gestures and conveys emotion through posture and physical touch more so than with language. Those close to him have learned to interpret the Shas'Ui without speech and to follow his cues and razor sharp instincts without hesitation.
Ro'yan has proven himself nothing if not a versatile leader. Regardless what situation might arise, the members of Dagger 3 know to look to their Shas'Ui for a solution. Possessed of a keen instinct and sharp mind, Ro'yan has a talent for identifying how best to employ the resources and talents of his team.
Ro'yan has also shown himself to be a talented linguist in recent years. Thanks in large part to his close relationship with the Kroot kindred clans, Ro'yan has learned to converse in several native Kroot dialects. Even more impressively, Ro'yan has learned to interpret a number of the gestures and signals from the insectoid Vespid (although he is unable to replicate them due to Vespid communication consiting largely of posture, body cues such as wing position and a number of rapid non imatateable clicks buzzes and shrieks). Ro'yan has also rapidly developed a serviceable grasp of Gue'sia thanks to close proximity with humans during recent deployments.
Dagger 3-2
Shas'La Doran
Shas'La Doran fulfils dual roles of second in command as well as team medic within dagger 3. An acutely spiritual tau, Doran is possessed of a deep serenity and calmness that have proven invaluable during high stress situations. His voice of rationality and pragmatism has come to be relied upon by the rest of the fire team.
Doran and Shas'Ui Ro'yan have served together since their academy graduation on T'au. When it came time for their first trial by fire, Ro'yan progressed to the rank of Shas'Ui while Doran opted instead to remain a Shas'La and undertake advanced specialist training instead. Upon the completion of his medical training beneath the Fio, a reserved position awaited Doran within fire team Ro'yan.
Doran is equipped with an MV-13 field medical suite as well as a DX-33-2 medical assistant drone. The medical suite consists of a gauntlet equipped with an array of diagnostic scanners as well as an extendable hypodermic needle linked to back mounted containment Chambers. The needle can be used to inject stimulants, inject sedatives, take samples or even perform blood transfusions depending on the contents of the containment Chambers. The needle head is ejectable and can be replaced with different diameter tips dependent on the needs of the procedure. The retractable needle is stored safely inside the wrist of the gauntlet until it is used. The extending mechanism can also be pressure loaded in order to pierce through layers of protective clothing and the tough hides of Empire member species. A number of more "extreme" Shas have modified this pressure mechanism for use in close combat as a spring loaded dagger. Some have even gone so far as to load potent injectable toxins within one of their containment Chambers, though this is largely frowned upon.
The DX-43-2 medical drone is used as a mobile toolkit to carry equipment and supplies that would otherwise slow a medic down. It is equipped with a full range of advanced sensory equipment including optical, auditory and electromagnetic sensors. Using these sensors the AI can be tasked to perform a sweep of an area in order to locate casualties for treatment while the medic remains in relative safety. Once a casualty has been located, the medical drone is capable of assisting a medic with a variety of procedures as well as being capable of independently performing a number of simple actions such as administering an injection or cauterizing a wound with its retractable arm.
Dagger 3-3
Shas'La Lynu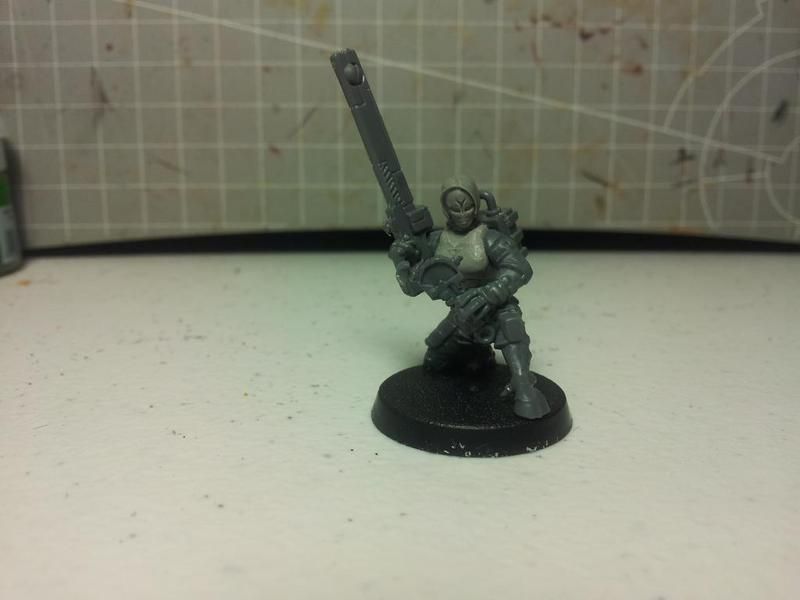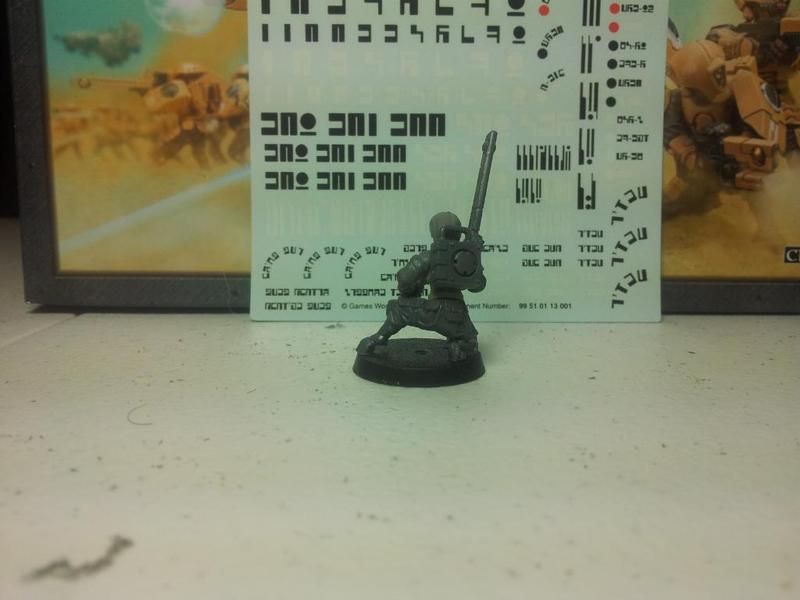 The role of tech engineer within dagger 3 is filled by a spirited young Shas named Lynu. She is slight of build for a Shas but more than compensates for her physical presence with her spirit. Her name literally translates to "persistent" or "steadfast" and she exudes these traits in abundance. She is known for her single mindedness once she has set a task for herself. This can sometimes lead her to act stubbornly or even irrationally at times.
Lynu has served on active duty for a number of years but still displays a fresh faced naïveté uncommon for a battle tested Shas. Despite the coarse rigors of battle, Lynu has remained an idealist. She is quick to speak out against that which she sees as unjust and bluntly refutes those who reason that there can be no room for morality in war. Once she has worked herself up over a subject, there are few things capable of swaying her. One noted exception though is the voice of Shas'La Doran. The fact that the supremely compassionate Lynu allows herself to be swayed by Doran's dry pragmatism speaks volumes of the esteem in which she holds the grizzled medic.
Lynu's single minded personality serves her well in her capacity as the team engineer. Whether re-routeing an electrical system or cutting open a bulkhead, her tasks require intensive focus and concentration even while under fire. Her penchant for becoming totally engrossed by a task regardless of any kind of high stress situation has proven to be one of her most valuable and simultaneously dangerous traits.
Lynu is equipped FTU-33 field Utility pack with an attached FV-03-2 Arc Welder. The Utility pack carries an extensive range of specialised tools as well as an integrated micro scale fusion reactor. This reactor supplies the considerable energy demands of the Arc Welder. The Arc Welder is a portable, variable output, hand held tool capable of both cutting through and welding shut armoured bulkheads in the field. The FV-03-2 model contains a high capacity Ion Charge pack within its handle allowing the arc welder to operate while detached from a utility pack. The Arc welder will need to be re-connected in order to maintain sustained operation however.
Pondskater squadron
Due to the tendency for tactical interdiction cadres to operate within enemy lines, T.I.C units cannot always depend upon standard intelligence assets. In order to seize and then hold their objectives against counter attack, it is essential for the cadre to have accurate up to the minute information. This has given rise to increased reliance on tetra scout speeders within many T.I.C units.
Unlike infantry based pathfinder teams, tetra speeders are capable of keeping pace with a T.I.C cadres armoured actions without the need for large dedicated devilfish transports. Tetra equipped pathfinders are capable of moving independently of external support while remaining small and agile enough to evade detection as well as fast enough to escape hostile contact. These capabilities make tetra squadrons ideal outriders for armoured columns while identifying targets and threats in the path of the task force.
Once the Cadre has reached its objective, tetra squadrons switch seamlessly from a reconnaissance element to a combat support role. Utilising high intensity marker light technology, Tetras accurately mark high value targets for destruction by the cadre's fire support units.
Once the objective has been seized the tetra squadrons will once again change roles to return to their original reconnaissance task, providing an early detection network against hostile counter attacks until such time as the cadre is prepared to withdraw with their objectives accomplished.
So reliant have certain Interdiction cadres become on their tetra speeders that a system of aerial deployment has been devised specifically for use during T.I.C airborne operations. Utilising externally attached retro boosters combined with the maximum output of the skimmers anti-gravatic engines, the tetra can be deployed from the rear hatch of an orca dropship at altitude. The anti-gravatic engines coupled with the additional thrust of the boosters slows the tetras descent allowing it to land safely. Upon touch down, the expended boosters are automatically detached and abandoned as the tetra departs to pursue its objectives.
This type of deployment isn't without its inherent risks though. The boosters output must be carefully recalculated based on the atmosphere, gravity and myriad other variables for each planet. There is also a precise altitude range in which this maneuverer must be performed in order to succeed. Deployed too high, the boosters will be exhausted before making planet fall. Deployed too low, and the boosters will have insufficient time in order to slow the skimmers descent. Additionally, should a single booster fail during descent either due to malfunction or enemy fire, the tetra will spiral violently and irreversibly out of control.
Because of the significant risks involved and potential for catastrophic failure, aerial deployments are attempted only by the most fearless or foolhardy of skimmer pilots. The members of the 26th T.I.C's "pond skater" squadron can be counted somewhere between these two traits. Undoubtedly talented pilots, they have often been chastised for their reckless behaviour though. The unit earned its name for the tendency of its members to adjust their gravatic fields in order to make their vehicle hover lower to the ground. It has been argued by squadron members that this is in order to minimize the tetras profile during reconnaissance operations. Most outsiders speculate that it is instead a rite of passage simply to display skill or bravado.
The pond skaters are headed by Shas'Ui Ar'Raik piloting Pond skater 1. A talented, albeit slightly eccentric warrior of exceptional experience, Ar'Raik stands as the 26th Tactical's longest serving active duty Shas, having been a member of the cadre before even Shas'O Kar'tyr'Vash. Many years ago, Shas'Ui Ar'Raik and his pathfinder team even saved Vash's life (who was at the time, a Shas'La) on the formerly Ork held world of Tal'scea.
Ar'Raik enjoys an informal relationship with O'Vash, thanks in part to a respect founded during a time when Ar'Raik out ranked him, along with the fact that Ar'Raik was a close friend of Vash's former mentor, Shas'Ui Dier. Despite never progressing beyond the rank of Ui, Ar'Raik has organically shifted to take place as the unofficial co-ordinator of the cadre's recon and intelligence assets.
Prone to speaking in a convoluted and whimsical fashion, Ar'Raik is often described as confusing or off putting by those unfamiliar with him. His habit of referring to Shas'O Kar'tyr'Vash, his commanding officer and a grizzled veteran in his own rite, as "young one" has raised more than a few eyebrows. Coupled with his tendancy to sing or hum cheerfully to himself while in the thick of battle, more than a few have come away shocked after their first encounter with the Shas'Ui.
His tetra speeder itself is also indicative of his personality. While many team leaders within the 26th have embraced Vash's practice of marking themselves with ancient fire caste iconography, Ar'Raik has taken the practice a step further by covering most of the hull of his skimmer with the symbols. He reasons that; as the trunk of a firax tree is decorated by rings with age, so too should his markings become more ornate with his age.
Ar'Raik also boasts a deep, verging on unhealthy love for seeker missiles. Nothing brings joy to the old Shas' eyes like the howl of a seeker missile in flight. It is a well-known fact within the cadre that the last remaining seeker missile is always reserved for Shas'Ui Ar'Raik's use. Those who forget this ruling receive Ar'Raik's own brand of disciplinary action, the last incident resulting in a number of a Shas'La's personal possessions being strapped to an outgoing seeker missile.
Confused first impressions aside, Shas'Ui Ar'Raik has proved himself a supremely capable leader. Ar'Raik's skills and experience have made him a highly valued member of the cadre. His eccentricities exude an unfamiliar charisma that pushes those around him to willingly perform acts of seemingly reckless bravery. Many a Shas'La have been saved by a markerlight guided seeker missile thanks to the actions of Ar'Raik and his team.