After painstakingly comparing the Tau symbols on the Transfer Sheet to the symbols in the
Tau Lexicon
I have successfully translated all the symbols on the transfer sheet. The text translated and the text it is translated into will be the same color for easy reference. All Text has been translated from top to bottom (and read from left to right) unless otherwise specified. I apologize for poor image quality. Please note that this translation may not be accurate due to the nature of the transfer sheet.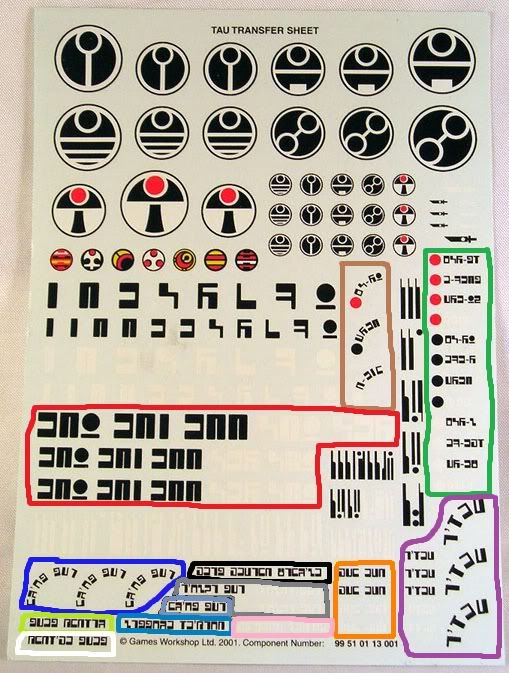 P4-50
H532
N-31O
P45-ST
A-732S
H53-0J
N31J
P4-50
A73-5
H532
N-31O
P45-L
A7-3C(K)T
H5-3V
N31-1
(Translated from left to right)
320
321
322
420
435

Or'es Shi
Kais Kauyon Vior'la
Cho Aun
Y'Tau
Y'Eldi Shi
or'es shi(y)
Shas Montyr
Liserra Ta'myen
Mont'ka Shas
Kovash Tau'va
Comments and critiques are welcome. Please note that I did not translate the sequential numbers. Also if someone could tell me what the symbols under Commander Farsights "Sept" Markings are it would be greatly appreciated.