Quote:
Dead. Raivath was dead.
Its glimmering crimson seas were gone; sucked away by the enormous mouths of some abhorrent beasts. The swaying golden crops that spread across the surface of the planet were also gone; long since devoured by the billions of creatures that swarmed its surface. From the shuttle, Veteran Sergeant Akhil looked mournfully upon his planet. Its surface was no longer the paradise it had been, but a swirling mass of black tides; the inky shapes made up of ravenous monsters.
Everyone in the Thunderhawk was quite. No one dared to speak for fear that they would lose their resolve. These men were not the experienced and hardened Battle Brothers, numb to sights of death and destruction that would break the sanity of mortals. They were all scouts; young and inexperienced. And they had all witnessed the destruction of everything they held dear. In the corner, the powerful Chief Librarian Faris sat in meditation; something he had been doing since they boarded the Thunderhawk after abandoning Raivath. His silence unnerved Akhil.
It wasn't supposed to have ended this way…
Akhil remembered the last days on the surface. He could still see Chapter Master Ojayit as he dove head first into the swarm that overtook the palace. By his strength alone the tide was held back; his relic blade cutting and slashing while his legendary sunfire pistol vaporized scores of beasts. But it was not enough. Eventually, even the honorable Master met his end; impaled by a massive Carnifex's talon. His Honor Guard fought furiously to recover his body, but by then the survivors needed to fall back. Akhil hoped they succeeded; the Master deserved an honorable burial.
Glancing around the shuttle he could see the pain and loss radiating out of each Scout. He knew that what hurt them most was not fear of the enemy, but their failure to defeat them. For months, preparations had been made to deal with the Tyranid attack. Three routes had been carefully planned to allow all of the civilians and PDF forces to evacuate and reposition themselves to better repel the enemy. A perfect plan…or so they thought.
His thoughts drifted to the civilian fleet they evacuated from Raivath weeks ago. These ships were en-route to the safe zone established on the planet Rajit. The evacuation fleets on the other two routes would then follow once they settled in. But what they couldn't have foreseen was the Genestealer infestation on one of the ships. Akhill shuddered to think of the thousands of colonists on Rajit who opened that ships door, expecting to welcome their refugee kin, only to be greeted by the thousands of fanged mouths that burst from within. They had lost all communication with their forces on the surface. Akhil hoped that some survived.
Looking out the Thunderhawk's viewport he could see the ragged remains of his Chapter and the few dozen civilian craft they defended. The powerful
Husaam
, one of the two Battle Barges controlled by the Chapter, sat stoically at the front of the convoy; its gun prepared to repel the oncoming Tyranid forces.
Suddenly, the Librarian opened his eyes and abruptly stood up.
"Brothers," he said, his baritone voice filling the cabin, "It appears that a unique opportunity has presented itself. This fight will be over soon."
Akhil turned to look out the shuttle viewport and saw dozens of curved, almost fish like vessels appearing through the inky darkness of space. As they got closer he was able to make out their design.
Tau.
---
So the time has come. I have tried to resist it for a long time but I have finally been pulled in. That's right….I am starting a Space Marine army. Why? Well for one, I have added a lot to my Tau and feel like I need a little change. I think it would be interesting to see what I could do with Marines. For those of you not familiar with my Tau, they are my beloved ARC-16's. You can see my completed models in their
collective background thread
(each model has a name and a small history) as well as my
current log
with some reinforcements.
Now does this mean that I will stop working on my ARC-16's? Of course not! I love my Tau, but I know that when the new codex comes out we will be getting some new toys and I want to conserve my energy for this. So count on seeing some sporadic updates for my ARC's as I go, but I hope to keep these Marines moving along regularly.
Army Background/Basic Premise:
Located on the Eastern Fringe, the Guardian's of Raivath are a Chapter that wish to return to the old ways of the Imperium; the age of science and reason the Emperor sought to bring. They became aware of how far the Imperium has fallen since the days of the Great Crusade after uncovering a functioning "time capsule" or sorts that was created by a Rememberancer attached to the Ultramarine Legion working in this area of space. The discovery sparked the Chapter to begin doing away with the religious dogma so prevalent in Imperial society and instead take on a more rational view. The people of the region followed the example of the Marines and over the course of several decades a very different society began to blossom.
The star system they protect had been surrounded by warpstorms about the time that this discovery was made, thus preventing anyone coming in or out. This would later prove to be a great disadvantage to the people of the Raivath system, as once the storms cleared, they were greeted by a silence in the warp they had never encountered. It was then that they Tyranid fleet came.
The Marines sought to evacuate their civilian populations as best they could, but circumstances beyond their control forced them to fight a war on several fronts, culminating in the destruction of all the Marine Companies with the exception of half the entire 10th Company, half of the 1st and a few scattered elements aside. This was also at great cost to the pursuing Hive Fleet who saw their fleets reduced to one Hive ship, despite ravaging every world in the system, save for one.
The Marines fell back with the refugees, protecting them from the remaining Tyranid. And it was at this crucial moment that they encountered a Tau Expeditionary Fleet. Seeing the situation, the Tau offered their assistance; something which the Marines begrudgingly accepted. With their combined efforts they destroyed the final Hive Ship and thus ended the threat of their pursuers.
It is at this delicate time that we join in the story of the Guardian's of Raivath. How will they respond to the Water Caste's offer of peace and relocation for their civilian population? How will they rebuild their fighting strength? Are there any other survivors left in the system?
The List:
So what list are we gonna be working up to?
++
HQ
++
Captain Raahi (Shrike Count-as)
Captain Taksheel (Lsyasander Count-as)
++
Elites
++
10x Terminator Squad
-Chainfist
-Heavy Flamer
-Assault Cannon
10x Terminator Assault Squad
1x w/ Lightning Claws
9x w/ Thunder Hamer and Storm Shield
++
Troops
++
6x Scout Squad
Veteran Sergeant Akhil (Count-as Telion)
1x Missile Launcher
4x Sniper Rifle
Srg. w/ Teleport Homer, Power Fist
4x Combat Blade, Bolt Pistol
Srg. w/ Melta Bombs, Power Weapon
4x Combat Blade, Bolt Pistol
Srg. w/ Teleport Homer, Power Fist
4x Combat Blade, Bolt Pistol
5x Scout Squad w/ Camo Cloak
4x Bolters
1x Heavy Bolter
++
Fast Attack
++
1x Land Speeder Storm with Multi-Melta
1x Land Speeder Storm with Heavy Flamer
1x Land Speeder Storm with Multi-Melta
Is this list really effective? I think it could be. Although, I image it is a one trick pony. It was originally made by Fritz with a few changes made by me. The Assault Termie's infiltrate in with Shrike, while the LSS's and their accompanying Scout squads infiltrate and scout near the enemy. My other two Scout squads bring up the rear, pinning down enemies with Sniper Rifles and laying down some Missile fire. The other Termie squad takes advantage of the Teleport Homers, laying down some bolter fire while getting a boost from Lysander's special rules. Oh and the Camo cloak scout squads can benefit from the Bolster Defense rule, giving them some really strong cover. This list is not up for debate, as I really won't be playing (I am more a hobbyist than a gamer). It is simply something that I think would be fun to do.
Army Theme:
So first thing you'll notice is that there are no Tactical Squads or really any power armor beside Raahi, the Shrike count-as; the reason being that I have always found a lot of power armor lists to be very boring. I have always liked the idea of an army with stark contrasts, being filled with rookies and elite veterans. So maybe I will add some Tac Marines in the future…probably with a drop pod.
The GoR will be masters of lightning strikes and covert infiltration and I want each Marine to give that appearance.
Army Modifications:
So let's get down to some business.
The Terminators that I plan on using for my regular Termie squad are the Space Hulk ones with a few Black Reach Termies thrown in. The biggest change you'll see on them will be the removal of all skulls, scrolls and other esoteric images (as best I can). I have never liked that part of the Marine aesthetic, so I will be getting rid of them. What that means for me though is a lot of filing and gap filling. But those Space Hulk models are so cool that I must use them!
As for the Assault Termies, I have one issue: I hate the current Storm Shields. Big crosses? Come on. I want them to look sci-fi, not like knights of the Holy Roman Empire! So what the heck can I use for Storm Shields? I want something that looks like a genuine piece of high technology, but I can't find anything that would work. Any suggestions? I know Chapterhouse has some, but they are not the look I am going for.
As for the Scout Squads, I will be heavily using the modified Scout bodies that come with the Landspeeder Storm. I think these offer some great poses and can provide some uniqueness to an otherwise bland part of the Space Marine army. One issue I have though, is that I hate unhelmeted Marines. So what can I use for helmets?
Here are some ideas I've seen (NOT my models):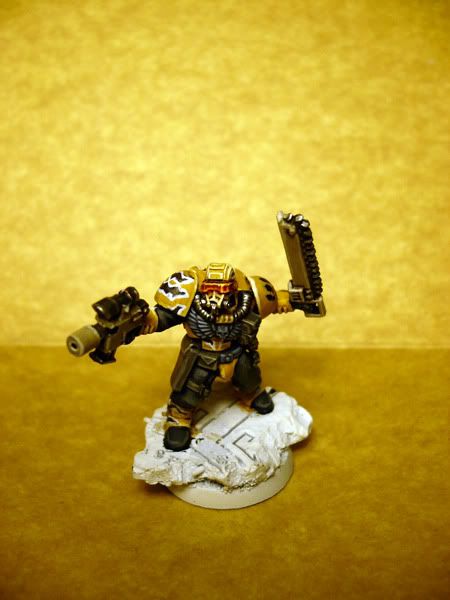 Elysian heads, while way cool, can be pretty pricey. And I'd have to wait like three months to get them from Forgeworld. So any other options would be welcomed. Although this is my favorite of the bunch.
Modified Space Marine helmets are an option, but it might be hard to get them to not look so goofy. No offense to this guys army. Just not my style.
Cadian Storm Trooper heads are an option, but I don't care much for the look. Plus, I would probably have to get them from Forgeworld so there is the expense/wait to consider.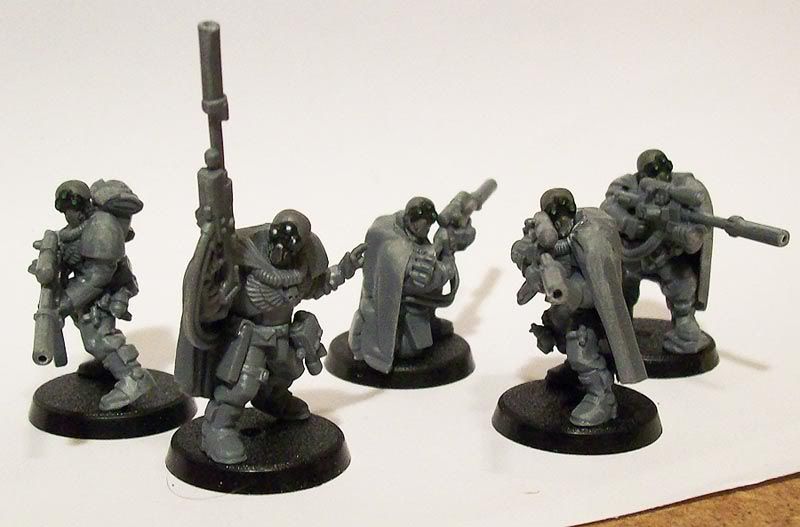 These are apparently from an AT-43 kit, but I have no idea how to source those parts without buying whole models.
So those are a few ideas to get the creative juices flowing.
Color Scheme's:
I have recently become enamored with the colors used by cultures in India and the Middle East and I would love for that to be reflected in the colors worn by my Marines. However, I would also like for them to look a little more akin to modern, secular armies. It's hard to find a balance with such conflicting styles, so I have come up with four options.
Scheme 1: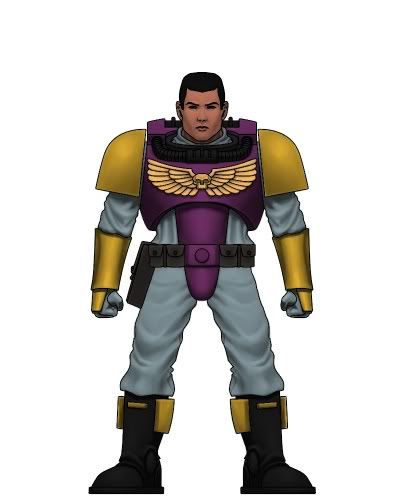 So here is the first scheme. This is definitely the more outlandish of them and consists of Liche Purple and Golden Yellow. I have also thought a purple army would look cool, but I don't think I'm sold on it. Thoughts?
Scheme 1a: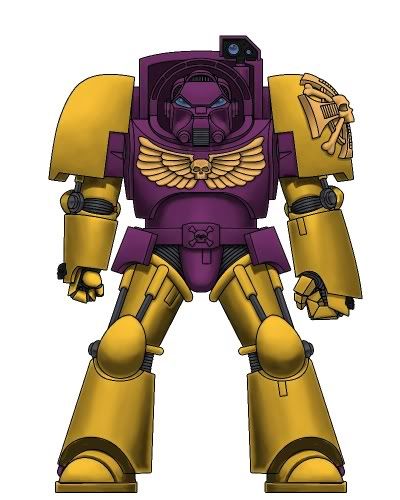 Now this is just a slight variation of the first scheme and reverses some colors. I think I prefer the yellow heads better. The Scouts would stay the same color.
Scheme 2:
Now here we have the most subdued of the schemes and probably the closest to "secular" military colors. It is Chardon Granite for the main color, with Orkhide Shade for the green accents and Iyanden Darksun on the chest. The aquilla is painted Tin Bitz and the eyes are going to be a Shining Gold.
I like this look, but I know that Chardon Granite is a tough color to highlight, so may prove to be a bit of a challenge for me. Still, challenges are good, right?
Scheme 3: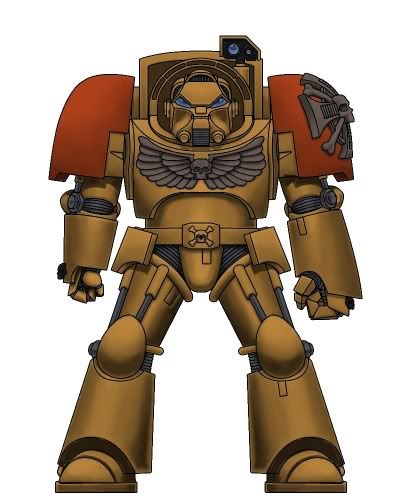 Now this is probably my favorite scheme. It uses Iyanden Darksun for the main color with Macharius Solar Orange as the accent. Enchanted Blue lenses and Tin Bitz aquilla. I think this reflects the middle eastern vibe I was going for, while staying to true to a desert camo, modern military look.
Scheme 4: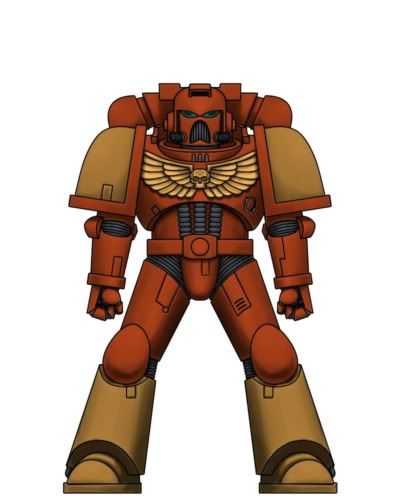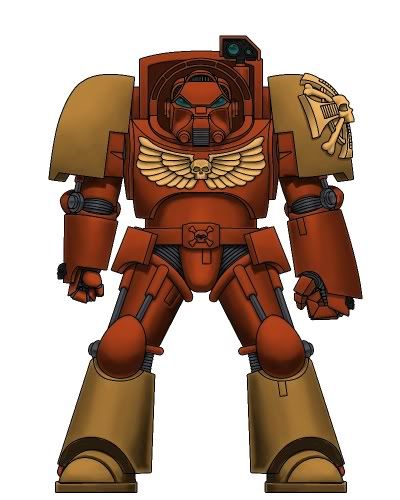 Again we have a color reversal from the last one. This would give them a little more flavor while keeping them still within the bounds of desert camo (sorta). The only difference is a Shining Gold aquilla and Scaly Green lenses.
So out of all those options, which do you folks think would be my best option? I am leaning toward the 3rd scheme, but some feedback would be helpful.
---
So there you have it; the start of my Space Marine log! I thank everyone for reading this and thank everyone in advance for their replies!