Che:
Haha, I don't think I can top that shield! But I have always liked the little Target Lock view slot.
Null:
Yeah, the shields arrived nice and safe! Thanks again! You will be seeing your character soon...
Theambit:
Well I say pick up those parts if you can; they are very nice! However, the new Tomb King stuff seems to have a lot of Khopesh-like weapons in them, so maybe give that a look.
As for the shield, I thought the same thing the first time I saw them. But here is where I am going with the Assault Termies. They are part of the Chapters 7th Company who specialize in infiltration and hand to hand combat. Game wise, they will be paired up with Shirke to take advantage of his Infiltration ability. So I was thinking about how I can make them fit this theme of infiltration better. With the exception of the two Space Hulk Termies I have in there, the other eight are pretty plain. They don't really have Aquilla's on their chests and they will generally lack any flashy bitz. These guys are the type that don't really laugh or smile. They are detached; almost robotic. And since they specialize in infiltration, why not use this as an opportunity to change up my color scheme a bit? Here are some examples I liked from IA:9
This is the Red Scorpions Ash Infiltration Camo (yeah, Red Scorpions in camo doesn't make sense). Anyway, I like the obvious stealthy colors and the almost "cloudy" color the armor has. My reservations with this is that it might be
too
dull of a color and it might cloud out the details of the model.
This is the Raptors tundra camo. I like it since it is achieves the look of camo, but still shows details on the model. My only reservation is that I have a grey army already and I have some Stealth suits that are
very
gray, so I don't know if I want to do it again.
Now, these next two are what I am leaning towards a bit more.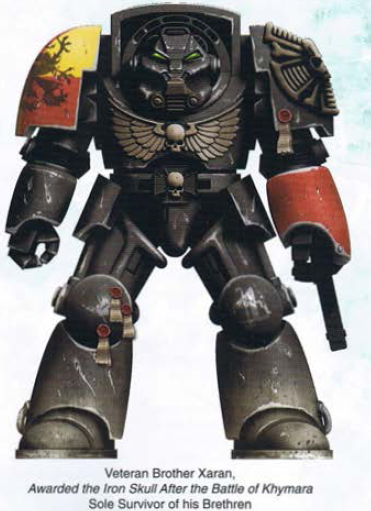 How awesome is that Terminator!? I really like the one shoulder pad colored and the powerfist. The colors would of course be yellow. My only issue with this is that these guys will not have a power fist in the group, so I guess there would only be one part with color (the shoulder pad).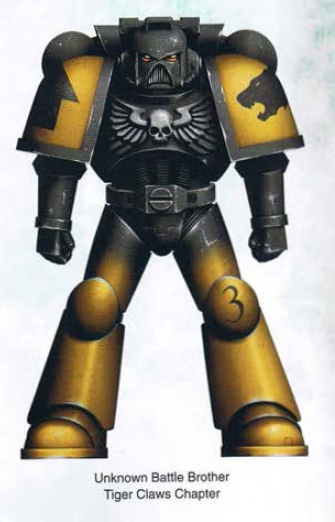 Now this might be the winner for me. It includes the yellow of my chapter, but has the black to give it a stealthy look. I honestly see no down side to this one!
So what do you guys think?
Now let's briefly talk about the shields themselves. Null did a great job making a simple, modular shield. It comes in 3 parts, the center and then the two ends. So I always have the option of removing the top plate section and leaving that open so you could see the Termies face. But trust me when I say that I will be repositioning the arms to give them more life; so they won't be blocking the model entirely like you saw in the one picture.
Now, what can I do about painting them?
1.) Freehand some large heraldry or tribal symbols on them. I'm hesitant to do this since I suck at freehand and I think it might be a bit too ostentatious for my Chapter. Plus if I want to do the guys in stealth patterns, then a colorful mural seems out of place.
2.) Subtle, with the Chapter symbol in the center. The exact color of the shield would depend on what color I pick for the Termies.
3.) Armor color, with a glow effect on the inner armor panel lines (chapter symbol optional). This option sounds cool and may give some life to a potentially plain looking colors.
2&3 have to be tied for what I think works. I'm not sure though. A lot depends on what color I pick!