Che Gue'vesa: I hear their 3 ranges are all quite similar in playstyle so I am sure it would be fun too although I wasn't fond of the models for that one.
Firah: Those boards that people make are so cool. If I had a place to store one I'd probably do one too. Maybe in the future I'll figure out some sort of modular thing. Or a big blue sheet
Kern: haha that guy is rediculous; I could definitely not manipulate small things like that without growing a few gray hairs.
Onward to the updates:

I finished painting the last models in the starter box; the 9 frigates. These were small and pretty fun to paint (1" or 25 mm approximately). I have to seal them and then put the decals on as the surfaces were a bit more rugged than the larger models which I can only assume is due to the greater use of the models. The amount of detail on these little things is so nifty.

I painted up some shield generators as pictured above. I'm not sure if I like them though as they may have too much of a stark contrast to the rest of the boats. Any opinions would be great while remembering that these things are smaller than your baby-toe nail.
And at last I will leave you with an image of the entire completed starter box. Quite a great deal for $45 US (~30 British pounds).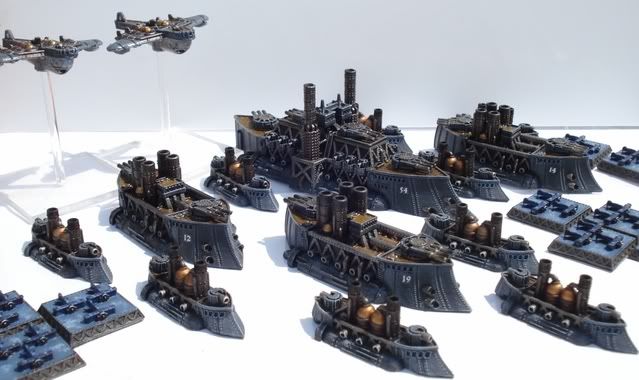 The rest is in the mail as the Canadian postal service has gone on strike. No clue when my new toys will arrive.