Thanks El'mo! I got a bunch of models done, so now it's time for some background!
---
Ambush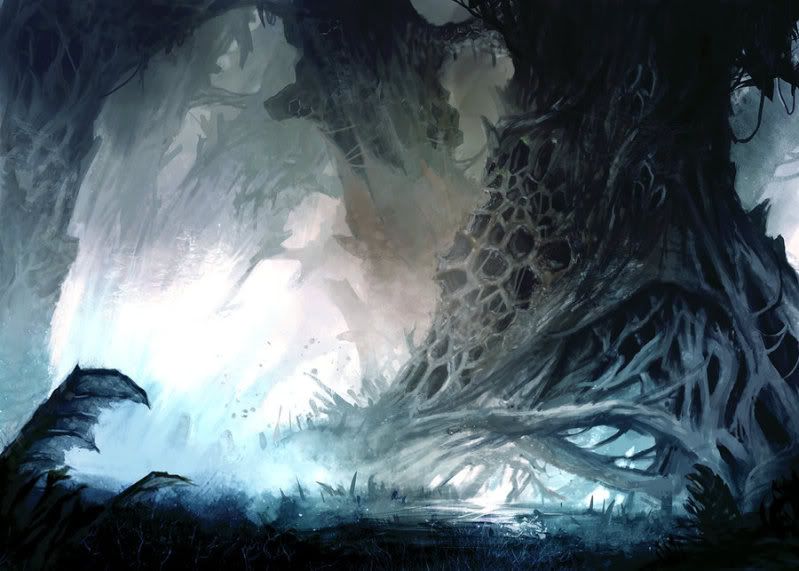 ++The lush forests of Kur quickly became home to various invading species. Strange, hexagonal hive patterns seen here on the local flora indicated a nesting ground. Kurian officials were unsure of the exact nature of this development and ordered such areas to be off limits. The last patrol sent to investigate did not return.++ (Image by Zach Graves. Used without permission, but with gratitude!)
"There are two types of people in the universe, daughter. There are those who submit to the whims of fate and those who take their stand against it."
Talha opened her eyes, the sound of the Landspeeder brushing against a tree limb startling her awake. They had been flying for what felt like hours. The cool night air rushed through the interior, the noise barely tolerable to Talha's unprotected ears. She had been sitting on the back bench of the vehicle, leaning against the center supply lockers, thoroughly exhausted from their escape. The bright yellow moon shown down onto her face and she could clearly see the large black splotch in the sky that was the orbital defense platforms.
She had been dreaming of the tunnels; the inexplicable roads that connected her world together. The words of her father were still echoing in her ears. The two of them had often walked the long, winding paths when she was small and he used these walks as opportunities to impart to her, his wisdom. She distinctly remembered his strong grip, and how he held her young hand tightly when the shadows of the tunnel frightened her.
But those moments were gone forever.
It all happened so fast. One minute, Talha was in her father's mansion, preparing her planet-wide speech. Then, the burly Astartes Scouts burst into the room, urging her to evacuate. Suddenly there were shots being fired and monsters barreling down the halls.
Yet even as these horrors swarmed around her, all she could think about was her father. She thought about him laying there in that bed, hooked up to those machines while the medical servitors and physicians attended to him. The sickness came on so quickly and had reduced this once proud man to a shadow of his former self. He had been unconscious for the last few months and Talha felt grateful for that at least. She wondered if he felt the monsters ripping him apart. She wondered if he woke up just at that moment, only to be greeted by a mouth full of fangs.
Things used to seem so stable. They were difficult, but it felt manageable. But that was before they knew the Tyranid were coming; before the whole world went mad.
Talha shifted in her seat and stretched out her arms and back. The seat was by no means comfortable, but she was so exhausted that it didn't matter. She ran her hand over her hair and felt that it was still in its traditional style. Shaved down to the scalp on the sides, her hair grew long in the middle and was pulled back in a ponytail. Talha smoothed out any stray hairs and then turned her attention to the vehicles other occupants.
She was surrounded by the Scout squad that had saved her. Some of them were sitting on the benches, while the one directly to her right held on to the hand hold above him and stood on the side railing. She recognized by the burn mark on his helmet that this was the one she had shot.
She vividly remembered standing in that hall, the Shadow Guardian Scout, calmly refusing her tearful request to save her father. She didn't regret pulling the trigger on him, not just because he had survived the blast, but because it gave her the feeling that she had done all she could to save her father. For his part, the Scout stared back at her with his blank, green visor. She wondered if he would kill her for the offense.
Talha could not bring herself to continue staring and quickly turned her attention to the occupants of the front seats. On the left was the pilot. Unlike his squad mates, this scout wore no helmet. His hair was a dark black and his skin a sickly white. It was not just pale, like he lacked exposure to sunlight, but unnaturally white, like wax. The appearance was disconcerting to say the least, especially since most of the Kurian people had dark brown skin. Talha wondered if this was why the rest of the team wore their helmets.
To the right, was the squad Sergeant. He was the only other one that had spoken with her and it was him who gave the order to flee the mansion. Talha wanted to blame him for her loss, but she knew it didn't matter. He did what had to be done. That was the Kurian way as well and she could respect that.
Suddenly the Scout to her left moved his free arm rapidly. The gesture seemed like he was speaking, yet he uttered no sound. Talha had seen this from them before. Gestures, head nods and other noiseless motions: all signs that the squad had a private vox channel they must be speaking on through their helmets.
While no doubt it assisted the squad, it left Talha completely out of the loop and it made her feel useless. She had nothing to contribute to this team. She was used to be given status reports and for others to obey her commands, but here she was powerless; here she was a liability. She felt weak and it disgusted her.
She knew that she owed her life to these men, but could not shake the feeling of guilt; guilt that she had allowed her father's works to fall apart. He had held this world together after the Ork invasion, even after the Imperium bled them dry and demanded they keep fighting on. He had defended their world from xenos and traitors alike, never once giving in to self pity.

"When we are done pitying ourselves, then we can begin to repair that which is broken."
Her father's words jumped to her mind. Why all this self blame and angst? Would this help her people? Her thirty eight years of life had taught her that blaming others was pointless and achieved nothing. Her father had spent many years demonstrating the value of that counsel.
"Lady Talha." The booming baritone of Sergeant Hasan's voice startled Talha from her thoughts. He was standing up in his seat and was turned to face her.
"Yes Sergeant?" she replied, having to shout over the howling winds.
"We have been given instructions to rendezvous with one of our forward elements in the Madac mountains. The Aghasi feels it best that you remain hidden for now. We will let your enemies think you dead."
"Enemies?" Talha asked, "Do you mean the Tyranid? I doubt they sent assassins for me."
The scout Sergeant turned sharply to his right, something off to the side catching his eye. He paused for a moment, searching for something in the trees. Seemingly satisfied, he turned back around and responded.
"You would be surprised at the intelligence these beasts' posses, but we fear that the Tau may be targeting you as well. One of their hunter cadres attacked the mansion, at the same time as the Genestealers. A coincidence, no doubt, but a clear indication that they were coming for you."
His thickly accented voice was something Talha did not expect. The massively armored Shadow Guardian she had first met, Sefik, had no accent. But Hasan would roll his 'r's' and had a somewhat guttural tone to his speech. Yet despite this very human attribute, there was something incredibly frustrating about carrying on a conversation with someone in a helmet. Talha had to do her best to keep the fear from displaying on her face, but this Marine had an unfair advantage. He didn't have to hide anything; the blank, green visor did it for him.
But Talha had had enough of feeling fear and doubt. Enough of being powerless and kept in the dark. She remembered now that she needed to step up and be the leader her world needed; the leader her father trained her to be.
"Well Sergeant," she said, trying her best to project her voice, "I will need to speak with my people right away. We need to reorganize and consolidate our power so as to avoid being scattered and confused by our enemies."
"Agreed, my lady. But first, we must get you to safety. I-" Suddenly Sergeant Hasan turned around. He pointed and shook his fist, flashing hand signals that immediately roused his men. Quickly he raised the crescent shaped sword he held at his side, thumbing the activation switched and sheathing the blade in a warm, red light.
Talha's heart began to pound. "What is happening Sergeant? Are we under attack?" She looked around and could see the other Scouts had all pulled out their weapons and were scanning the surroundings. Sergeant Hasan switched places with the Scout to Talha's left. He climbed over the seats and leaned in close to Talha.
"My lady, we need you to hide under the seat. Crawl beneath it and keep yourself there until we tell you otherwise."
His words were clipped and deliberate; Talha knew better than to question him. Quickly she moved to the floor of the vehicle and pressed herself into the small gap between the floor and the bench seat. For the bulky scouts, this space would be inaccessible. But even for the slender Talha, it was a tight fit. The next few minutes were excruciating, as she waited to hear gunfire.
But just as she began to allow herself some hope of this being a false alarm, she heard a high pitched whine. Then the chaos erupted. Bursts of bolter shots could be heard and were quickly accompanied by inhuman screeches. Suddenly, with a violent lurch, the Landspeeder began to plummet toward the ground. The pilot must have been shot, since this was clearly not an evasive maneuver.
From her hiding spot, Talha could barely make out what was happening. She caught a glimpse of iridescent blue and what appeared to be a massive insect. Cones of green and blue light flashed from strange, half-glimpsed crystal guns. Then she saw one of the Scouts that was standing right across from her fire and kill one of the xenos. He turned and pointed his pistol at another target, when one of the cones of the light struck him in the chest. It appeared to do no damage at all, as his armor remained intact. But he immediately fell over and off the side of the out of control vehicle.
The sight filled Talha with fear. She knew the Astartes were not invincible, but she never thought she would see one die. The noise around her was reaching a crescendo and it seemed like this was the end. Yet Talha would face her end with dignity, not hiding from her enemies.
She pushed herself from the hiding spot and looked up to see the moonlight blocked by dozens of insect-like creatures. On the Speeder itself, she could see the valiant Sergeant Hasan, swiping his power sword in quick, vicious strikes. The insects dodged as best they could, yet some were still split in half or had limbs severed.
Before she could turn to look at what remained of the Scout squad, she felt hard, chitinous alien hands grasp her shoulders. In an instant she was pulled from the vehicle and was in the air. She turned her head back to look into six green insect eyes that stared back at her. She struggled for a moment, but then realized that even if she could get free, a fall from this distance would kill her. The xeno made no sound, nor did it seem intent on harming her. All it did was fly her higher in the air, over the treetops and toward a blinking white light.
All she could do now was try to look back at the Landspeeder. It was soon out of her sight, crashing through the treetops. She prayed that the Emperor help them to survive. Throne knows she was going to need all the help she could get.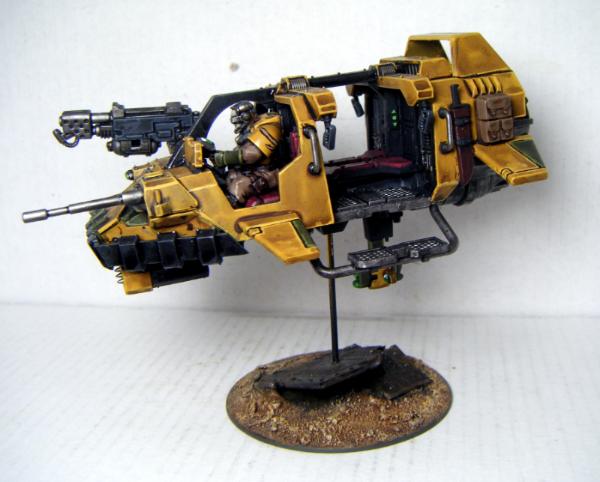 Unlike many Space Marine Chapters, the Shadow Guardians make heavy use of Scouts in their battle plans. Throughout the course of the Kur campaign, however, the reason was not simply a matter of tactics, but had largely to do with the severe losses the Chapter sustained during the defense of their homeworld from a Tyranid splinter fleet. With the 5th Orta entirely wiped out, the remaining five Orta's (each suffering from losses of their own) took on many Neophytes to replenish their numbers.
In battle, Scouts were used for quick hit and run attacks or sabotage, just prior to a large offensive. After completing their objective, a hasty withdrawal was enacted, usually drawing off a portion of enemy forces in pursuit. Yet enemy forces quickly found the tables turned, as each squad was equipped with a teleport beacon that allowed a squad of Terminators to counter attack. The sudden arrival of a squad of Terminators not only allowed the Scouts to reposition, but created a priority target that forced the enemy to split his forces to engage. This tactic saw the skilled Shas'Vre Vral and his rapid response cadre wiped out by the sudden arrival of the Chapter's elite warriors during the Retaliation at Lion's Teeth.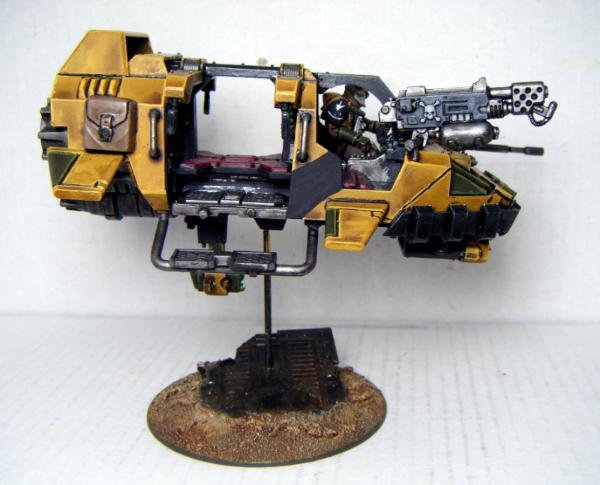 This particular Landspeeder Storm was attached to Scout Squad Hasan. It was later found wrecked near a heavily Tau contested area near the Madac mountains. The pilot appeared to have been killed and there was evidence of another Scouts death, but the rest of the squad was not located. The vehicle was salvaged before the Tau counter attack drove Shadow Guardian forces from the area.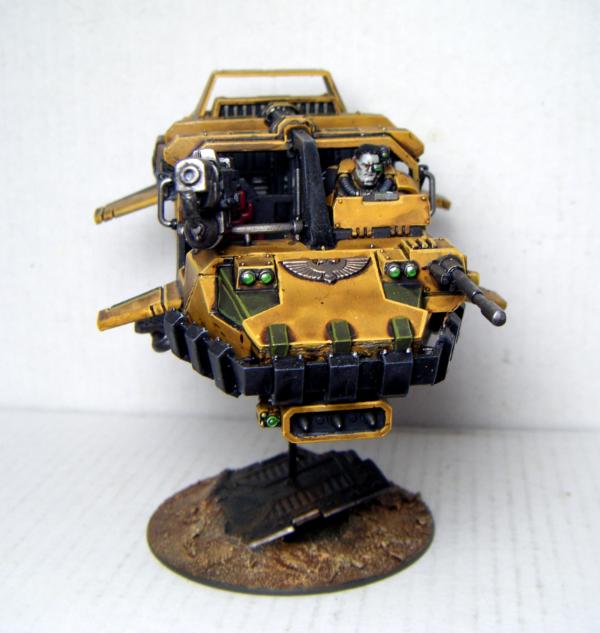 In defiance of the Grand Aghasi's (the Raivathan term for Chapter Master) order, many of the Landspeeder Storm pilots refused to don their helmets. Many claimed that since their primary goal was infiltration, they preferred to rely on their enhanced senses to guide them to their targets, instead of relying on the partial auto-senses of their none Mechanicus approved helmets.
As seen here, a Shadow Guardians' skin is a sickly white; evidence of their claimed descendants from the Raven Guard. Naturally, Raivathans have a dark brown complexion and it is only after the implantation of the Melanchromic Organ that their skin begins to become pale. This genetic defect is common in all who share the Raven Guard gene seed, but the change is generally disliked by most Shadow Guardians and a cure for this is currently being sought by the Chapters Apothecaries.
---

Vespid were found everywhere during the opening stages of the Kur campaign. Shas'O Ksi'm'yen Eio'Cha Aloh, the supreme high commander of the Fire caste on Kur, ordered their infiltration among the many forests of the planet. From these concealed positions, Vespid would be able to quickly ambush passing Marine patrols, utilizing their Neutron Blasters to great effect.


--Vespid Auxiliary Strain Zus-am - Hive B'aj-am --
> Strain Leader Par'zus'ki <
Background:
Led by Strain Leader Par'zus'ki, the Zus-am are a minor Strain among the renown B'aj-am Hive of Sa'cea. The Hive produces many Stingwings for Sa'cean forces and is in high demand among many cadres. Yet Strain Zus-am has fallen out of favor within the Hive hieracchy. A recent string of failures in battle saw them stripped of all but the most basic breeding rights with the Queen Vespix, a humiliating dishonor for a Strain. To redeem themselves, Strain Zus-am requested to be assigned to cadre that would see heavy fighting. They wished to prove their worth and earn back the honor of their bloodline.
They excelled in the tactics of infiltration and ambush, often acting as the killing blow for a Tau cadre executing a Mont'ka. Choosing to breed in traits of heightened senses, Strain Zus-am have become very adept at choosing just the right time to attack. This also allows them greater modulation of the Neutron Blasters; their unique sonic frequencies enabling them to adjust the intensity and range of a blast.
The Strain was assigned to the ARC-16s, who requested a Strain of Vespid be assigned to the cadre after they had several run ins with heavily armored infantry. Their integration into the cadre was seamless, as they had a firm desire to prove their worth and willingly complied with every order they were given.
---
Okay! Vespid are finally done! I'm glad to have them finished. As for the Landspeeder Storm, there are some details that I don't care for. Mainly the black wobbly stripe on the one side. I need to fix that, But I kept making it worse. Plus, when I finally settle on how I want to do Chapter markings on vehicle, I will have to add those too.
As for the story, please let me know if there is anything that could be improved in my narrative. I'm trying to write as best I can, but sometimes it just doesn't work out. Any tips are welcomed!
Thanks all for looking! Next up is the Deathleaper and some Genestealers!