Good morning world!
Ok, so I was a little ambitious
Forgetting how anal I can get about details and highlights, the suit is not finished..however, there is a bulk of stuff done!(Hurrah I hear you cry!)
To be honest, over the next 2/3 nights it will be done- its the long stuff that needs doing- Black highlighting and then go over the armour plates. The detail has on the main been placed where I think it looks best (please crtitique), the base done (although I like the idea better of sand base with the dark rocks?)
Still being WIP, there are rough areas still such as the rear vents need tidying up and scripture tightening;-)
(Still a cookie on offer for who ever can transcribe all the font?)
@Paulson- all areas were airbrushed in only 3 layers/ colours and I used a dual control brush at about 3-4 mm diameter- this is enough to do most stuff. Once the base colour was on (all the blue to eggshell), that when I blocked in the black etc. I must point out, that ALL sigils, fonts marking etc have been hand painted and without masking (hence it taking so god darn long!)
@TAEL So, what's this world shattering idea dude? I have the time and inclination for changes now....?
@Agent Arrow- nice work- I have saved this down!;-P
@Miond- late to the party but always welcome!- And some more great ideas- as you can see, I have already done some of the areas that you have rendered, but I will have a closer look at some of these and post in a little while;-P
SO, onto the shots... and the inspiration!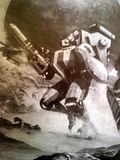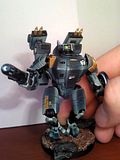 Keep it Teracotta or make it sandy?
I will be adding some T'au sept symbols to the bare missle pod and also to the round generator cover on the back, once it is all done.
Any thoughts?
cheers
W