As promised my how to for picking colours, hope it's good enough in format, and content.
How to pick your Tau Colours, from concept to purchase.
Firstly, three questions. What is your name? What is your quest? What is your favourite colour!
So really the answers should be <name>, paint some awesome looking Tau, and your favourite colours. The last of which is fairly important.
As an example, I love Blue and Orange, so I wanted to have some blue and orange Tau, making sense so far? Ok, so write down the colours you love, you need at least two, or three and that will change how we apply them later.
Next you need to look at someone elses' army, then someone elses'. There are some beautiful Cadre and models on ATT. Make sure you look at both the armies in colours you like, and dislike. Odd? You often don't know how you feel about painting your precious Tau 'nasty' colours until you see them. I'll explain this later.
Next we use the
Fire Warrior Beta Application
from
Bolter and chainsword
. Go nuts, go bananas. Go any kind of fruit you like. Make several tries at it.
So this is what I got to first: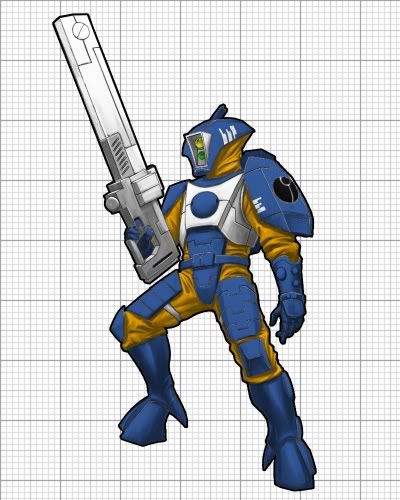 I kept seeing white tau forces and loving it, really looked crisp. Nevertheless, I was set on orange and blue. Altogether, I could see it doesn't work, at least not for me.
So next I tried lots of different goes on the
Fire Warrior Beta Application
. Not much luck until I decided my third colour would be a muted shade of the main colour.
I liked this look a lot and it gave me this: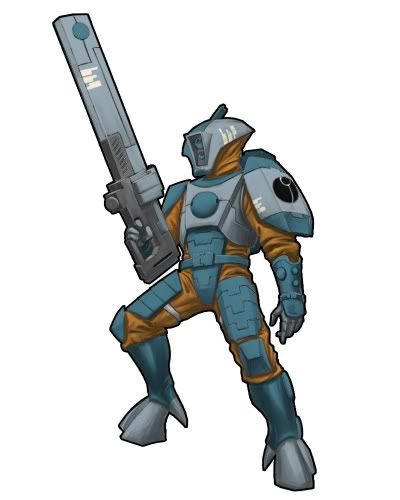 You can see the resemblance, but it looks a lot more Tau to me. Still a bright orange in there but I can fluff that away (i.e. explain it with back-story).
So stage one is done you have the colours for your army! Are we done? Not by a long shot. There's no guarantee you can get those colours in paints or inks or however you apply it, unless your shop sells it by the hex code!
Between those two I toyed with a dark green and greeny/orange/brown, that I would normally not pay attention too. But at the time I wanted camouflagey colours, and it was worth considering.
I use these,
Colour Matcher
.
1. Click RGB colour search
2. Insert the Hex Code from the previous app, the FW painter.
3. Decide if your limited by Type, finish or colour line (I limited myself to GW in the end as I'm only beginning painting, and shipping Reaper Mini paint was too expensive, but go nuts like I said before!). Next click submit, you should be given your choice of paints, if not play around a bit. Unfortunately, you won't get the colours you want unless you're lucky.
4.
This
will give you more choice on shades and is perfect if you want a darker/lighter colour and/or can't find the paint you want exactly.
5.If you can find some obscure Himalayan paint, but you don't live in Tibet, you can use this line matcher,
here
. So you know it's in Reaper mini paints, but want a GW equivalent? Perfect! Select the two lines of paints (the one you know on the left, the one you want on the right) and click submit. Or use the first app (
Colour Matcher
.) and click on Paint Search, then select the paint line, press submit. Scroll down and select the paint you want, and it should give a list of alternatives.
Ok, so got the pain you want? No? Go back and play, it's trial and error.
6. Go back the first set of these apps:
Colour Matcher
, click on the paint search and follow the instructions in 5) now we're looking for the hex code of the paint you've picked. Then go back to
Fire Warrior Beta Application
, and plug them in and look at what you've created.
If you're not happy start from the beginning! I decided that my Tau colours fitted with an icy tundra world, as camouflage, whilst the orange cloth would be the thermal layer the Earth caste created, or the cloths my Shas'La had to take as they were stranded on that icy desolate rock.
From then on you can start to pick your other model colours, for example, I'm bringing back the white with my kroot.
Overall have a play and hopefully this will help you pick out your colours!