The base is done. I allready painted the cockpit and nose with my magic mix of charadon granite/dark angel green and lots of black.
The lines in the hull are traced with thinned chaos black.
Just to show that when you like painting a somewhat weathered army you can also do a clean paint: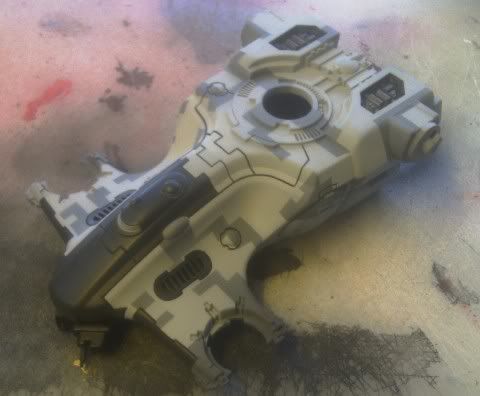 From here on it goes downhill for the Tank. It's time to inflict some wear/tear/damage upon the poor machine! Mwhuhahahaha!
Hmmzzz... explaining my method becomes somewhat fuzzy from here on. First of all: I went a little berserk on all this nerdy stuff and hence forgot to take pictures of -let's call it- progress.
I end up in a zone where time means little and so efficiency is out of the window.
I'll try to retrace some steps:
Filled some areas, like doors with orange.
Drybrushing with lighter shades for subtle wear/tear.
Paint some specific damage with lighter shades for scratches, dark for dents.
Deep impact damage I touch with a little dot of mitril.
Highlight damage / highlight black lines in hull / highlight all coloured areas.
Paint symbol, paint cockpit window (mechrite red, highlight with mixed in white).
Painting damage, adding detail and highlighting is a fuzzy area. I often mix tasks just to keep me focused.
Now I do smears, smoke, dirt (drybrush), oils (with inks)
Then suddenly time restarts and I suddenly seem to have twin Tanks!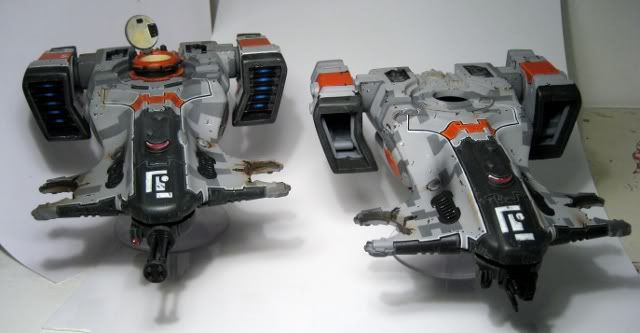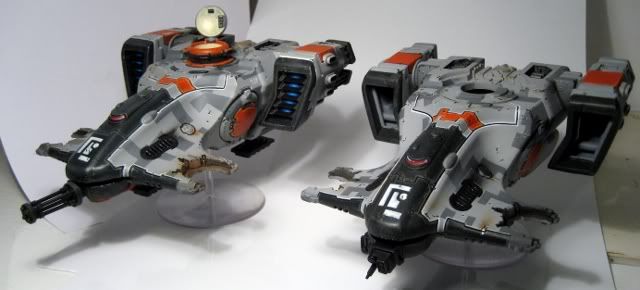 Detail: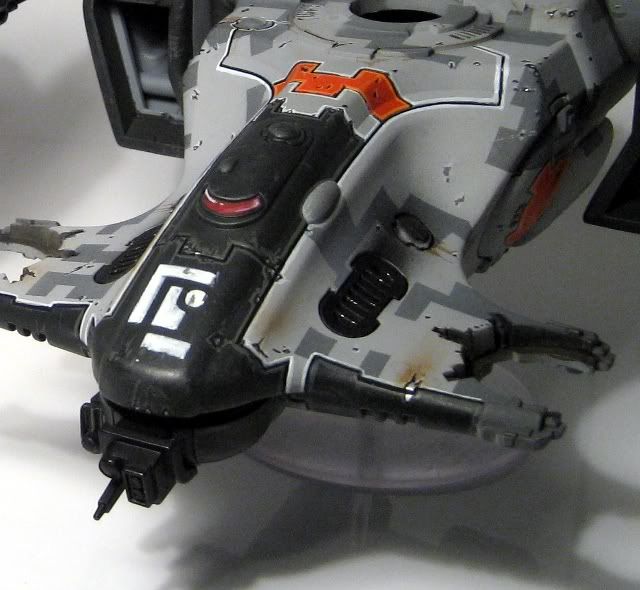 Things to do:
Weapons (haven't even began the Sky Ray)
Turrets
Highlighting hull curves, highlighting engines.
Airbrush engines and add some smoke.
Equipment front turret
Drones
Glue Engine intakes and paint some cool engine glow
Stuff (neverending WIP: detailing)
Adding sensor spines etc etc. Any suggestions for loadout and placement?