Hey Shas'vre Shavaun, Well thank you my friend. I was hoping you'd like it
I'm familiar with your work and you are quite the modeller your self mate. You read my little description on the
"O Mont'Korar" veteran one man battleship
I see? Its nice of you to say, I put some effort in that so its nice to hear its appreciated
Yeah, I wanted to have a ship that not just looks cool, but also a design that considers what a ship needs and I incorporated that in the concept.
For the, what I call the "glue-on-action-explosion-duplicate-twin-effect-technique" it was new for me too. I guess I used just the right amount of plastic glue on the right places. And of course sanded the 2 pieces down, straight, sharp and equal. And yes, you judged right. 1 mm thick plastic card
Funny this is. I had no Idea there was a vehicle length limitation. Haha. Well, to be honest, the reason the combatship is this "big", is because its more in scale with the firewarrior veteran that is operating it. If you take an Eldar yet-bike for example, those look like a little tricycles to me. If I was a warrior with a yet bike, I would want to have something I feel save on, and not afraid every little Ork can shoot me down with a handshoota..
And yeah, I imagine and understand if your a gamer and you bring tanks as big as the board people are not going to be pleased I guess?
But since this is going to be a display Diorama it just needs to be bad-ass!
-- -- --
Al right. Side panels time.
I wanted them to be not just on a 90 degree angle. No, I wanted a more dynamic flow and curve. So this is what I did: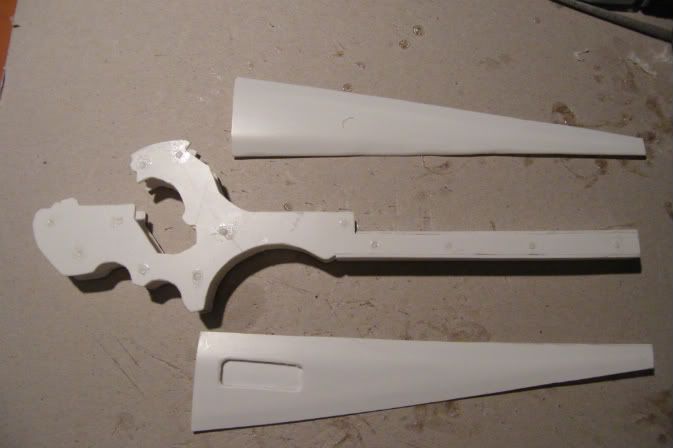 I took measurements from the left top, all the way to the tip. Since I'm a perfectionist I want to do everything as slick and smooth as possible. Especially with the aesthetic of the Tau I think it's essential to be as accurate as you can. I Took the measurements on to the plasticcard and cut them out with scissors. I didn't want to use the "glue-on-duplicate" technique because I didn't want to have to sand to much. Instead I just did the process twice.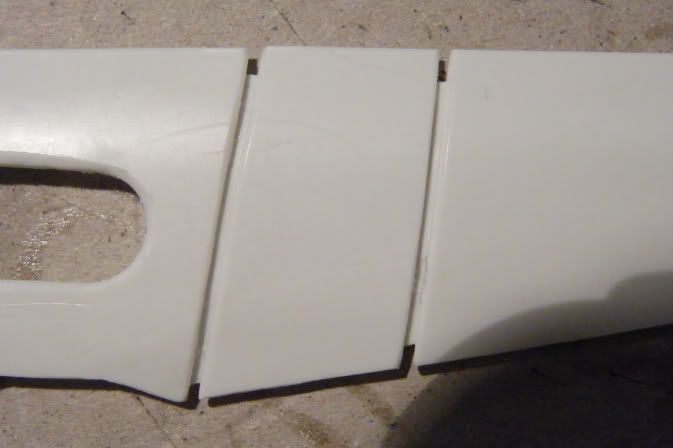 I drew on lines were the 3 ridges needed to come and cut them trough with scissors. Sanded them down with a little curve and placed a piece of plasticcard behind them, leaving a rim of 1mm between one another.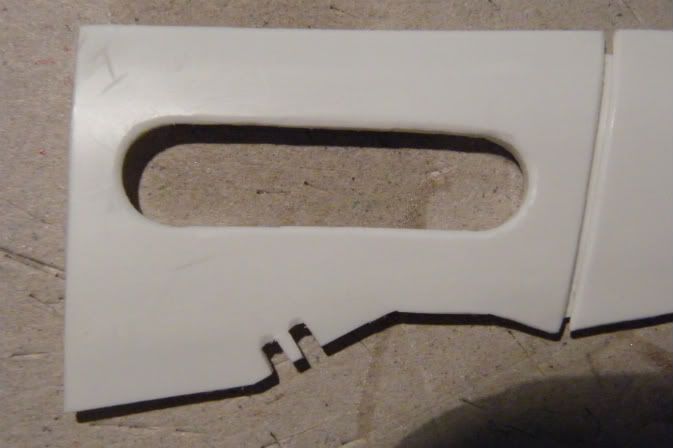 Then cut a space were the side panel would overlap the base of the wing.
(and added the first little detail, quite nice touch aye? they broke off on me, while further working on the engine heat exhaust.. ill fix it later
)
The hole for the engine heat exhaust in the middle of the hall was 1 of the hardest parts of the project and it took me quite some time.
First determinant were the hole needed to be and very carefully, trying not to damage the rest of the surrounding plastic, cut it out with a sharp hobby knife. These panels are very important because they'll cover 1/3 of the hole ship. I think they turned out to be pretty nice.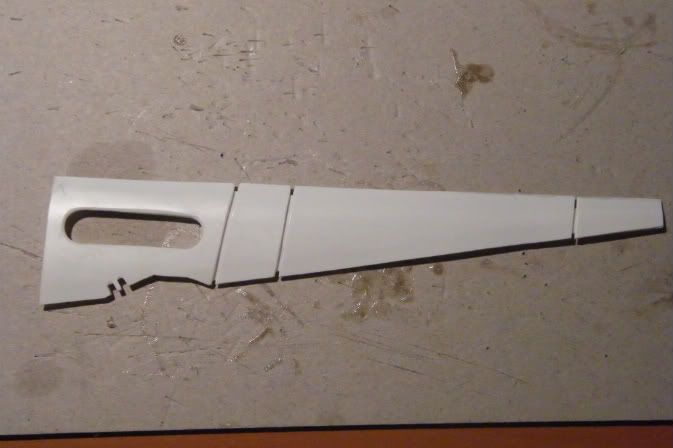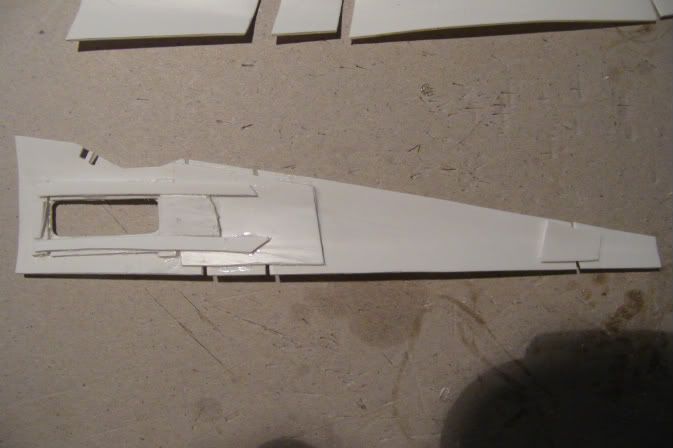 The pieces of plasticcard that holds the 3 pieces together are less wider then upper parts of the panel. This little line of space, about 2mm wide, is the place were the panel is going to be glued to the rest of the model. You'll see what I mean later on.
As you may probably have noticed in the pictures, the side panels have a curve. (the hall will look like this: (""") instead of: [""] if you catch my drift?:P:) I bended the panels horizontally every 1/3 following the top line to the tip. This way the ship will feel more dynamic and streamlined.
little preview?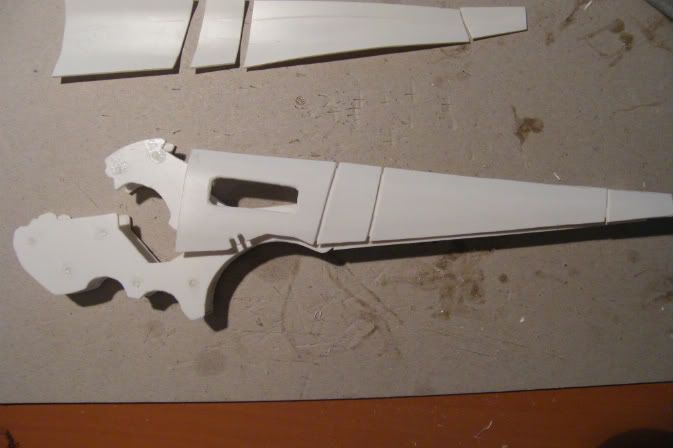 Top:
So far so good, the side panels are looking like I wanted them to. On to the top. This piece was going to be easy. I really got in to it now and got myself some new supply's. My first cutting mat, and some new tools + material. I discovered a hobby store and I was like a little kid in a candy store. I took a piece of plasticcard (really getting tiered typing "piece" and "plasticcard"
) haha.
Well, I took 2 pieces of plasticcard and cut it 2,2cm wide, this was essential because this way it would all fit perfectly on the skeleton.
The rims on the side panels were going to flow over the "top" creating that familiar Tau feeling. I'll show you.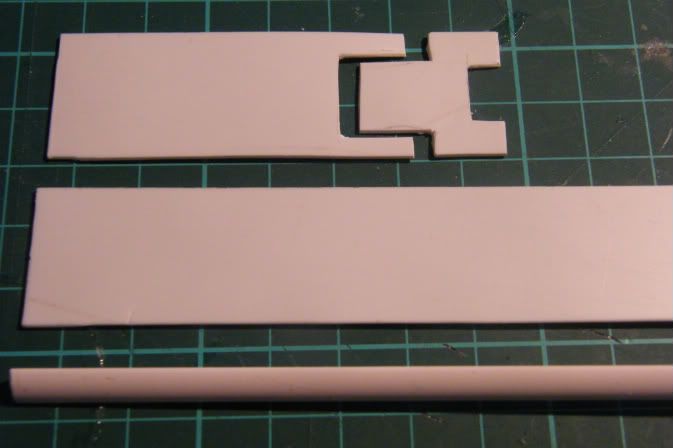 Of course made sure that the pieces were well sanded, sharp and the measurements were correct.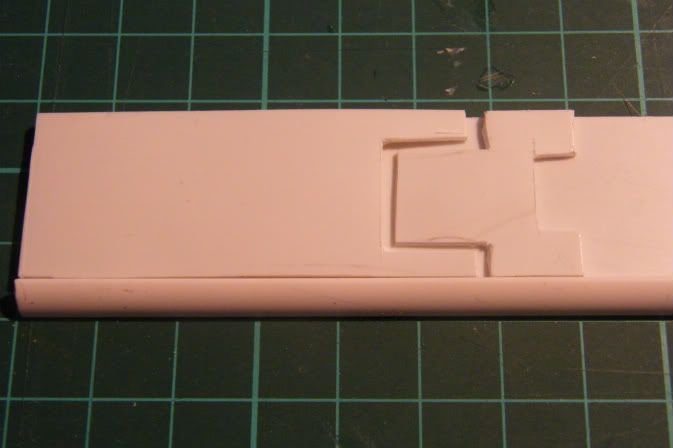 Glue, glue and glue

Top view:

bottom view:
Rims detail:
As you can see I put pieces of curved plastic on the side to give it the "round flow" im looking for. I think on the "how" its officious right? measured the length from rim to rim and cut curved pieces accordingly.
Alright, thats all for now.
tell me what you think of my progress so far.
Daan
PS: Shas'vre Shavaun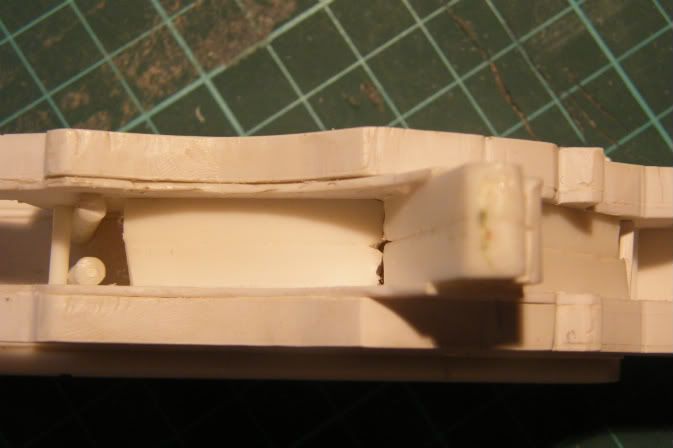 Hope you can see what it is. It shows structural reinforcement between the 2 first layers. Because there is exactly 1cm between them it was fairly easy to put 2 0.5cm pieces together and put it in. its now soled as a kroots skull.