As mentioned on the army lists forum I have started working on a kroot horde list, this log will be of my progress to having one I can be proud to put on the table. Before my layoff from all things tabletop I was a 15mm historical gamer and I think a lot of this still shows in my attitude to painting and the hobby in general. At the moment I tend to go for an overall mass effect on the table rather than be really strong on attention to detail of each individual model, that is something I hope will change a little over time.
After a bit of hobby time over the past 3 weeks I at least have something I would not be too ashamed to put on the table so I thought it was worth starting the log and maybe it will show progress over time.
So firstly we have the colour schemes for the 4 kroot squads. I never wanted a uniform look for my savage kroot but rather than just be variable early play showed me how much I needed this to tell my units apart when there are this many kroot on the table. So I came up with a different look for each squad.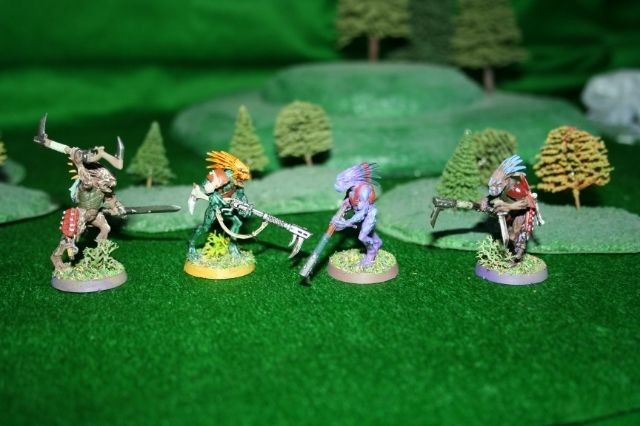 I have made a particular effort to find ideas to make the head colours different - because when they are on the table I see them from above and that helps with identification. How they look on the table is like this
Hopefully it is also clear enough that the krootox and hounds are painted up like their kroot squads.
When it comes to the HQ is where I think my lack of detail is rather showing. First we have the insane Aun'Kurtz, driven mad by the horrors of war and who is setting himself up as a god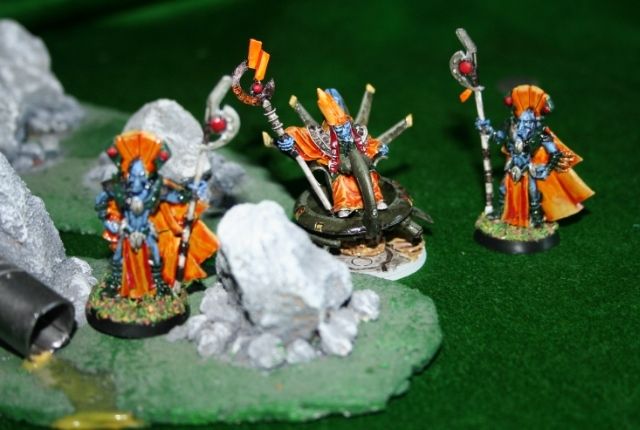 Then we have Shas'O Willard who has not yet decided whether to carry out his orders to terminate Kurtz's command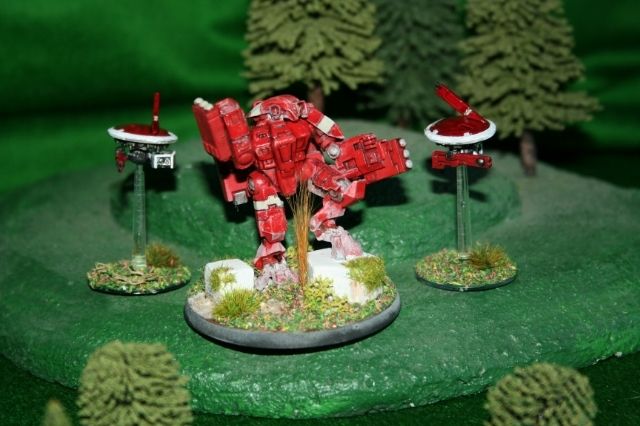 And finally for now we have the heavy support line. The Skyray is not finished, it still needs some accessorizing with the odd dead animal and some kroot accessories. I love the kroottide but I am really going to have to go over the paintwork some time in the future to make it into the centrepiece model it really deserves to be.