Greetings fellow hobbyist,
I don't know how you feel, but I personally struggle with painting camouflage schemes for my models, I have never been happy with the results.
Now Fio'O Tael has called my attention to the
Critical Mass Games Camouflage Masking Tape
, so now I thought I'll give it a try for my Gue'vesa Tanks.
The tape can be used for any model with a larger surface, beginning at the size of a Gundrone or even a shield generator, it easily fits onto edges (like those of our XV8).
But for this review I'll try it out on a Devilfish, which I bought on ebay to turn it into Terrain later, so, the perfect guinea-pig.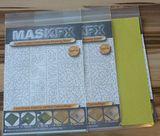 The model was sprayed with white Primer when I bought it, so I sprayed it Chaos black, because that is what I prefer.
My next step was to brush the model with Adeptus Battlegrey as the first Camo-Color, while it dries, I'll think about how I scatter the masking tape.
It is really easy to remove the tape from the sheet and to attach to the model, simply said, it is amazingly easy to use.
Here are some pictures, to show how I placed the Tape and to show how much I used of the sheet.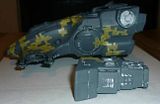 After adding the first "layer" of tape I went over the model with Dawnstone, let it dry and add another "layer" of Tape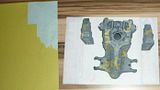 As a last painting-step I go over the model with Skull White (I noticed to late, that my Skull White was nearly bone-dry, oh the irony, because of this the white got to thick and reduced the quality of the result greatly), when the white is completely dried, I remove the masking tape.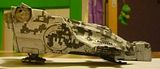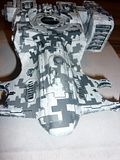 The work is not over, I'll have to do some 'repairs' on the paint here and there and do detailing and battle damage.
Résumé, the guys from Critical Mass Games produce a high quality painting accessory, which is easy to use, is very valuable (one sheet should be enough for 4 Devilfishes) and provides amazing results, the digital camo pattern might not be the perfect pattern for the round and curved Tau models, it also might be best to use an airbrush for them, this will be my next experiment.
I am looking forward to use the tape on my Imperial Tanks and on upcoming Tau Vehicles. Two blue Thumbs up!
Note: Think before you use the tape, now that I am done with the tape, I found out that I want the Devilfish to look different, so now I'll paint over parts I had Taped and so have 'wasted' tape.