well,
i still didnt find a way to make the 'Kroot-Greenskin' or 'Green-Kroot' ... but i am on that one ...
i am now working on two things, actually it was one, but evolved to two ...
so i was up to another 'Kroot-Heavy' with a flame thrower, so i locked up 10 Cadian Soldiers in a room with one Kroot and was looking forward what would come out the room when i unlock it again.
didn't work so well because the 'Gas-Tanks' from the Cadian Flamethrower interfere with the Kroot's 'hair'.
so i sticked on a Human head on it ... but then again, i though "i want an Kroot with Flamethrower, not a Human" *cutting/gluing/greenstuffing* now it is a Gue'vesa with a nice *pimped-up* Melta gun, i guess fireing that one inside a Spaceship would blow half of the ship up *dreams* ... he will get a drone controller in the other hand and is soon ready for a Photosession.
okay, back to the 'Hot-blooded' Flamer-Kroot ... i still had a Catachan flamer and got back to work, i belive that one is the model with most Green-Stuff on that i made till now (easily is as i didnt do so much GSing till now).
i am curious how this will look, the thought of a Kroot in an Cadian Uniform is funny, maybe i should give him a copy of 'the Imperial Infantryman's Uplifting Primer' or so in his claws, that would surely look funny!
oh, for the curious of you guys, they are quite like
Tael's
'Hulk Hunds'
EDIT: see pictures below!
Gue'Vesa heavy wrote: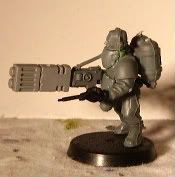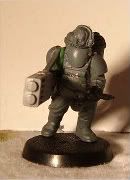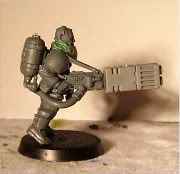 EDIT: Kroot-Missar
Kroot with Flamer wrote: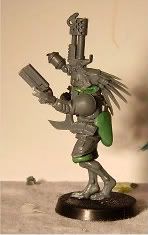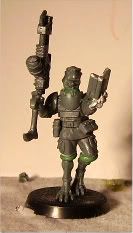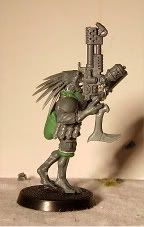 *clears throat*: never forget the 'Litany of the Lasgun' "Bringer of death, speak your name, For you are my life, and the foe's death."