Well, it's been awhile since I have done anything on here but I decided recently to start a new Tau Army, having taken my Orks as far I wanted for awhile. I had a Tau force a few years ago which, sadly, I had to sell and I have always regretted it. The problem is I don't like doing the same thing again, if I can help it. With the release of the plastic Valkyrie for IG, I thought I would try something with it.
My force is based on an imperial world which fell under Tau control within a couple generations. The forces on the world have embraced the Tau training and technology. They have integrated the technology where they can, such as mounting Tau weaponry on sentinels (for Broadsides) and Valkyries (devilfish and variants) or adapted tau tech for other things like crisis suits. I have not developed the parallels completely yet but they are coming slowly.
The manufactoriums on the world have modified Lasguns into pulse rifles. Mounting Railguns on a sentinels, which they had plenty of, worked well. Smart missle guidance systems were integrated into Imperial munitions. For Tau gear without any IG equivilant, the gearheads adapted Tau engineering. Crisis suits were adapted for human pilots. Some tech is still in development.
What does this mean? IG Shock troops will count as Firewarriors. Modified Sentinels will count as Broadsides, though rumor has another heavy weapons platform in development. The Valkyrie will count as devilfish and it's heavy variants. Crisis suits will be converted for human pilots. Drones are still being developed. I think pathfinders will be Tau advisors and trainers like US Special Forces. The manufactorium is still working on the Pirahna.
Here is what I have so far. The first crisis suit with the modified weapons and a broadside. Comments and criticisms welcome.
Crisis Suit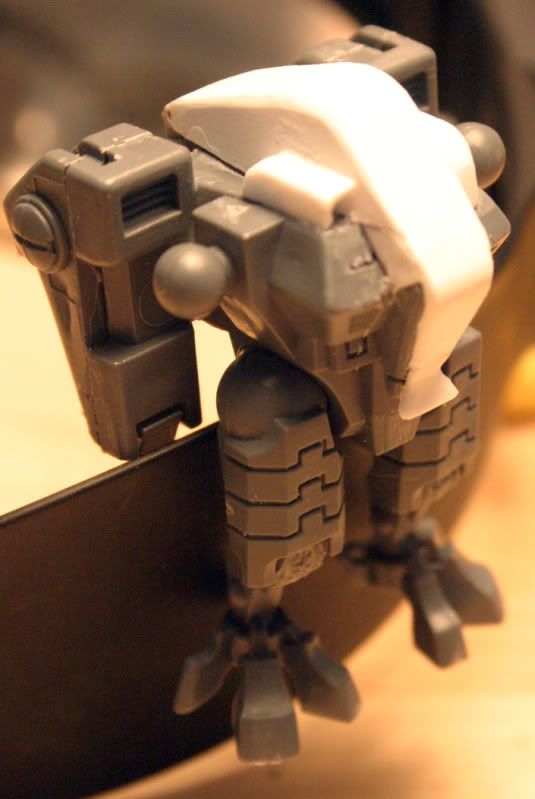 Weapons
Broadside