XV88 Battlesuits
Inspiration & Concepts
Following on from the concepts for my XV8 suits some my XV88's are destined to obtain some similar conversions, as well as some unique 88 only ones. I have two main inspirations for my 88's, one is the now quite commonplace Sniper'88 theme, the second is the ubiquitous battlemech, the Madcat. Both projects are on hold though for a few reasons. One, all the 88's I currently own have been sacrificed to the Madcat Pattern XV88's. Two, the sniper'88 design will be heavily influenced by what I decide to do with my XV8's, as they will have to have some similar design features to suggest a design progression but also so the XV88's look like they deserve their 2+ saves when standing beside a unit of my XV8's. The Madcats have currently been shelved but I do intend to finish them off when I turn my attention to my Gue'la apocalypse allies.
Sniper XV88's
The main concepts I have at present are:
1) Armored! By comparison my XV88's are going to deserve their 2+ save when standing beside my XV8's. How this is executed will depend on the final look of my XV8's.
2) Hand held Rail Gun. The only catch is that I haven't seen or thought up a twin barrel option I like so may have to put the twin linking down to a fancy looking targeting system.
3) Interchangeable secondary weapon. I'm a little stuck with this concept. I'll want my SMS shoulder mounted when used, which is simple enough, but plasma rifles are a different story. First, I don't really want to hard point mount them. Second, when fielding as plasmasides the support system is likely to be a multi-tracker so they need to appear comfortably capable of firing the rail gun and plasmas simultaneously.
Weapon Concept
With thanks to
General
for his great work on the
Visual Tau Armory
I knocked up this reference picture for the conversion I am considering for the hand held Rail Guns. It uses many of my spare Fusion Blasters and is inspired by the Pathfinder Rail Rifle. I need to add a rather impressive looking optics/targeting system to account for the twin linking as it won't be duel barreled after all.
Next comes knocking one up and seeing what work is required on the suit so it can be held naturally.
WIP Rail Gun
I have a WIP together now. While I really liked the idea of using the fusion blaster for nearly all the parts involved I found I did not have the tools required to accurately produce the central void so it would actually look like a rail gun. This is the alternative option I have now come up with at least for now. The overall length is virtually identical to what I had wanted the problem is that it adds a whole new level of challenge to adding the optics/targeting system as the main body is significantly thinner than I originally intended.
Sniper'88 WIP
I am drawing heavily from the
XV22 conversion guide
for a lot of the conversion work. The guide takes a lot of guess work out of things as I have a fairly good idea of how things will come out looking prior to putting blade to plastic.
Torso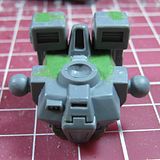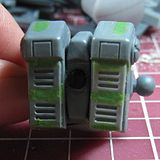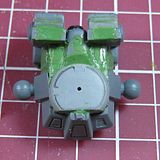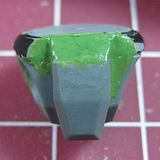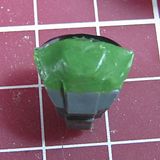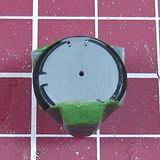 I went with greenstuffing the the sides of the torso which worked out fairly well. Will have to wait a day to see how it will clean up with sanding and filing. Oh yeah
BIG
lesson learned:
GREENSTUFF IN STAGES ON BIG JOBS!
The number of times I had to redo various parts of the greenstuff because I kept sticking my fingers/thumbs into it when working on a different section was ridiculous and extremely frustrating, much swearing was done last night. Currently the waist is drilled so it can be pinned and I can experiment with poses before everything gets glued together. Next I will be working on the legs, feet and head. From there I will know how tall the suit is and therefore to what extent I can push the arm length to keep the model in proportion.
Legs
For the first of the suits I have decided to copy a classic Fire Warrior pose.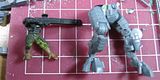 Posing
Couple more shots as I work on the pose and comparison to the Fire Warrior.
2010 Update
Although I do plan on completing this model eventually it has been put on indefinite hold for now. The new plan involves utilising the two new XV9's I recently received from Forge World.
New pictures will be arriving soon.
Madcat XV88's
BASS Squad
Current conversion WIP.
I am going to change two things at least from the current WIP. First is the arms, I am not happy with them as I can not get the proportions right without there being no clearance between the arms and hip. Second is that I will probably alter the landspeeder missile pods so they are arrayed three wide by two tall rather than two wide by three tall. The model is horribly tall in its current configuration.