A number of serendipitous coincidences has led to this little project...
1) My local comic & games store shut down a while ago and I cleared them out of their remaining 40K stock. +1 Tyranid Battle Force.
2) The new Tyranid codex coming out this Saturday includes extensive fluff on a Tyranid invasion into Tau space, Hive Fleet Gorgon. +1 Inspiration.
3) The Battle Force is not packed yet and the few paints/washes etc needed aren't either. +1 Opportunity.
4) There are one or two techniques I want to try out before I consider using them on my Tau. +1 Motivation.
5) The new codex does not appear to specify the colouration of Gorgon. +1 Freedom to choose my own scheme.
And what does this all equal?
Progress!
Scheme & Techniques:
One of the main techniques I wanted to try was
Czar Ziggy
's awesome
metal colours technique
. This is great because I have always liked the idea of Tyranids having a hard, shiny carapace. I also wanted to try something which sounds pretty quick (in theory at least) and is somewhat of an extension of the metal idea, 'painting' with washes. Partly I want to see what kind of effect I can achieve and I want to see how quickly I can achieve that effect across a number of models.
After assembling one of the Warriors from the battle force I had a few bit left over, perfect pieces for an initial test of the scheme and technique I want to try.
Carapace Test: Head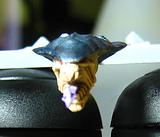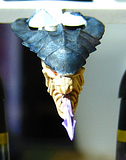 Body Test: Weapon Arm
Overall I am extremely happy with the effect on these two pieces so I have already begun work on the assembled Warrior model.
Painting a Tyranid Warrior of Hive Fleet Gorgon ~ "Fluffy"
Step 1: Assemble
~ done
Sorry, boring pictures. No conversions going on this model. I may do a few pose changes on later models once I am sure I like the direction my paint scheme is heading in. I know I could have done a better job with mold lines and gaps etc but all the required tools are packed away. I made do with scissors, a pair of nail clippers and its metal nail file! Expect better work when I have full access to all my modeling bits and bobs again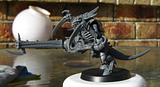 Step 2: Undercoat
~ done
Skull white base coat from the can. This is the first time I have ever used the white base coat. When I base coated the warrior the coat went on kind of rough, it now has an almost 'fluffy' texture. When I did the test pieces after I did not have this problem. Would it be safe to assume I was attempting to spray from too great a distance when I was doing the warrior? On the bright side I got awesome coverage and did not need to touch up any missed bits with skull white on a brush.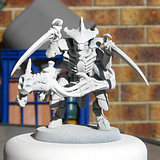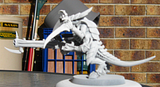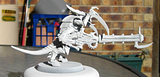 Step 3: Apply Boltgun Metal
~ done
All Carapace bits, blades and other parts I want looking hard and shiny are applied a single 'smooth' coat of boltgun metal. (This goes some way to smoothing out the 'fluffy' texture of the base coat). I missed a couple of bits (hooves and ankle blades) on the initial pass, I picked up on it while doing the next step so you will see the bits painted correctly in the next step.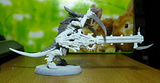 Step 4: Apply Leviathan Purple wash
~ done
All the 'fleshy' bits of the warrior are carefully doused in leviathan purple wash. This includes tongue, mouth and exposed musculature. If any errant bits of purple escape they are either wiped away or covered with skull white as necessary. (Note: I skipped the touching up of misplaced purple on the test piece as I wanted to see just how bad it would turn out if I didn't). The colouration I desired generally only required one application. Some spots came out a little light after the wash dried and required a small reapplication to get the desired result.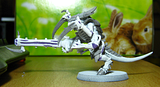 Step 5: Apply Gryphonne Sepia wash
~ done
At this stage I discovered that a fluffy base coat is really, really,
really
bad for what I am trying to do. The texture completely changed the way the wash goes on and I seem to have lost a lot of the natural variance I achieved on the test pieces. I am persevering with it though and am still managing to get ok results. I am however chewing through my pot of gryphonne sepia at the moment...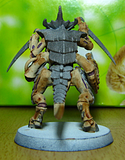 Step 6: Apply Asurmen Blue wash
~ done
Applied gradually over two to three applications to the boltgun coloured carapace I achieved a nice shiny blue. Thankfully the boltgun seems to have smoothed out the surface enough that I did not have as significant problems with these washes as I did with the gryphonne.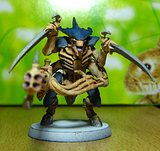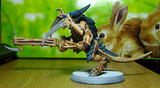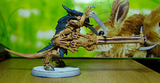 Step 7: Apply Badab Black wash
~ done
Applied over the remaining boltgun in 3 to 4 applications to achieve a nice shiny black and also over the blued boltgun in one to two applications to achieve the final blue/black carapace look.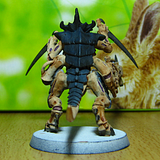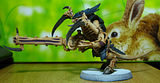 Step 8: Detailing
~ eyes done
Macharius Solar Orange for the eyes.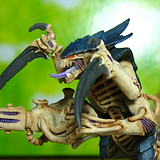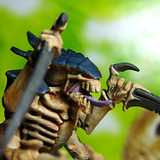 Step 9: Highlighting?
~ pending
The results of 'painting' the warrior with washes has naturally given the test pieces a lot of depth and character. I have not decided how, or even if, I will go about highlighting the warrior. I was going to wait till I have the entire model done to step 8 before making a decision with help and input from you all.
And just a funny picture I took. 'Fluffy' vs Thumper and Flopsie