Painting Tau Armies
Compiled by Freeloader
Hi there, Reader
This is my very first article here on ATT, and I hope you'll find it helpful, or at the very least – a good read. It's long though, so you might want to fire up that coffee machine and kick off your socks. I'd like to take the opportunity to issue my personal disclaimer at this point:
This article is written according to my own opinions and experiences. It is by no means the law and I will not consider people with opposing arguments simpletons. I merely wish to shine some light onto an area which I personally believe is obscured in too much shadow right now. Accordingly, we'll start with the foundation principle of this hobby:
THE MOST IMPORTANT RULE: Paint your army in a way that pleases you. Nobody else's opinion matters compared to yours, because it is your army, your sweat, your time and your hobby. It's a freedom not to be taken for granted. You're not here to own everybody else right now – you're here to own yourself in the future.
Background
In this hobby one can find everything from horrendous paint jobs all the way up to the really astounding ones. One thing is certain, though: There are painters out there who are true masters when it comes to applying paint on their models. However, this doesn't necessarily mean that their entire army will look dashing in the end.
As with all tasks and projects one takes on in this world (and I mean ALL of them), the most important question one needs to ask in the beginning is: "What is it that I want to achieve with this?"
When asking this question specifically about model painting there are two major answers. (1.) "I want to become an expert painter – it is the paint job itself that intrigues me", or (2.) "I want to field an army that looks just awesome".
Of course these two answers can have some links, but in the end it's basically a question of Model vs. Army, whereas the aspiring expert painter would concentrate on the single model – one at the time – and the army painter would more like try and achieve an excellent overall look for his entire army. If your answer to this question is (1.), I suggest you go to Games-Workshop's website, buy yourself Typhus – Herald of Nurgle, read all their painting masterclasses and get to it. If your answer is (2.) I suggest you read on.
I would like to point out that I'm by no means a master painter. My hand is shaky, I never blend colours (more than an occasional Independent Character) and I'm overall lazy. What I do have, though, is a sense of vision and theoretical knowledge that help me achieve a neat result. Although my theories work on pretty much any army GW has to offer (40K and Fantasy Battles alike) it is of course with the Tau Empire in mind that I write this article – this is Advanced Tau Tactica after all.
Tau painters are blessed when it comes to army painting because the army itself has so many perks and advantages over many others. First and foremost, the Tau have great diversity, which erase the risk of the painting being tedious or repetitive. Kroot, Crisis Suits, Stealth Suits, etc all have distinct styles and suitable colours, and its easy to mix it up in order to prevent things becoming boring. Secondly, Tau models are easy to paint, with many natural crevices and separations on the model surface, which speeds things up and look truly amazing in the end. An important note to add is that the Tau's "trademark visual neatness" does come at a cost. For instance, too thick layers of paint on the models reduces their smoothness, and this leads to the paint job losing its "tau-iness". Many thin layers, people. Always remember: MANY THIN LAYERS!
This however is not a solution all on its own.
When painting an army – more specifically a bunch of models that supposedly belongs with each other – there are two major attributes that one should have in mind. These two aspects are fundamental when creating a "neat looking army". They are COHERENCY and CONTRAST.
COHERENCY
Coherency is the "which colours" of painting, and deals with what that the army must have in order to look "unified". Coherency in a paint job is made up of two separate parts, namely colours and quality. 'Which' colours are applied and 'how' they are applied is what creates coherency. A sloppy, half-assed Fire Warrior squad led by a Golden Demon-winner Shas'ui will not look coherent, even if the colour scheme is basically the same. And it's safe to say that a green/white Fire Warrior will not look coherent with a yellow/red Fire Warrior, even though the paint job has the very same quality. Mastering both colour scheme and quality is key to mastering coherency. I will quickly break down both colours scheme and quality now.
Quality.
This topic is easily broken down as follows: Quality is a sub-topic of coherency, hence it follows the rules and guidelines of general coherency. Or more to the point – Keep the quality of all your models basically the same, i.e. coherent and consistent. This mainly concerns units, though. Models that are naturally separated from each other (Kroot and Fire Warriors, for example) can have some differences in quality without upsetting the overall look of the army. When I painted my Commander, I went all-in a did almost as good as I possibly could, whereas one of my Fire Warriors take only an hour or two to complete. That's OK, because my HQ choice is more important than a lousy Fire Warrior, and the single Forgeworld model cost as much as two friggin' boxes of Fire Warriors!
Colour Scheme.
Choosing the colour scheme is probably one of the toughest choices a painter have to make. One could of course pick one of the existing ones; T'au, Sa'cea, the Farsight Enclaves, etc all look great, but in my opinion, by choosing an already existing Sept colour scheme you blow your chance to create something truly unique and personal. Seeing how Games-Workshop has gone to great lengths in order to create an universe where everything goes, wouldn't it be a shame if that route was left unexplored?
My theoretical approach to choosing a colour scheme is as follows:
Armour.
For armoured parts, there should be two colours: one dominant and one kept dormant, or as a "back-up". Having two adds to both variety and contrast, which will be discussed in greater detail further down. Seeing that many units in the Tau army are entirely armoured, it's nice to have a second colour to use here and there, otherwise both the colours and the act of painting may become tedious and monotone.
Metal/Cloth.
With "metal" I refer to areas of unarmoured metal (such as lower legs and arm joints for Crisis Suits), and with "cloth" I mean the undersuit of Fire Warriors, Pathfinders and such. These colours don't necessarily have to be the same, but it's nice if there's a slight resemblance at the very least. I paint my cloth in Dark Flesh with highlights in Vermin Brown, and my metal in Tin Bitz highlighted with Dwarf Bronze. These combinations are close enough for my taste.
Markings
Sept markings and decorations should have a specific colour – one that really stands out from all the other colours of the model (this will be discussed in the Contrast section further down). Bear in mind though that the general opinion is that white signifies leadership or higher office to the Tau. It could be wise therefore to have a colour other than white as the Sept colour in order to make it abundantly clear who's in charge.
This approach will leave you with approximately 4-5 different colours to use on any model in the army. More than that and our neat little colour scheme army starts to look like a jolly, extravagant carnival of vivid hues.
That concludes the COHERENCY section of this article.
CONTRAST.
Contrast is a completely vital aspect of army painting. If coherency is the "which colours to use", then contrast is the "where to apply them". Although contrast can be discussed in greater depth (and we shall) it's very easy to summarise it as follows: From what distance will you be viewing your fielded army? How close up does one really study your paint job?
As you might realise, when playing you don't bother with close-ups that much (except for checking that juicy true line of sight). And in order to judge the general appearance of an entire army, one does not get very close, and believe me, neither do judges of painting competitions when evaluating entire armies.
There are two sides to the coin when discussing contrast: the internal and the external contrast of the model. Internal contrast deals with the model's colours compared to other colours on the same model, whereas external contrast is the entire model's contrast compared to other, external parts such as game board, terrain and opposing forces.
External colour contrast is a minor area, so I'll bring it up immediately. External contrast is important when it comes to getting attention, which for instance is important in competitions and such. For example, my army is bright orange. That cut like a knife in the eyes of the judges and caught their attention when I entered a Games Workshop painting competition some time ago. Furthermore, external contrast is interesting when facing off against an opponent playing the same colour or team as you. Have you ever seen Ultramarines vs Ultramarines, Necrons vs. Necrons or (sweet heavens forbid!) Bretonnia vs Bretonnia? It's – quite frankly – a sight for sore eyes.
Not only does contrast create depth in colours, but also distinction. With "distinction" I refer to shifts of colours – where one colour ends, and another one begins. Remember that we're dealing with 30 millimetre models here. In order to see colour shifts on them distinct contrast is not preferred – it's mandatory.
This is where we enter a sensitive area for many Tau players: camouflage. Camouflage is a sign of great painting skills and patience. It is also said in the Tau Codex that Tau usually utilizes camouflage colours. It's important to make a difference between camouflage colours and camouflage patterns. A camouflage colour can be one colour applied to the entire model, much like the T'au Sept's yellow armour is a camouflage colour in their dry sand environment. Camouflage patterns however, always incorporate many different colours in order to reflect their environment. I'm going to upset a few of you now, but this is the deal: camouflage colours are great in all aspects, but camouflage patterns is a dangerous road to travel. Camo patterns viewed from more than 40 centimetres away always look blurry and murky. In all its awesomeness and and talent requirement, it simply doesn't look good from afar. And remember that you probably paint for the Greater Good here, not for the benefit of solitary models. And believe me, I know - I've painted camouflage patterns myself. The unit looks great, but they do not belong with the rest of the army. Enough said.
How you divide your chosen colours over your model is another aspect of contrast. It might be tempting to have large areas in your primary colour and then pick out smaller objects and areas such as knee pads, gloves and separate "scales" with the secondary colour, but will like go sour. Many small areas in separate colours distributed all over the model suffers from the same dilemma as camouflage patterns – it becomes blurry. Example: consider the effect of looking at a Rubik's cube from ten metres distance. A shuffled cube looks chaotic and lacks distinction. A solved Rubik's cube looks really organised and clear. It looks better if you distribute your chosen colours very clearly and apparently, say for instance a specific side of the model or a obvious part, for example the left shoulder pad on a Fire Warrior.
Contrast also deals with highlights and shadows of your chosen colour scheme. On this topic it's sufficient to say: "Don't hold back!" Highlight colours and shadow colours shouldn't be too close to the standard colour, because this won't read clearly from afar. Often if you go out on a limb and paint them slightly darker or brighter than you initially would have preferred, you'll be amazed by the great result.
One last guideline on the topic of contrast: the colours black and white. Seeing how they are both at their respective end of the light spectrum it's tempting to use black and white in your colour scheme. That is perfectly okay (seeing how they both are really strong colours), but bear in mind that they effectively negate aspects of depth. White cannot be highlighted with anything whiter, and black is the shadowest of all colours, hence negating further shadows. If you want black or white, use bright or dark grey as main colour, then use white or black as highlights/shadows. Lacking a highlight or shadow colour means lacking contrast. For more ideas, consider taking a closer look on a Space Marine Chaplain in Terminator Armour and the Space Marine Apothecary on Games-Workshops website. Bruno Rizzo's Shas'o Commander is another great example, but we all know that. If Tau army painting was a religion, Bruno Rizzo would be God!
THE MISCELLANEOUS SECTION
One thing I've heard people talking a lot about - both here and on dakkadakka.com - is my Crisis Suit and his war torn appearance, chipping and such. Personally I think he looks like garbage nowadays. Regardless, chipping and tearing is something I've been working with a lot the past months (Broadside, Shas'O Commander and Stealth Suits) and I feel comfortable writing about my technique. I've doodled a few sketches in Photoshop in order to illustrate even better. I chose our well-known and beloved Crisis Suit torso as my example area. Hope this helps!
1. Painting chipping and tearing is something you do in the last stages of the model. Broadly speaking the model should be "finished", looking like GW's own Crisis Suits (with your colour scheme, though of course). So, you have washed your model giving shadow and depth to all crevasses and corners. And you have also applied your highlights on those corners and edges. Good! Let's wear this bugger out!
2. Dark goes first! By using a really dark colour, paint the general shapes of the chipping. Like always, contrast is important, so choose a colour that really contrasts with your primary colour. Charadon Granite, Adeptus Battlegrey and Scorched Brown are all nice choices. Don't use Chaos Black unless your primary colour is really dark (Charadon Granite, for instance).
The important thing about chipping is to paint them on the right places. I can't stress this enough. Edges of all kinds are naturally exposed the most. Think about it like this: "What part of the model should suffer tearing the most?" Also, think about what might have caused the chipping. A bullet, sword or maybe a flat out body slam?
TIP! Painting a dark line along an edge, but doing it sloppily, often provides a good result.
3. "We've struck gold!" No, not really. But usually, underneath all the paint there's a metal alloy of some kind. A little piece of advice here, though. Not all metal colours work for this particular task. Tin Bitz, Dwarf Bronze and gold colours just won't cut it. Only grey metals - such as Boltgun Metal or Mithril Silver - are going to work. Personally I think it's because that's what people are used to see in reality. Remember that you don't need to apply metal paint to every chipped area, only those that are large.
4. Second highlight pass! Picking a colour that is slightly lighter than your standard highlight colour, paint the underside of every chipped area. This is important: Paint the underside. For some reason it looks FREAKISH if painted on the top side of the chipping.
IMPORTANT NOTE!
Sometimes it's easier to paint the highlight colour (Step 4), before painting the darkest colour (Step 1). It rarely gives a better result, but it doesn't require the surgeon hand skill to the same extent as the ordinary way of doing it. It does requires some planning and vision, though - you need to "see" where you're going to put the dark colour, before actually applying it.
There you have it! This is basically the technique. I leave you with a final end note on the subject: Good looking chipping and tearing is the trademark of expert painters. It requires practice, practice and more practice. The key to making it look fantastic is to make it neat and tiny. Blotches of paint will never look like chipping.
The following is a example study with my own models, where I put all theories into practice.
SEPT BACKGROUND.
My Tau sept – named Tok'ahn – resides on a planet named Vermilion, famed for its deep red deserts and lush green jungles. According to my backstory, the Tau main force have taken refuge in the desert landscape, relying on Kroot and Pathfinders to guard and watching the surrounding jungle areas. The Fire Caste have adapted their armour colours after the red sand and white limestone of the arid landscape.
FIRE WARRIORS.
My Fire Warriors clearly reveal the Tok'ahn colour scheme. Notice how the squad has Blazing Orange as their primary colour, but with the beige Bleached Bone covering up the right side of their armour. Might be worthwhile here to mention that all my Tau soldiers also carry a piece of white/light grey cloth somewhere on their body – that is also part of the backstory.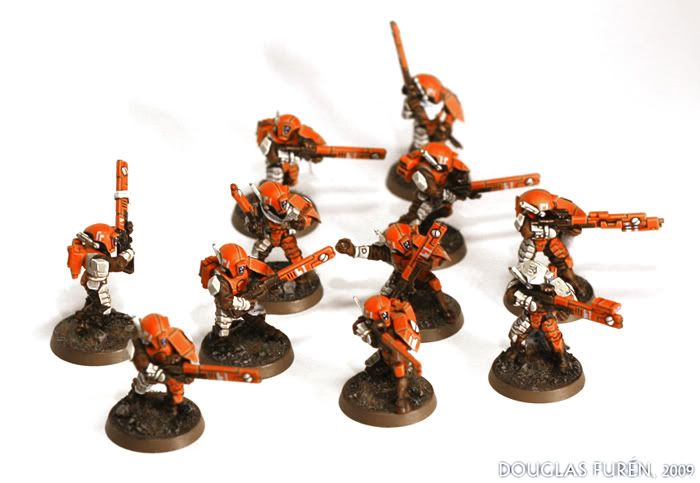 CRISIS SUIT.
The Crisis Suit shares colours with his Fire Warrior brethren, with the beige colours moved entirely to the right side of his armour. Although no seen from this angle, his orange left side is broken up with sept markings, this to prevent the orange areas to become too large, i.e. dull and repetitive. My Crisis Suits also includes a tertiary colour to their scheme – black (which, of course, is actually dark grey) – and this is to create even more diversity to the model.
KROOT CARNIVORES.
Kroot are interesting because they will automatically break away from other Tau army colours naturally due to their large areas of skin (unless the rest of your army shares this skin colour, in which case it looks rather stupid, actually). In order for my Kroot to "belong" with the rest of my Tau army, I chose to paint their armour in Blazing Orange. And it worked like a charm – my Kroot definitely look like they belong with the rest of the army.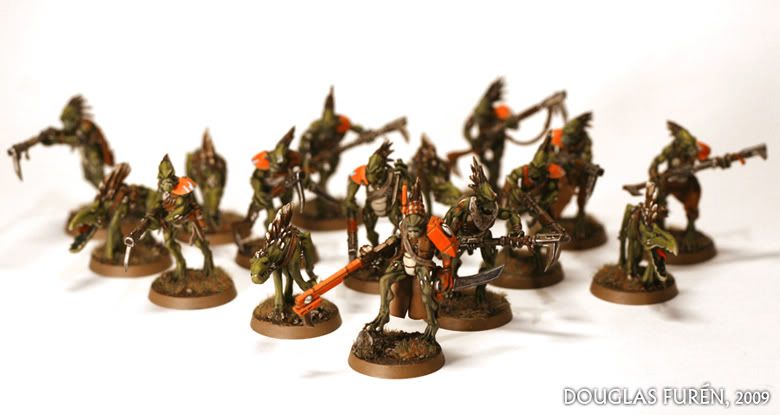 KROOT SHAPER.
I've always liked the idea of Kroot Shapers having more contact and trust from the Tau than their weaker brethren, and thus relies more on Tau technology. Once again a little Blazing Orange was just the thing to make him look "tau-ier".
DEVILFISH.
Although my Devilfish definitely could use some more markings and decoration, it clearly indicates what army it belongs to. Once again the right side was given the beige secondary colour. Hindsight is an exact science, however, and I've decided to go over my Devilfish soon. The distinction between Blazing Orange and Solar Macharius Orange isn't clear enough. I'll probably go with Mecharite Red/Dark Flesh instead of Solar Macharius Orange. This model needs the conrast. Also, I'll roughen it up with some wear-n-tear.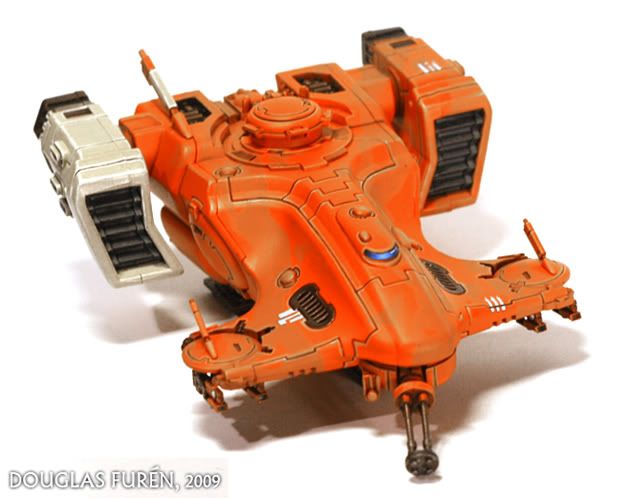 PATHFINDERS.
This is where things went bananas. I never liked the idea of Pathfinders having bright colours – they are experts in hiding and silent warfare, and this just doesn't fit well with them having bright colour schemes. Jungle fighters don't dress like Ronald McDonald for a reason, yeah? I decided to go with ultra-camouflage for my Pathfinders, and although they look really cool (and camouflaged) they stand out waaaaay too much from the rest of the army, and don't belong at all. I'll let them off the hook since I really like their appearance and also the fact that they need to stand out, otherwise they'd just like ordinary Fire Warriors (me having converted Fire Warrior-models, and all.)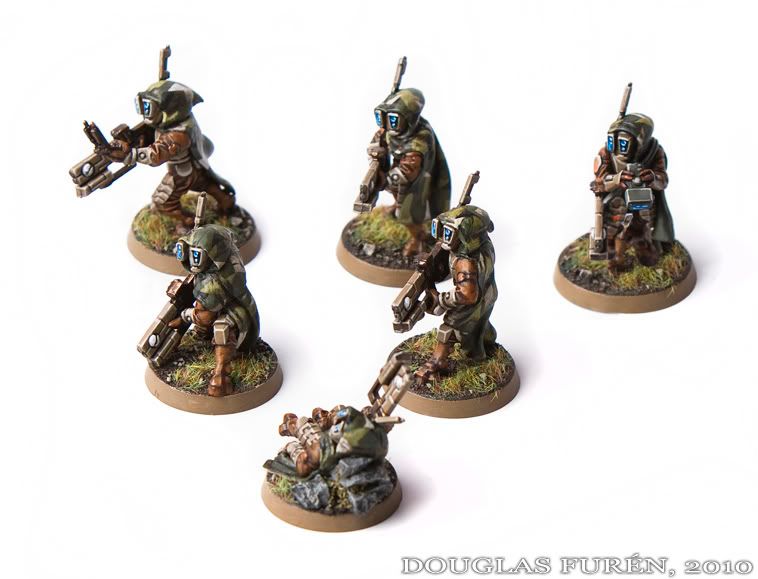 XV88 BROADSIDE
I love Broadsides! But every Tau player should by now know the old saying: "Once thou has treadeth upon Forgeworld soil, thou shallest shun Games Workshop's standard issue Broadside forever more." Or something like that...
Anyways, since I fell in love with the Forgeworld interpretation of the XV88, I decided to convert my own standard issue one. Should be mentioned here that I in a "dirty-'em-up" mood when I painted this, and pretty much everything in my army painted at that particular time got soiled.

XV25 STEALTH SUITS
For my XV25s I wanted something that was a cross-over between my Crisis Suit and my Pathfinder colour scheme. Lore-wise I like to think that the stealth field generators worn by XV25s works like the Predator cloaking, i.e. it completely imitates the surroundings. This meant two things: First, I could use bright colours – like my orange – for the uncloaked parts of the model. Secondly, that I wanted to paint the on/off cloaking process like it looks in the Predator movies. As you can all see; I failed.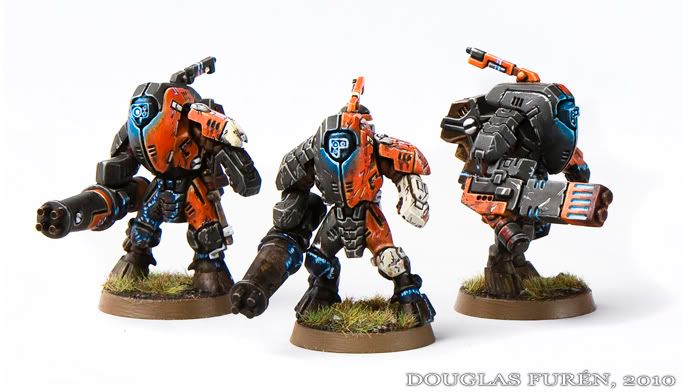 SHAS O'CYR'N – COMMANDER EVERBLEED
I'm gonna come out and say it – give it to you all straight: With neither decency nor remorse I STOLE Bruno Rizzo's idea and design when I put together my Commander. White is the colour of leadership in Tau society, and thus I wanted my Commander to show this without room for doubt. The shading was made up of several layers of Devlan Mud wash blended on the white surfaces. It took time. Hellish amounts of time.

"For the Greater Good!"
Good luck!
/Freeloader
This article is hosted on ATT, you can
download here.