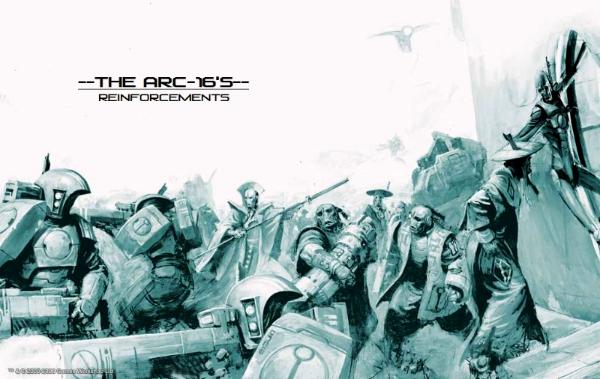 So with my original ARC project complete, it's time to expand my beloved cadre! There are a lot of options in the codex that I would love to add and a few Forgeworld projects as well. So instead of cluttering up my original thread by adding another 30 pages, I felt I should start fresh.
I learned a TON over the course of my last project and I know that I can improve those skills the further I push myself. So here are the goals of my new cadre:
1.)
Improve my Painting Speed
– I find that it takes me a VERY long time to get a model done. I know that it has a lot to do with some sloppy brush work that I have to always go back and redo, so I hope to eliminate this extra step by being more careful with my brush strokes. A simple goal, but something I hope to improve on.
a. So to accomplish this, I will be recording the amount of time I spend painting a model. Hopefully I can then see what gives me trouble and work to improve that.
2.)
Paint Camo Patterns and Stealth Effects
– This is something I've always envied in other painters armies, so I will be attempting to do these effects on my Stealth's and quite possibly my XV9's.
a. Using the tutorial found here, I should be able to get the effect I want. Of course, practice makes perfect.
3.)
Battle Damage
– Again, this is something that I have always admired and I want to apply it on many of my models.
4.)
Sculpting
– I have been using green stuff extensively on many of my models. But this has mainly been in a gap filling role. I would like to try my hand at sculpting a few things like helmets or shoulder pads to get some really unique looking models in my cadre.
That's about it for now. These are just things I'd like to focus on so that I can have direction which will help me improve my skills.
Now, let's get down to business. I have tried painting and modelling things at random, but soon discovered that I need focus. So here is the army list I am currently working up to. I must state that this list is
highly
illegal and is pretty much just units I want to add to my existing cadre.
ARC Reinforcements:++++ [HQ] ++++Ethereal
--- []
FW Honour G. 'ui
--- [Pulse rifle, Markerlight]
5x FW Honour Guard
--- [Pulse rifle]
Shadow Sun
--- [2x Fusion Blasters, Shield generator, HW MT Adv TL, HW Drone controller, Command Link Drone, 2x Shield Drones]

Shas'o R'myr
--- [R 'myr Shield Gen, Flechette disch., Double-barreled PR, Ejection sys., HW Drone controller, HW Target lock]
--- []
XV81 Shas'vre BG
--- [SMS, AFP, Targeting array, HW Multi-tracker]
--- []
XV89 Shas'vre BG
--- [CIB, Plasma rifle, Targeting array, Iridium Arm.]

DX-7 Disengagement Drone
--- [Flamer, Missile pod, Failsafe det.]
XV9 Shas'O R'alai /b]
--- [Pulse Submunitions Rifle, 'Eclipse' Shield Generator, Vectored Retro-Thrusters, Blacksun Filter, Drone Controller, 2x (BSF) Marker Drone]

[b]++++ [Elites] ++++
Stealthsuit 'vre
--- [Burst cannon, Markerlight]
3x Stealthsuit 'ui
--- [Burst cannon]
Stealthsuit 'vre
--- [Burst cannon, Markerlight HW Drone Controller, Marker Drone]
2x Stealthsuit 'ui
--- [Burst cannon]
Stealthsuit 'vre
--- [Burst cannon, Markerlight, HW Drone Controller, Marker Drone]
2x Stealthsuit 'ui
--- [Burst cannon]
++++ [Troops] ++++Fire Warrior 'ui
--- [Pulse rifle, Markerlight]
11x Fire Warrior 'la
--- [Pulse rifle]
3x Fire Warrior 'la
--- [Pulse rifle]
10x Saro Mercs (Firewarrior Count-as)
--- [Pulse rifle]
++++ [Fast Attack] ++++XV9 Shas'Vre
--- [Fusion Cascade, Fusion Cascade, Drone controller, Gun Drone]
XV9 Shas'Vre
--- [Phased Ion Guns, Phased Ion Guns, Drone controller, Shield Drone]
3x Pathfinder 'la
--- [Rail R./Target lock]

Pathfinder 'la
--- [Pulse C./ Marker]
++++ [Heavy Support] ++++XV88 'ui
--- [TL Railgun, SMS, Targeting array]
-----------------------
Total model count: 59
-----------------------
From a fluff perspective, I will continue to update my Collective Background thread with stories of the cadre as a whole and some individual models. However, there will be some units that I will write background for as a whole, since doing them as individuals would be too lengthy. I am very, very pleased with the background I have made so far, so I hope to keep it going and finally answer some of the nagging questions that there have been about the ARC-16's motivation.
---
So with all these things is place, what should be my opening model to showcase? Well why not let it be my model that recently won the ATT Combo Challenge! Let's break this guy down, shall we?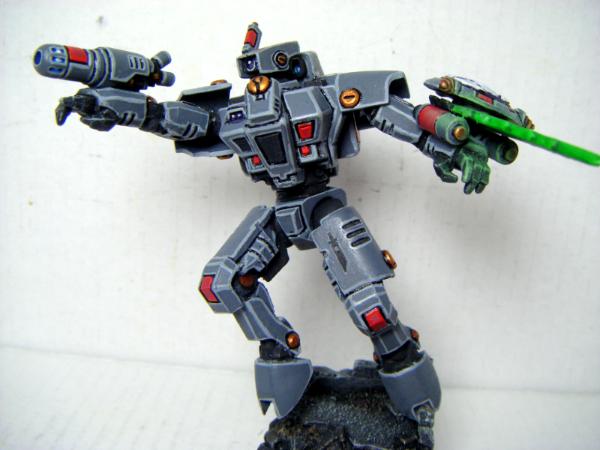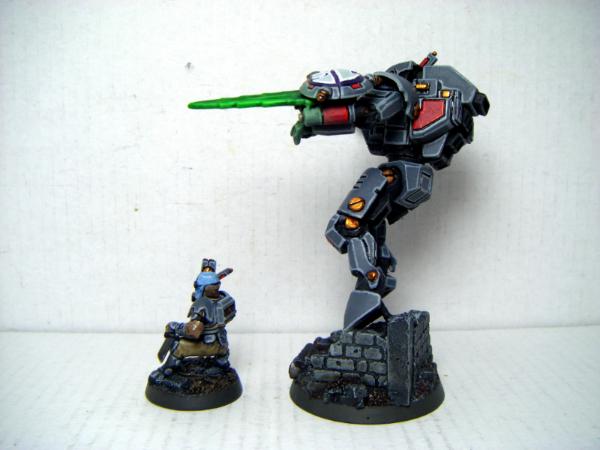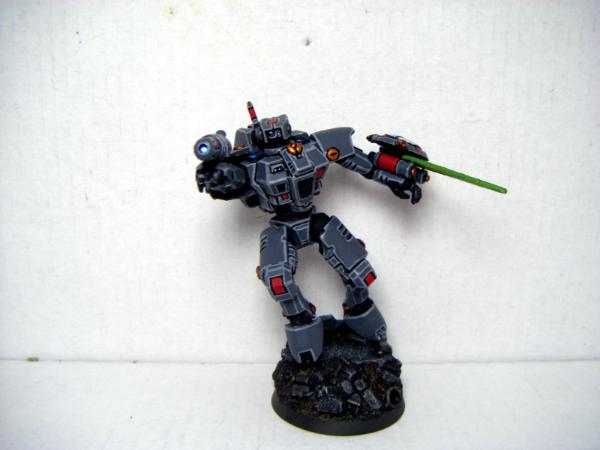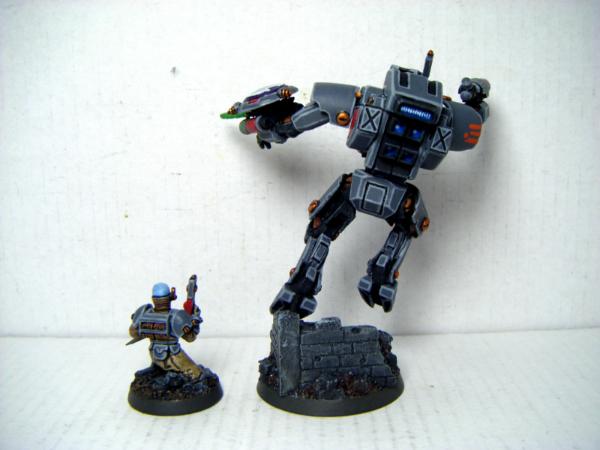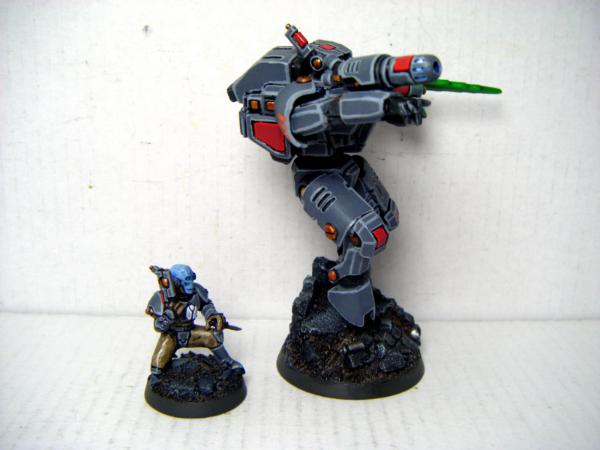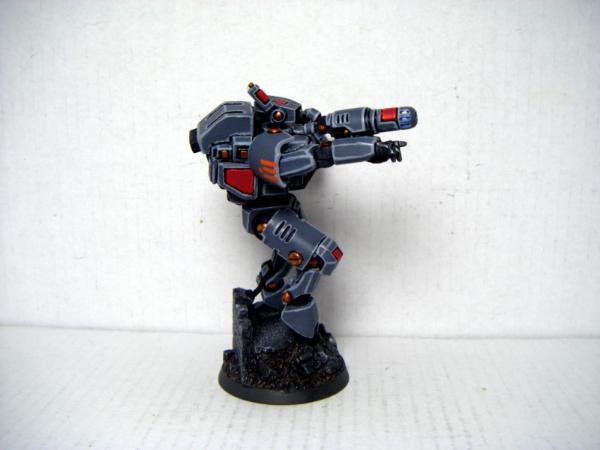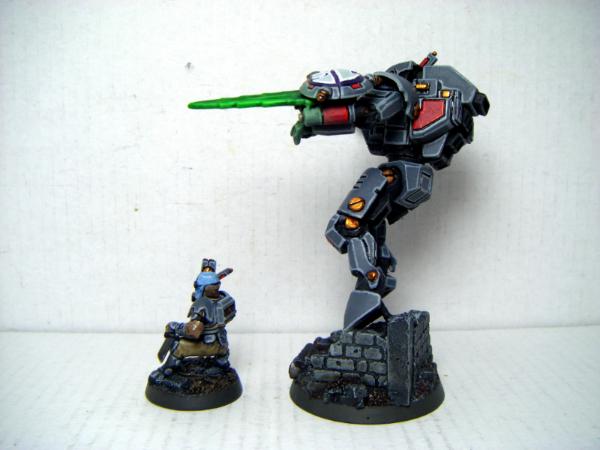 First off, let me explain what my goal was with this build. I love the look of the Sanguinary Guard models and this is in my interpretation of the Tau version. I wanted to make something that resembled an actual Tau, but just anthropomorphized into suit form. I also felt this was the only way to make a swift looking Farsight conversion. The Plasma Carbine is my imitation of the wrist mounted weapons the Sangy Guards use and the Fusion Cutter is my version of a power sword. Oh and the best thing about this is that the entire suit is made from spare parts that I had lying around (believe it or not!)
So let's break this sucker down: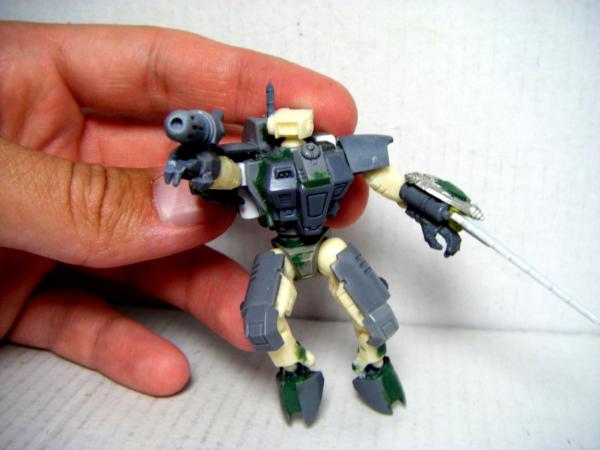 The head was sculpted by Warhound and was something I had lying around. The small antenna is the same one from the XV8 kit, but is trimmed down to fit onto the round ear piece the helm already had.
Onto the torso. The torso had its bottom half (with the hip sections) cut off. Then, I took an old XV8 backpack engine, cut the thrusters off and attached the power core part to the bottom the torso. This allowed me to not only seal up the hole at the bottom, but allow a perfect join for the waist. The front top of the chest then was cut out a bit and had part of the Stealth Suit shoulder pad attached. Near the suits collar, I attached two Koto vents to tie the suit in with the rest of my suits that have the same vents.
Onto the backpack. This was pretty fun, since I got to use bitz I've had sitting around for years! I took the XV8 thrusters, attached them together and greenstuffed then seam. Then I took two rounded Koto vents and attached them on the intakes/outtakes on the top of the thrusters. This helped to not only cover up some mistakes, but made the whole backpack flow together. The sides of the backpack are from the back half of an Ion Cannon. They are trimmed and grenstuffed to fit and connect the whole backpack to the suits body. Two Koto panels are then attached near the thrusters for decoration.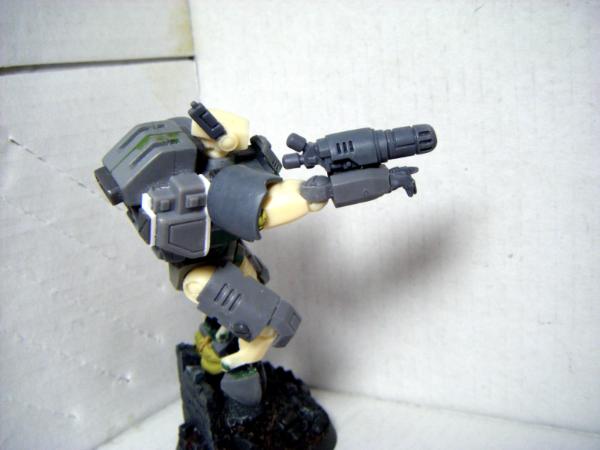 Right arm, go! Now this is interesting. The two arm sections are actually both made from the same type of bit: an XV8 forearm. Warhound came up the design of the upper arm and it work perfectly as a bicep. The bottom of the forearm then got some fingers taken from a Space Marine power fist. The Plasma Carbine is really one of my favorite conversions. I felt like a long, giant plasma rifle on a close combat suit would be silly and get in the way. So, taking the idea from the Sangy Guards, I took a Space Marine Landspeeder light, filed down the lens, the attached the front half of a Plasma Rifle to it. Then I took the roundy little nubs on the back of the Plasma Rifle and attached them to the gun to complete the plasma look. Then a hole was drilled in the gun to give it some realism. The shoulder pads are made from Space Marine Dreadnought leg armor with Koto bits at the corners.
The other arm contains the experimental Fusion Cutter, as weapon that was adapted from a Fio work tool used to cut through massive derelicts floating in space. The arm is made the same way as the other. The Fusion Cutter is made from 5 parts.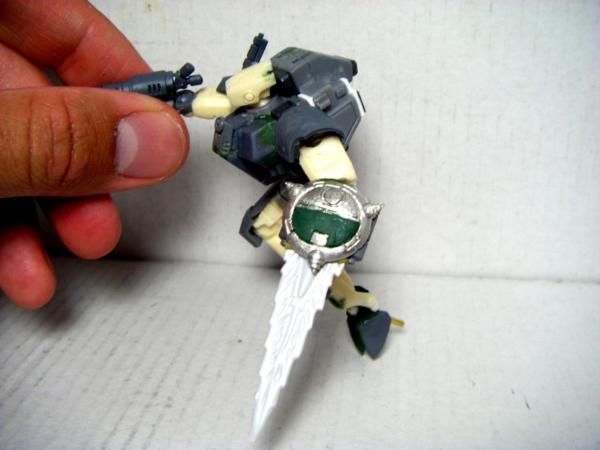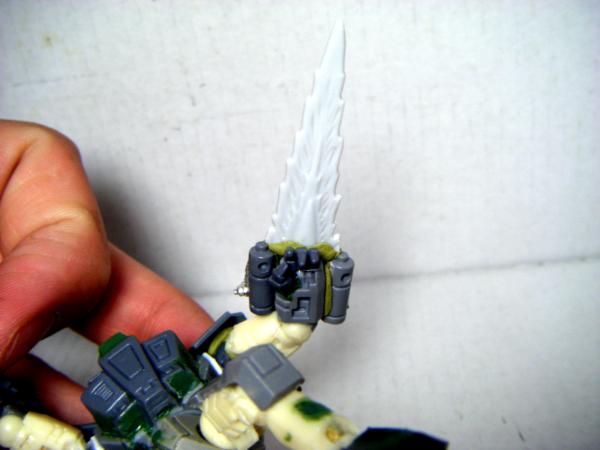 1.) Farsight's Shield- This had the Enclave symbol shaved off and the Sa'cea symbol greenstuffed on top of it.
2.) 2x Tau Flammer Bitz- Pretty self explanatory.
3.) Space Marine Landspeeder Bit – That is underneath everything and can't be seen, but it almost looks like a wall mount for a TV screen.
4.) Gundam Energy Weapon!? – Yes, I used a Gundam bit. It is from an OLD Gundam model that carried an energy trident and had dragon arms. The blade is trimmed down and stuck underneath the shield.
My first attempt at the Fusion Cutter can be seen here.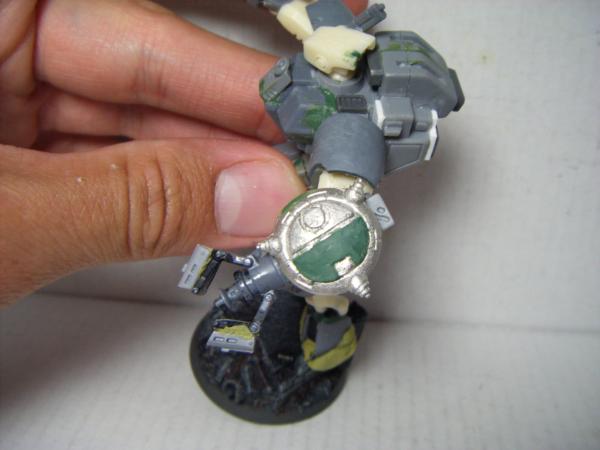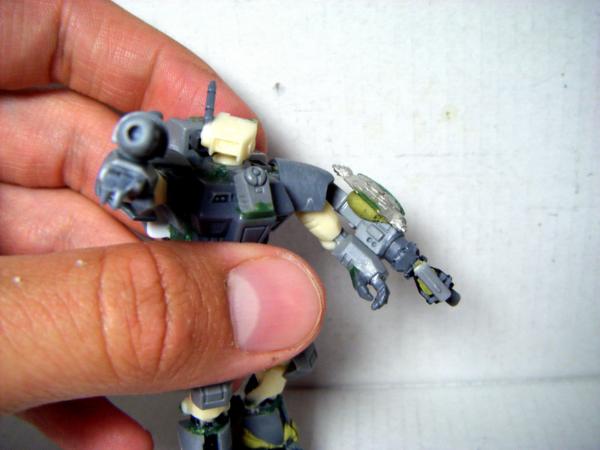 While not terrible, it just didn't give the power sword look I wanted. So maybe I will use it for something else…
Paint wise, the used Vollero Fluorescent Green paint as a base coat, then washed it with Thrakka Green wash. I then drybrushed Goblin Green to give it an OSL look around the glow of the blade.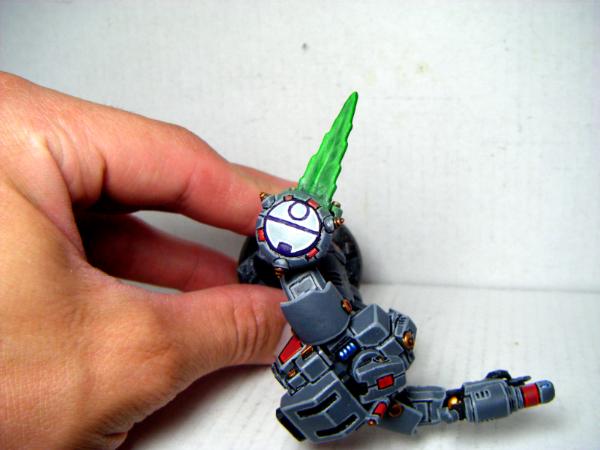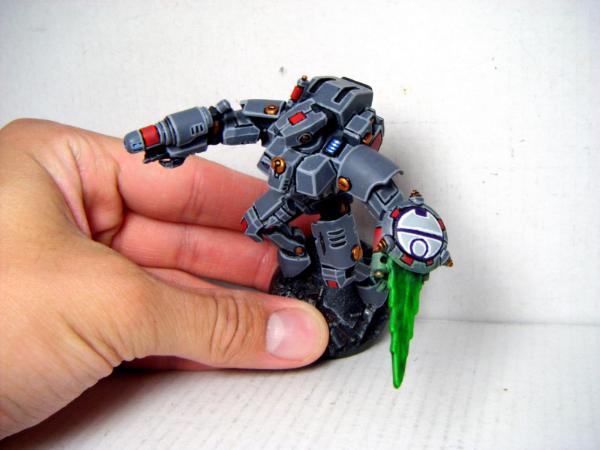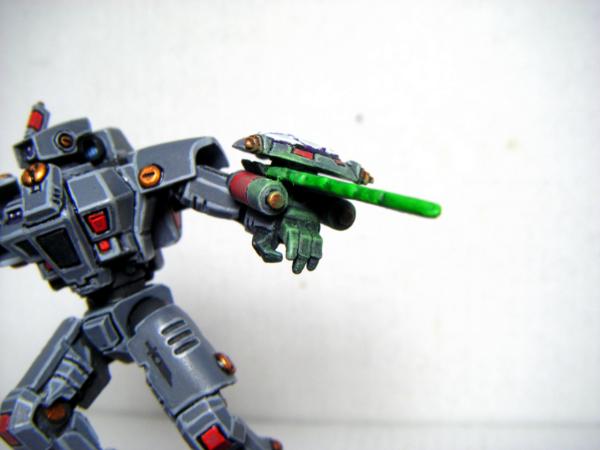 Now onto the bottom half! The hips are taken from the XV9 kit. Yes, I actually had some extra XV9 bitz lying around! Anyway, I love hips and am going to make this conversion on all of my future suits because it brings joy to my heart. The legs are from the XV89 kit and have some Dreadnought engine panels attached to them. Those thigh plates then have Koto bitz attached to the corners to tie them in with the suit. The knee pads are XV8 shoulders hollowed out.
The feet were actually made by taking Eldar Warwalker feet, cutting them in half, and then attaching the front half of that weird bit you get with Stealth Suits to the center of the foot halves. I then greenstuffed the gaps in the middle to make it look more like Tau hoofs. Then I took some XV8 feet, but the toes off and then glued them to the hoofs. Some greenstuff was then used to create some ankles and strengthen the bond. The base is also Dragonforge and is way awesome! I attached the suit to the top of the rubble heap with a metal rod to give him the look like he was jetting sideways, firing his Plasma Carbine as he goes by. I was very happy with the model and I think it looks great.
Then I painted my ARC-16 colors, applied the Bonding Knife transfer, then I was good to go!
Now let's take a look at the pilot.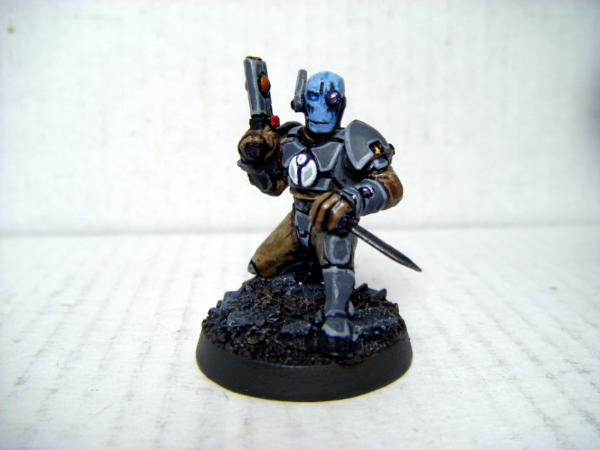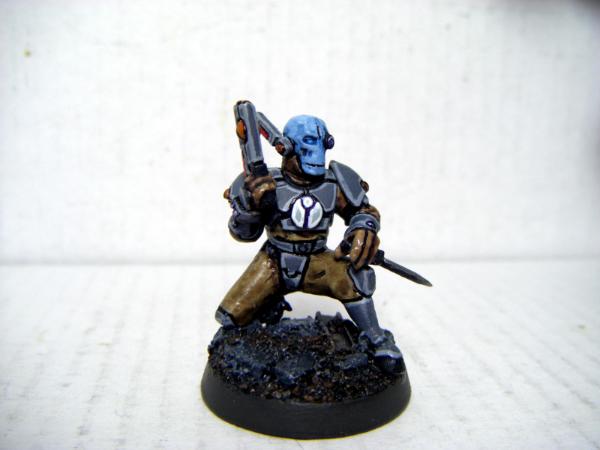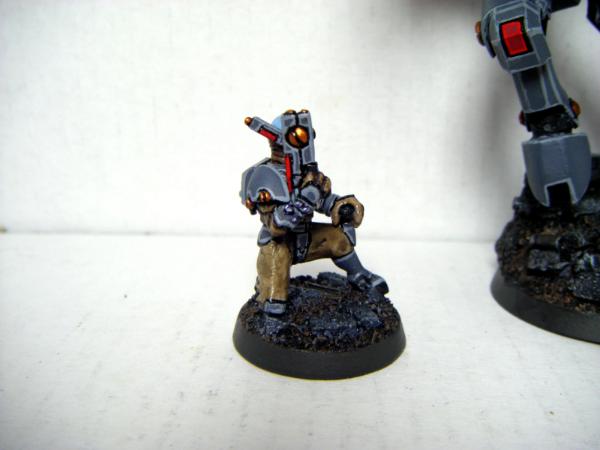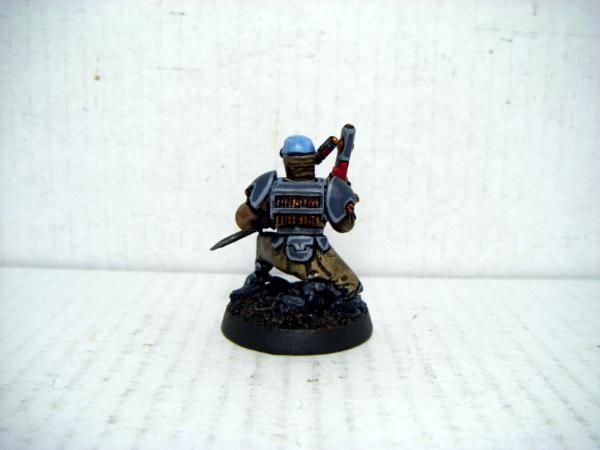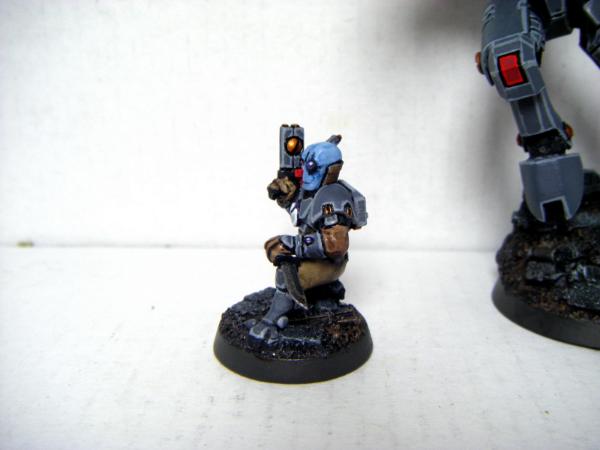 Cadian Torso with a hole drilled in the center, filled by a Firewarrior Shoulder pad Tau symbol. I used this because I felt like it looked too much like Cadian armor without it. Also, this looked similar to the armor O'Shavah wore in an old piece of art.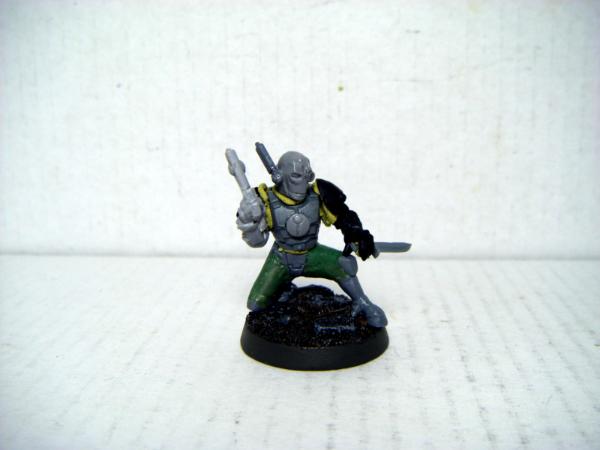 On the back, the grill thing is from a Necron Gauss weapon, cut down to look like it would plug into the cockpit of the suit. Next, I took some Fire Warrior legs, shaved off the thigh pads, then used green stuff to smooth it out.
The shoulder pads are pretty simple, just using Kroot shoulder pads flipped upside down. The Pulse Pistol is made by using the Firewarrior rifle arm that is resting the gun on his shoulder. The gun then has the top part cut off at the panel line and is trimmed down near the handle. The gun butt is then cut down a bit so it doesn't look so large. The other arm is normal, with a Cadian knife in his hand.
The head is a normal Tau bare head, with the scalp lock cut off. The left eye is then given some scars with an x-acto knife and a small koto bit is attached as the prosthetic eye. Oh and the base is from Dragonforge Mini's.
---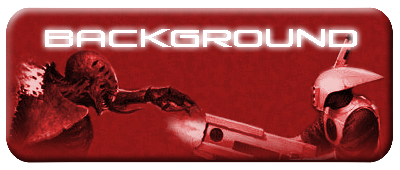 As for the identity of the pilot, I used him as Shas'El Sa'cea Lynu'nan for the purposes of the competition. But in reality he is my ejected Lar'shi. Just an FYI! As for his background, you all read the shortened version I had to use for the comp. Well here is the full, double sized version for your reading pleasure!
--Por'El Interview:

Shas'El Sa'cea Lynu'nan

--
--LOCATION: Wer'na Yon Battle Dome, 3rd moon of Ma'juro, Tau'shan system----I met with Shas'El Lynu'nan during a training exercise in the Sa'cean Battle Dome. He is equipped with his new XV8 "T'pel" pattern Xar'vesa. The training exercise's run here are controversial among the Tau'shan Shas'ar'tol as they are the only ones who use live Y'he specimens. Lynu'nan is tall and muscular, with no scalp lock. His face is heavily scarred, with a particularly deep gash extending from the right side of his mouth; giving him a permanent smirk.
He speaks to me as he equips his suit. I suggested that we conduct the interview during his rest time. He replied that this

is

his rest time.--
"I had everything a Shas would ever want. I served the honored Aun'El Elro'gal for seven kai'rotta, protecting him as he spread the Tau'va to countless worlds."
[With the xar'vesa's prep work completed, he leaps into the training area. We continue our conversation through the comm.]
"But all that changed on Tenu'ro. We were overwhelmed, y'he pouring in on all sides. Did you know that we weren't even supposed to be there? Our ship was prepped and ready when the attack began, but Elro'gal refused to leave. He said that his people here would need motivation to combat this threat and he was not about to leave them in their time of need. If he had only listened…
[The first y'he are released from their pens. I'm told there are twenty of the Hormagaunt genus.]
"If it wasn't for the Aun, I don't think our people would have fought as hard as they did. We held them back for a long time and we probably could have held out longer. But after the second day of the siege, our command center was located and attacked by a large brood of Lictors."
[Two of the beasts charge Lynu'nan as they appear around the corner, but are quickly vaporizes by his plasma carbine.]
"We must have killed at least six of those things as we fell back to the main chambers. But there were dozens of other Tau who were killed during the fighting, even some from my team.
[He pauses]
....I was bonded to each of those warriors, you know."
[About ten of the y'he now charge from the dense terrain of the training field. Lynu'nan shoots two, before charging into the fray. During all this, the cold monotone of his voice never changes.]
"Eventually we reached the center but found that the Lictors had gotten their first. We fought hard, but we were simply out maneuvered."
[As he nears the swarm he activates the fusion cutter.]
"I was the last Firewarrior to survive. But just when I thought I had killed the last one, I got to watch my beloved Ethereal get a cluster of flesh hooks through his chest. It was one of the Lictors I had wounded and thought dead. I was a fool for not checking."
[The Hormagaunts reach him, the energy blade immediately cutting several of the beasts in half. Slashing and biting, the others swarm over Lynu'nan, but he continues talking as if nothing were happening.]
"I was in shock for decs afterward. But eventually I snapped out of it. Being the most senior Tau there I led the remaining defenders in holding the y'he off till reinforcements could arrive. Thankfully we were able to keep our world. But all I was left with was my failure."
[Bursting from the writhing mass, Lynu'nan shoots with one arm, while the other continues hacking at those near him. Several other beasts join the fray, but are quickly cut down.]
"After spending some time recovering I wanted to get back into the field. The Por psychologists said that I was suicidal, that I had begun to lose focus on the Tau'va and instead I fought for vengeance."
"They were right. I wanted nothing more than to see every single Y'he dead. They had taken my Aun and robbed our people of his guidance. It was the ultimate insult to the Tau'va."
[Only two of the creatures remain. One is killed by a plasma bolt, but the other dodges it and lunges for Lynu'nan. He ducks, catching it by the tail.]
"Thankfully I was allowed to operate as a monat and volunteered for every single suicide mission I could find."
[Swinging the gaunt by the tail, Lynu'nan begins slamming it against the nearby rocks.]
"But the only problem is, I survived each time. No matter how dangerous the missions got, I somehow made it back."
["Is that why you volunteered for the ARC initiatives special weapons division?"]
"Yes. I figured that there was no better way to serve the Tau'va than to test weapons which would give our people a better chance against our enemies. The latest being this gem."
[By now the gaunt is a pulped and tattered mess. Lynu'nan drops the carcass on the ground.]
"I was told that I was the only one who volunteered to operate this suit. I honestly can't blame them; it is a barbaric design. But we needed to test a suit that could operate in close quarters; something that could be dropped in enemies lines and disrupt even their assault elements."
["But wouldn't that put the pilot directly in harm's way?"]
"Of course it would. Why do you think I accepted it?"
[Just then the last surviving Hormagaunt lunges at him from behind a pile of rubble. Lynu'nan quickly turns, activating his blade and slices the beasts head off in one swift motion.]
"Only a matter of time before these things get me.
[Laughs]
But before I go, I am going to take down as many with me as I can."
[Lynu'nan walks over to the severed head and smashes it with his foot.]
---
There ya have it, the extended directors cut!
So it begins. Expect to see some Stealth's and XV9's down the pipeline soon. Thanks for looking!