Tutorial : Simple and Inexpensive City Ruins
For all you those who are tired of hiding out in the woods and would like to have some desolate waste land city ruins to hide your blue behind in, please read on.
For making a simple ruin you will need...
small nails
Box Cutter (or your foam cutting weapon of choice)
Insulation foam board ( I used 3/4" foam cause that's what I had lying round, but any will thickness will do)
PVC glue
Black and white spray paint (One or both of these need to be able to melt foam, However it works best if the black does not and the white does)
Pliers
Step One
Design your building. Deciding how many floors, windows, walls, etc. now will save a load of pain later.
Step Two
Cut the foam. Using your design cut the foam in the correct size and shape. Be sure to save the pieces, as they can be used later on. Don't work too much about having clean cuts or straight lines, you will not be able to tell later on, just be sure the pieces will be able to fit together.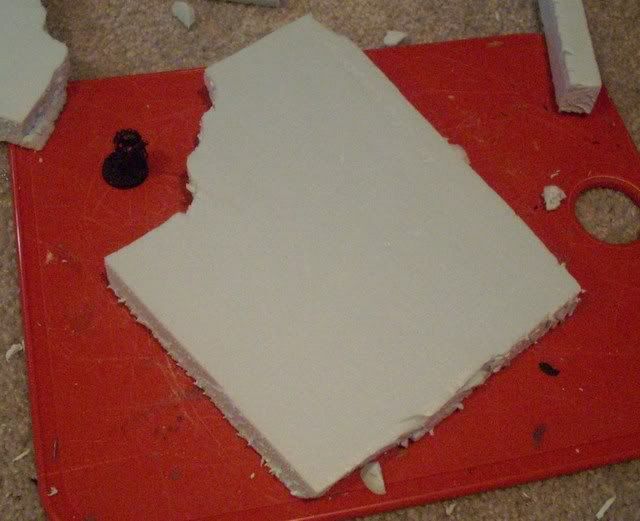 Step Three
Build the Structure. Using the PVC glue, attach the walls, floors, etc. together. Push the nails through the floors and walls, pinning them together, to add more support. Allow to glue to dry for half an hour or more before going on.
Step Four
THIS STEP MUST BE DONE OUTSIDE IN A WELL VENTILATED AREA!
Take your foam ruin outside and spray paint it black. Hose it down. Then while the black paint is still wet, hose it down with the white. You should see the foam began to bubble and melt, at which point retreat back inside for around 5 to 10 minutes while the paint dries. Come back and check on the progress. Continue to add paint until you are happy with the result. For a rougher texture, add more spray paint, for a smooth add little to no spray paint.
Add any details you feel like, like rubble piles, craters, etc. (If anyone want I have another quick and simple trick to make neat craters I could post)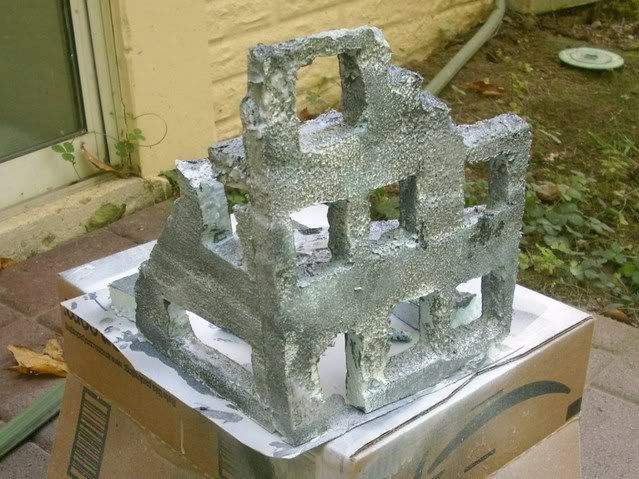 Step Five
Let it cure over night in a garage or other well ventilated area and enjoy!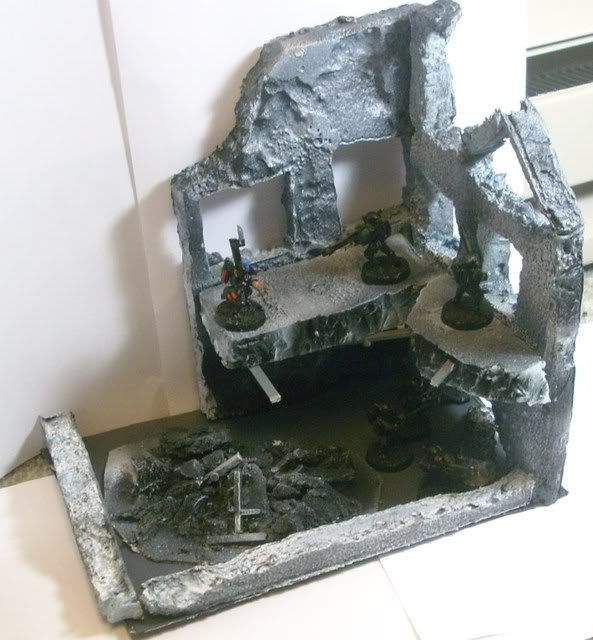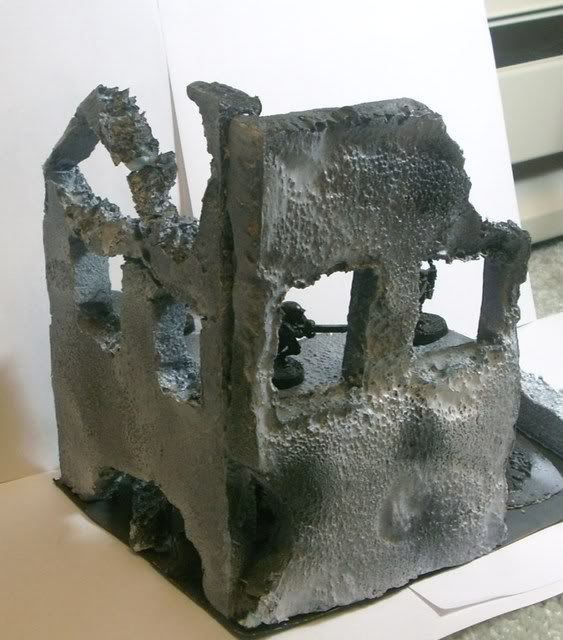 (This is my first attempt at a Tutorial, so any tips, or questions would be extremely helpful to make sure this Tutorial reaches the high standard on ATT. That and I will edit in better photos, especially of my finished cityscape board when it is completed. And I did do a search, but if someone has posted a similar thread, I beg forgiveness O great admins 'bows down and backs away slowly')
Thanks for reading and I hope you have found this post useful!
CoDominum
edited for better info and clarity