If you wanted to add some flare to it, you could add a standard on his backpack. Would add color, but also show your skill as a painter on flat surfaces as well. Another idea might be to take some shining gold and highlight just the top tip of the chest emblem on the bird to give it some color too, but it would have to be very light and thin so it doesn't overwhelm the rest of the emblem. Lastly, the hand would be the one thing you want to spend a little more time cleaning up. It looks pretty decent, but like I mentioned in my last post adding some depth in between the finger cuffs on the fist would definatly do it some justice. For reference, I'll post one of my stealth so you get the idea.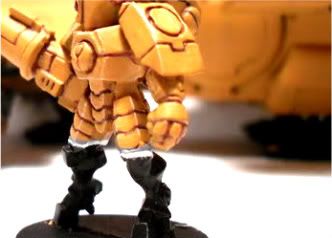 If you notice on the hand how I painted each bend in the finger with a darker shade, it adds major depth to the hand. Now the lighting of your sternguard's fist would be perfect for this particular technique. Just paint it like you would the lines of Tau tanks and suits, very thin, start with a darker color, then blend with a slighty lighter color.
Keep in mind, I still think it looks great, but I'm just throwing in my personal opinion here.