The Plight of Kur
++981.M1 Elements of Ultima Segmentum Battlefleet emerge near Kur to reinforce the beleaguered planet.++
Kur has been a world stretched to its limit. From the time that it had first been settled, it has always been a busy frontier world. Many explorers on the Eastern Fringe found resupply here and the world provided abundantly. The local populace was known to be a tenacious people and made excellent Imperial Guardsmen. However, as the centuries passed, the planet has suffered its share of disasters.
In 980.M41, Kur was one of many worlds that lost communication with the Imperium after Waaagh! Starkilla rampaged through the sector. After suffering a major defeat, some of the fleeing Ork fleets made its way to Kur, seeking to resupply before they attempted another attack. But if they expected an easy raid, they were in for a surprise. The local populace fought hard to repel the invaders, effectively utilizing Kurs vast tunnel network to constantly harass the invaders. In time, the Imperium was able to reinforce the planet and break the Ork horde. In the wreckage of Ork vessels, maps and battle plans were discovered which pointed to the exact location of Starkilla's remaining forces.
As time was of the essence, the Imperials gathered a great deal of supplies from the planet before leaving to hunt down and eliminate the remaining Orks. While the Imperium would eventually defeat the greenskins on some foreign world, Kur was forced to rebuild on its own. The remaining PDF were hard-pressed to keep control of the population who clamored for food or medical supplies. Worse yet, surviving Orks raided camps and settlements, forcing the already taxed PDF to enact harsh protocols to ensure the safety of the population.
Under the command of the fierce planetary Governor, Resu Utanu, the PDF brutally stamped out any infraction or rebellion committed by the local populace. Additionally kill teams were sent out regularly to find and eliminate the remaining Ork threat. It took five years, but eventually the last of the Orks were found and burned. With this victory, the people of Kur could focus exclusively on rebuilding population centers and fixing the damage caused by the Ork attack.
But such peace was not to be, as previously undetected damage to certain city infrastructures lead to several tragic accidents and even a massive explosion which destroyed most of Hive Akan. Akan was once the planets primary manufacturing facility and with its loss, the planet was unable to mass produce any of its normal exports. Still, the people of Kur pushed on and tried desperately to rebuild. But in the years that followed, Kur endured many raids by pirates and roving Chaos warbands which further drained its dwindling supplies. The most unexpected loss, however, was not from a renegade or xeno threat, but was brought by the cost of the Imperial Tithe.
Forcing Kur to lose sorely need soldiers, weapons and resources, the local PDF was reduced to a shadow of its former self. While Governor Utanu tried desperately to reason with the Administratum authorities, they coldly reminded him of his duty to the Imperium and ensured that the conflicts these resources would go to support were worth far more than his world alone. Stalwart acceptance has always been the hallmark of the Kurien people, but this sorely tested their loyalty.
While Kur once again struggled to rebuild, alien eyes watched and recorded these developments with great interest.
The Shadow Approaches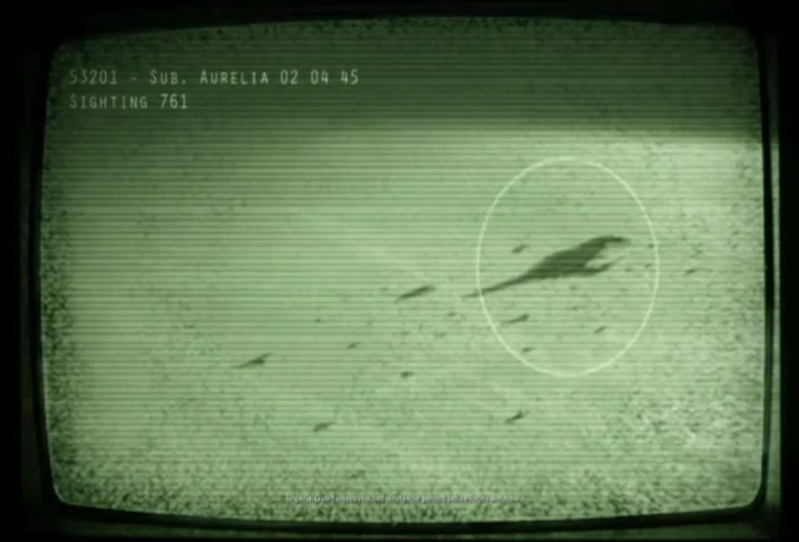 ++Image from an Imperial waystation. Contact with the station was soon lost after the image was sent.++
In 999.M41, astropathic messages began to trickle in which that sank the hearts of Kurien leadership: Tyranid ships had been located within the sector and reports indicated that the main fleet was headed toward Kur. Their estimated arrival would be in months; a year at the most.
While these reports were kept secret from the general populace, word was somehow leaked. Posters featuring vivid images of Tyranid life forms, pamphlets detailing their terrifying methods of attack and untraceable vox messages that warned of impending doom began to circulate. Attempting to stop the spread of information, anyone in possession of such material was either killed or incarcerated, but this did little good. Mass panic began, as large groups of civilians demanded that their leaders reinforce their particular cities at the expense of others. Realizing that his people were at the cusp of civil war, Governor Utanu conducted a planet-wide vox transmission that attempted to reassure the people that their leaders had everything under control. While this did succeed in stopping large scale rebellion, noisier factions had to be put down swiftly by PDF forces. This did not, however, stop the feelings of dissent that had developed among the people. Quieter, more subtle conspirators began executing their plans.
The situation continued to worsen as reports came in of several brutal slayings and disappearances that had plagued the populace in the recent months. Investigators and PDF patrols struggled to find who was responsible, yet their searches revealed nothing. This created a growing tension among even those in the government who felt that their world was slipping out of their hands.
Grossly unprepared to defeat a full swarm of Tyranid invaders, the planet called out to the void for any assistance. Weeks passed with no response, till an unexpected transmission was received. Kur's cry for help was heard, not by Imperial authorities, but by the listening stations of the Tau Sept of Ksi'm'yen.
Quote:
Addendum: The Ksi'm'yen Sept:
Ksi'm'yen is young, having only recently been established in the
Tau's 3rd Sphere expansion
as early as 998.M41. Yet despite their youth, its people have already proven themselves to excel in the art of stealth and subterfuge. Meticulous planning and subtlety have become their standard approach to warfare, giving Tau of the Sept a reputation for being schemers and risk takers. Their location has them as the closest Tau stronghold near Kur and the local Shas'ar'tol felt that rapidly capitalizing on the ground they had only recently gained would allow them to resist any counter attacks the Imperium would send against them. Worlds like Kur proved perfect for this purpose as it provided an ideal staging ground for the local Kor'vattra to maintain a reserve fleet that could then outflank any attackers on the Septs borders.
Por'El Ksi'm'yen Va'Taal, a fiery young Water caste diplomat, had carefully devised a strategy to take Kur with little bloodshed. Through dozens of loyal human agents infiltrated among the population, she had months ago orchestrated a campaign to create a sense of panic and mistrust of Imperial authorities among the Kurien people. Slowly, pro-Tau propaganda was distributed to population centers, medical aid was given to the poor and cruel lawmen were killed or disappeared. Each time, the Tau were lauded as saviors who cared for the needs of the common man. Yet the Tau kept their involvement hidden and those who sided with them chose to keep their views secret, especially after the brutal put down of the protestors, many weeks ago.
Back in the Governors headquarters, panic began to grow. With no Imperial response to their calls for aid, many felt that the Imperium had abandoned them. To make matters worse, Governor Utanu fell gravely ill and granted temporary authority to his daughter Talha; a strong, capable woman who had much experience in running planetary affairs. Her election was, of course, not popular among those who felt a woman was incapable of leading the people and led to a great deal of arguing among the Governors staff. It was during this time of distress that Por'El Va'Taal made direct contact with the local government.
Quote:
"We have seen your plight and the way your Imperium has left you. They seek to take from you, but we only seek to provide. Join with us and we will provide you with protection, supplies and purpose beyond what your oppressors are offering. Do not fool yourselves, the Tyranid are coming. Do not throw your lives away; we can help."

- Por'El Ksi'm'yen Va'Taal, in communication with the Kurien leadership.
As can be expected, initial reaction from the Kurien leaders to the Tau delegation was a firm 'no.' Lady Talha, for her part, questioned the true motives of the Tau, fearing that her people would be letting their guard down only to be betrayed. Yet as time passed and the looming threat of the Tyranid advance grew ever closer many of the Imperials began to lose their nerve. Soon, the Tau offer of protection became too tempting to pass up, and a dialog was started.
While arguments and debates raged on in the Governors chambers, Por'El Va'Taal put her next plan into action. Tau spies, having spent weeks giving stirring pro-Tau speeches, began the rebellion in earnest. Large crowds demanded that their leaders accept the offer of the Tau and thus spare their people from the suffering that was awaiting them. Calling themselves "The Voice of Reason," this Tau supported rebellion attacked and overtook a local PDF garrison, fortifying the defenses and declaring it the safe haven for any who would welcome the Tau.
Large forces of PDF troops assembled to destroy the rebels, but were stopped by the genuinely unanticipated attack of a massive Genestealer swarm, whose nest had been disturbed by an ordinance misfire. Actually seeing Tyranid already on their world worked wonders in convincing some of the more stubborn PDF leaders of their desperate situation. Many commanders swore themselves to service of the Tau Empire, if it meant that their families would be safe.
With local support for the Tau growing, Imperial authorities felt that they had no choice but to accept the Tau's offer and turn themselves over as vassals to the Tau. Yet as they met with the Tau delegation, to confirm terms of their allegiance, a truly unexpected development changed everything.
---
-The Council Chamber of Governor Utanu, 9722999.M41. Approximately twenty four weeks until Tyranid invasion.-
"As you can see, our proposal is to relocate your population centers to these three areas. There they will be the most easily defended." The large holographic image showed a swiftly rotating view of the planet, with the Tau's defense zones highlighted in red. The Por's four-fingered hand seemed able to move and rotate the glowing, blue image with varying twitches and swipes. Talha could not help but feel unnerved at the technology that these xenos brought with them.
The holo image froze in place and the Por turned to address the council directly. "This will, however, require the cooperation of your entire staff. We can provide the air assets to move the people and supplies, but we must be allowed total operational control."
Some commotion had been created by that last statement. Some council members shifted in their seats, while others exchanged hushed, but heated remarks, as the dread of a Tau takeover was starting to become clearer.
The Por seemed to sense this: "Your government will have a share in the activity, of course. But with all due respect, my people are most familiar with the systems required for this operation and it would serve the greater good to have us take the lead."
The xeno radiated confidence. Even as she wore a look of genuine interest and concern, she could not hide an underlying sense of pride. It was clear that this Tau felt they had won.
The Water Caste envoy turned directly to Talha, "I trust this will not be a problem?" She said with a slight smile tugging at the corner of her mouth.
Talha clenched her jaw. This xeno was toying with them. The Tau could have landed their military units right now, but instead they made this illusion of peace and cooperation; these creatures were experts.
In the days that proceeded this current discussion, Talha had matched wits with this Va'Taal several times; each attempting to out negotiate each other in a dazzling verbal fencing match. Never before had Talha met someone who could match her wits. She began wondering if Va'Taal had been chosen specifically to interact with humans.
The Por's face seemed, in comparison to the other Tau, to be the most human in appearance. Of course, the blue skin and lack of a nose made all the difference, but Talha could not help but notice the similarities in the alien's body language, facial expressions and tone of voice. It all seemed too familiar. Even the xenos accent was distinctly Kurien! It was enough that if she closed her eyes, Talha could have sworn that it was a local woman speaking.
As all eyes in the council room turned to Talha, she began to keenly feel the weight of the world on her shoulders. She had a choice: Accept the Tau's offer and hopefully prevent the loss of their planet from the Tyranid, or refuse and face the inevitable attack from the Tau. The latter option seemed pointless as any victory against the xenos they could achive would leave them even more unprepared for when the Tyranid arrived to devour them. But if they did side with the Tau, what would happen once the Imperium discovered their treachery? Would she dishonor her father and all of her ancestors who ruled before him? Neither option was desirable.
All her life, Talha had been around politicians. She knew the way they thought, the way they schemed, the way they double-spoke their way into people's hearts. After becoming an adult, she struggled for twenty years to get to where she was today and she achieved it, not because of her good looks, but because of her sharp intelligence and a stern desire to never accept defeat.
Now here stood this xeno, this
politician
. She would not let this one beat her either.
Standing to face the Tau, she began to speak. "Por'El, my people have…" Talha trailed off, the sight that suddenly appeared before her eyes stole the words from her throat.
The air in the center of the room began to move and a sudden point of light appeared. Quickly it expanded into a white light that grew brighter and brighter till all in attendance had to turn away. The smell of ozone and a wave of heat washed over the room. Reaching a blinding peak, the light flashed and suddenly faded. In its place, a massive, hulking shape appeared.
All eyes shifted back toward the center of the room. Talha had to blink several times as she struggled to make the spots go away. And as her vision cleared, she began to make out what was before her.
"Oh throne.." Talha whispered as she noticed the distinct shape of a man begin to rise to its feet. No, this was no man. She had heard about them; every citizen of the Imperium had. This was a living legend, a god amongst men. Its armor was a dark, muddied yellow with sections of dark green. On its left shoulder, a black stripe was displayed. It was emblazoned with what appeared to be a star and a crescent shape beneath it. In its right hand, a large, boxy weapon was held. It was clear that this being was designed to bring one thing: death.
Everyone in the room was silent; shocked at the sight they beheld. The Tau diplomat had been pulled behind her bodyguard and the four warriors pointed their long rifles at the figure. For a few moments, the tension in the air was thick. Talha noticed that she had been holding her breath the whole time.
It rose with seemingly little effort; its mass apparently no hindrance to its movement. Then, a deep, smooth voice came from the figure: "Greetings, honored council of Kur."
Everyone in the room jumped at the unexpected sound. Yet Talha noticed that the Tau diplomat seemed, not scared, but…irritated. Again, the hulking warrior spoke: "I am Şefik Bahadır, Veteran Scholar of the 1st Orta. I represent my lord and master, NIthik Taksheel, Grand Aghasi of the Shadow Guardians."
The warrior paused and surveyed those before him; his massive, helmeted head masking any expression and making him appear more alien than the ones that were in the room. Everyone sat transfixed. Some of his titles and words were foreign, but it was clear that he was a representative of an Astartes Chapter.
Had the Emperor sent him to punish the Kurien people for their involvement with these xenos?
Talha began to shake.
"My master gives me this message: 'Do not lose faith. The Emperor has heard your pleas and He has responded. We are coming to save you, honored people of Kur."
At once, all eyes turned toward Talha. They were waiting for her response. Would she continue to side with the Tau or would she put faith in this Astartes words? Would this warrior bring death to her and her people or salvation?
She took a deep breath, and with the fate of her people hanging in the balance, she began to speak.
---
Okay, so with that setup, we can begin to get into the armies properly! The Ksi'm'yen Sept might be represented by a few models, but we'll see. Anyway, let's talk a little about Tyranid, okay?
Paint schemes are one of the biggest things I waffle on. If I can't find a paint scheme I can 1) really like and 2) paint easily, I just end up staring at the models. So now I am trying to find a paint scheme for my Tyranid that really gets me. First off, let's look at my old scheme: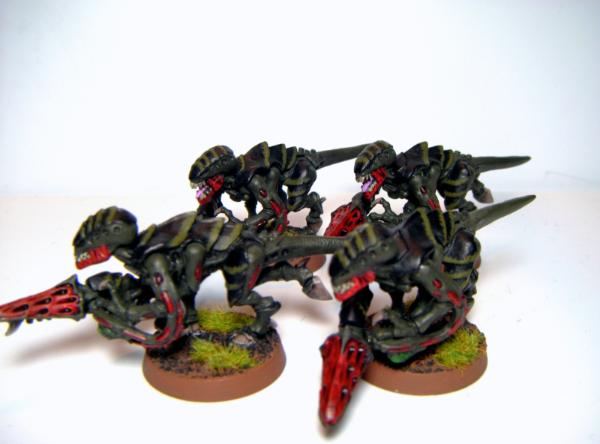 So while I like the scheme I had, it is really dull and I feel like I can do a lot better now. I do, however, like the look of a shocking accent color (I especially like painting the lower jaw something bright). Now, I have a dark army (grey ARC-16s) and a dirty yellow army (Shadow Guardians) and now I want something that stands out, but also doesn't look like a cartoon. So there were two schemes that caught my eye:
1.)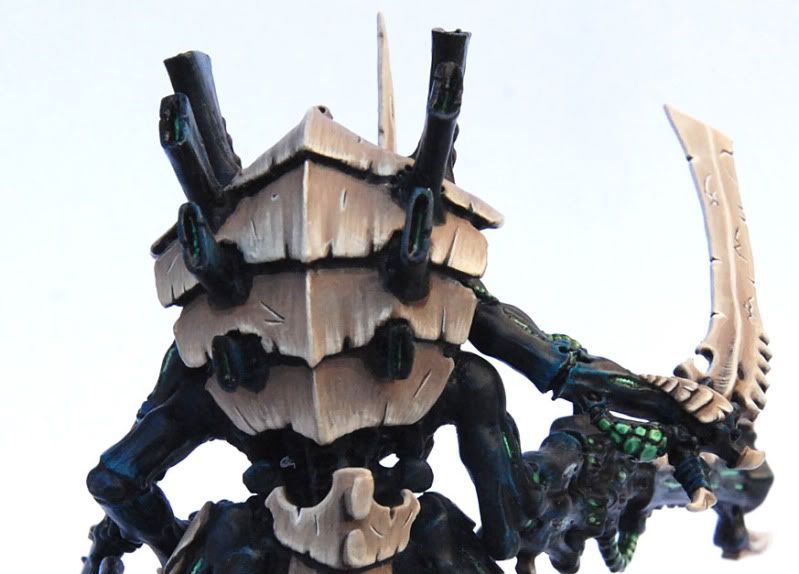 This scheme was on the GW website
not to long ago.
This was painted by a 12yr old!
You can read how he painted it on the site, but it seems fairly straight forward.
2.)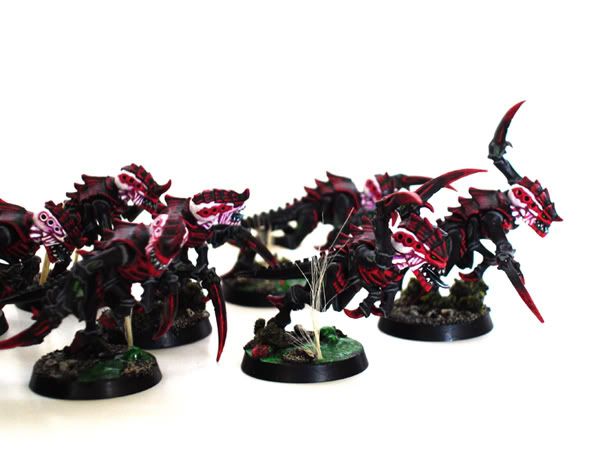 This was an adaptation of an alternate Behemoth scheme from the 3rd & 4th Edition codex. It is done by Scab and
his log is here
. Annoyingly, he refuses to post his techniques because he feels it would help people "cheat" their way to a great painting style that he took long to achieve. That is retarded, but not the point.
Anyway, here is the original scheme:
I quite like the look! I feel like it allows me both a dark and bright colored army that would be fun to paint! What do you guys think?
---
Oh and I am gonna try to get some banners made for my updates like I had in my ARC-16 log. I will have one for each of the races and one for stories. If anyone wants to volunteer their photoshop abilities, let me know!