Thanks for all of the comments! It's good to know that somebody else thinks that these are interesting and that I'm not just way out in left field all by myself.
tehlegend wrote:
I think the only issue i have is that they all have a very similar size which is primarily suited to hiding infantry.
At first I was a little confused by your comment since I use them for cover in games all the time. Then I realized that I haven't posted any good comparison pictures so that you can see the larger plants next to a vehicle. Here are a few comparison pictures so that you can judge for yourself how well they can conceal a vehicle. The Hammerhead is on a flying stand and the only part of it that is taller is the very top of the railgun.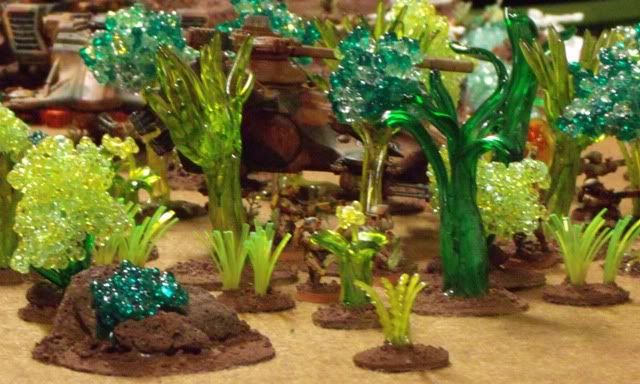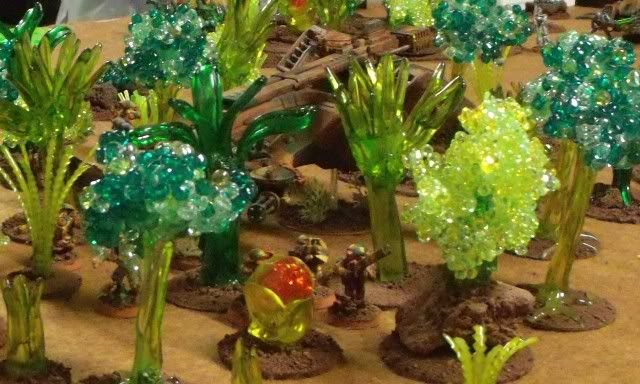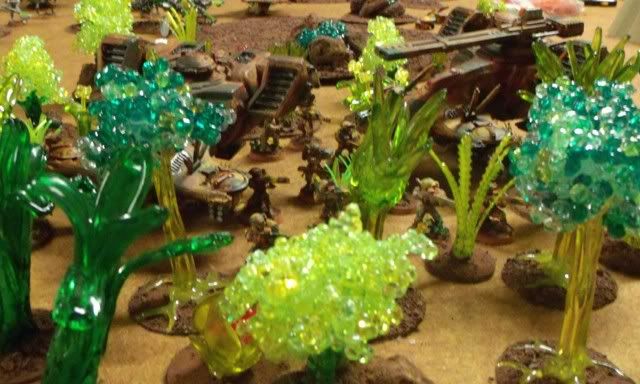 tehlegend wrote:
I thought about the possible uses for that mesh stuff. It might be plausible to create corpses and rotted remains from it. particularly animal spinal columns and rib cages depending on how you cut the pieces out. if its dyed red and placed under some of the carnivorous plants, I could imagine it looking like regurgitated refuse... complete with deteriorated gear
Interesting idea but unless I can solve the problem of it getting too hot and all running together, then it would just look like a melted blob. I have some success with using it for another type of plant so I will post pictures of that later.
paulson games wrote:
My thought on the new plants was maybe cutting the lacing material at a 45 degree angle rather than at 90 degrees.

I have to agree with you that cutting the lacing at a 45 degree angle would make them look better. If I were to do them over again I would cut them at an angle. I originally made them by wrapping multiple wraps around my hand and then cutting them all at once. If I had simply thought to cut them at an angle then, it would have been very simple to do. Unfortunately now that they are already cut I would have to cut each one individually, and it's just too much work for such a minor plant.
Diehard wrote:
This has really turned into the thread to watch. Great work.
Thanks, I hope that I can live up to your expectations.
All of this talk of needing bigger plants and pictures of a Saguaro cactus has got me thinking. I had a failed experiment for another project, which just might be usable for this. I had been trying to figure out a way to easily make lava from plastic. It was a failure because it ended up looking much more globular than I had thought (it was one of my early experiments). I also couldn't get the colors correct since the yellows would overpower the oranges, and the reds would be way to strong.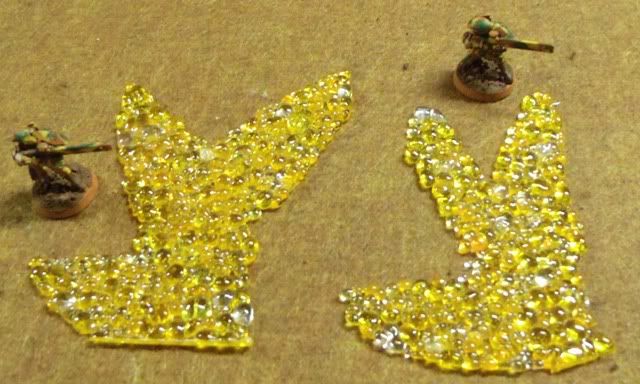 These are very flat since they were intended to be used to simulate a lava flow. However if I made them in 3-D instead of 2-D.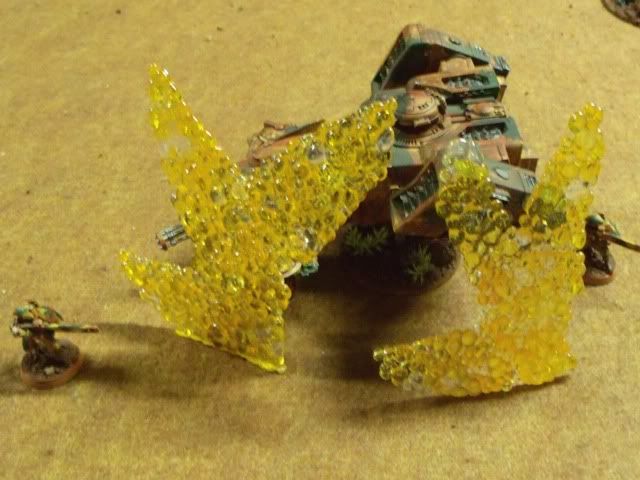 Anyway, using essentially the same process that I used to make the vegetation clumps I could definitely make some very nice tree trunks. I also think that with just a little effort I could make something similar to a Saguaro or possibly even some sort of coral. I love the texture on these failed experiments, and think that they would make an excellent plant. This is still very much in the idea stage so what do you think?