Well dropped off the face of the earth there for a bit but I finally decided on a design for my broadside and painted it up. On the plus side based on what I saw from GW's latest release wave I will never have to work with metal broadside parts again so woo-hoo for that. Also I have forgotten who I stole this head construction from but If it's yours give yourself a shout out because it looks awesome IMO and I will be using it for my iridium armor commander.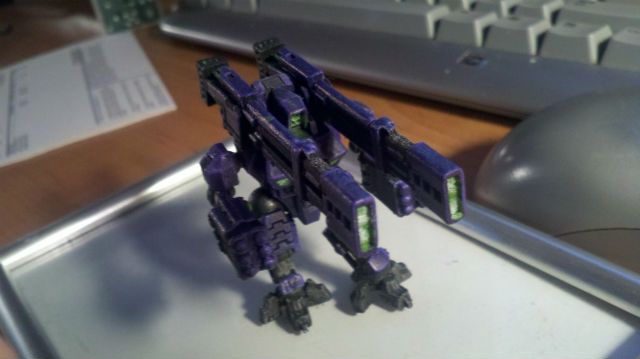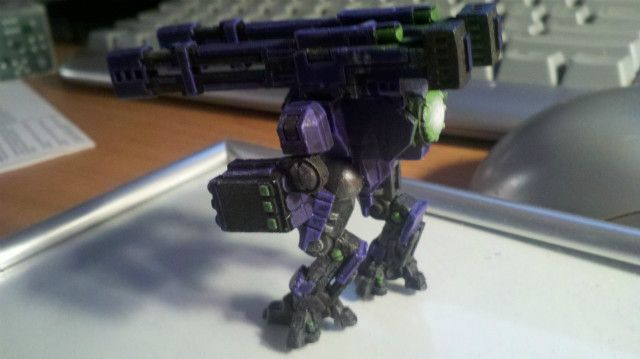 @shadow kat: Sorry this is a bit late of a response but as far as a tutorial goes with pictures I'll have to wait till I get around to painting another tank. I'm probably going to grab a Battleforce this week since I need kroot, the firewarriors to turn into pathfinders, and I'll be able to upgrade the suit to a broadside. I found a place I can buy them for 88.00 so a decent deal that and the stealths and transport are free-ish. As for a guide I can give you a text run down of what I do on the windows:
1: Solid paint your main window color onto the window make sure its a solid coat and is uniform in color.
2: Water down some white 3 water : 1 paint and gently apply to window it will sink into the corners similar to a wash but won't change anything else. This gives the semi glare effect on the edges of the window.
3: Drybrush your main window color down away from the window first in one large arc then a smaller one to make the light more diffuse as you get further away from the window
4: Dry brush white onto the window in a left to right motion this will give the window a high white saturation in the center then diffuse white away toward the edges due to the curved surface
5: Add some very light white drybrush away from the window but sticking very close to it as your just getting the first rays hitting the ship closest to the window it should still be primarily the window color you first dry brushed down
I'm not sure how it will look with your color scheme as you use the traditional yellowish ochre and I think the effect looks best on a dark color so you might need to compensate by drybrushing heavier on your original window color. Sometimes the effect looks a little chalky in this case lightly wash the window with a color close to your original widow color then apply the white corner wash over that. Hope the response wasn't too late shadow kat.