======== Part I ========
When we gaze in wonderment at the majesty of an ancient Tree, Rarely do we consider the nut in which the tree began. When we admire the strength of a mighty empire, rarely do we consider the village from which the empire sprouted. Likewise, when a hero emerges from his people, his humble beginnings are often overshadowed.
The truth is however that heroes aren't born, they are forged. No matter how lofty the figure, all had their beginnings in youth, naivety and obscurity. Farsight, shadowsun, Brightsword, even puretide, legendary figures one and all. Not one of them began their life as the legends they became. Just as all within the empire, they began their careers as saal. It is how an individual proceeds from here that forges their name.
------------------------------
A young Shas begins his military career as a capable yet unremarkable academy saal. During training he is well regarded by his crèche mates as a competent warrior, but more so as an intellectual and confidant. The young saal possesses a deep love for Tau history, a trait not uncommon for Tau hailing from the empires maiden world. His extensive study of history naturally incorporates close examination of the tau'va or the philosophy of "the greater good".
Having studied and taken to heart the words and deeds of the greatest figures throughout Tau history, the young saal earned a reputation for his ability to speak with wisdom beyond his years. This coupled with the young saal's warm disposition made him a natural choice for his crèche mates to seek advice and comfort from during their strenuous training. Unusual for a warrior, the saal was treated as somewhat of an oddity, his personality somewhere between that of a Shas and the silver tongued Por. It was for this reason that the young saal came to be known by his fairly ambiguous first title.
Vash
Upon his graduation and progression to the rank of Shas'la, Vash was transferred to the newly commissioned T'au 26th Tactical interdiction cadre (or 26th T.I.C), and placed within a fire warrior team. Though unable to distinguishing himself as a superb marksman or an outstanding fighter, the fire team's leader, Shas'Ui Dier recognised Vash's abilitily to inspire his squad mates. When faced with a difficult task or time of hardship, Vash would provide wise counsel to the members of his team, his words able to calm their fears and steel their hearts. He would often cite historical figures or events to remind those around him of past deeds of heroism and sacrifice. It would not be long before members of other fire teams within the cadre would seek the counsel of the young fire warrior.
Shas'Ui Dier encouraged a close knit attitude within his fire team, expecting each member to contribute the best of his abilities to the group. He would often gather his warriors in a circle upon the floor and hold communal debates and discussions of upcoming missions. These exchanges facilitated the free flow of ideas from all members of the team. This communal exchange of ideas suited the intellectual Vash well and he would often be one of the foremost contributors to these discussions. Shas'Ui Dier always maintained his authority as being final but input and ideas were always welcomed and valued. Dier was fascinated by the young Shas'la in his care. Vash had managed to marry the positions of an equal and a mentor together, speaking not from a position of bestowed authority but with an earned trust. This perfectly suited Shas'Ui Dier's vision of how a team should operate and the two would develop a strong friendship during their extensive debates.
Quote:
""when one branch outgrows and eclipses those around it, the tree grows lopsided and uneven. When all branches stretch out together in harmony, the tree grows tall, its trunk thick and its roots deep."
---Shas'Ui Dier to his fire team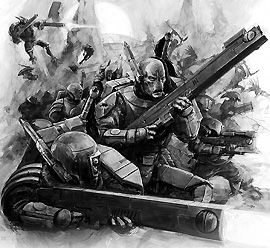 ----
Fire team Dier taking part in a large scale training operation
[1]
As well as becoming a close confidant of Shas'Ui Dier, Shas'la Vash would develop bonds with each Shas'la within the fire team. His warm personality exhumed a trustworthy quality that attracted others to him.
He would spend hours at a time discussing the cause and effects of historical events with Shas'la Cha, a fellow historical enthusiast.
He would train intensively with the team's largest and strongest member, Shas'la Cal'Nars, in an attempt to compete with his chiselled physique, a competition which brought no end of amusement to Cal'Nars.
Vash would also develop a particularly close bond with a female fire warrior, Shas'la Li'Sun'Yi. Initially Vash and Li'Sun'Yi proved problematic for the fire team, a disagreement over a missing tin of Pech'caffe sparking an unfriendly relationship. Li'Sun'Yi would prove herself to be the fire team's and possibly even the cadre's preeminent marksman while Vash would not excel in any particular area of combat. She would often chastise him as a bookworm more suited to being a Por' Liaison than a fire warrior. He in turn would portray her as brash, impetuous and short sighted.
----
Shas'la Li'Sun'Yi
[5]
Shas'Ui Dier, not tolerative of any friction between his Shas acted quickly to quell their growing distrust for each other. Instead of reprimanding or separating them however, he forced the two Shas to conduct every activity paired together. Firing drills, battle simulations, obstacle courses, aptitude tests and even seating in the mess hall, they were forcefully paired in every endeavour, the actions and scores of one directly affecting the other.
This almost brought the two Shas'la to breaking point, their distaste for one and other only growing with their forced proximity. There were several incidents in which the pair would temporarily vanish, only to eventually reappear with a number of minor injuries and unexplained bruises. Shas'Ui Dier flatly ignoring both of their furious protests continued with the exercise regardless though.
In order to maintain her immaculate firing range scores, Li'Sun'Yi would begrudgingly tutor Vash on the firing range, reluctantly sharing her technique with him. Conversely, to stop both of them being killed repeatedly during battle simulations, Vash would go to great lengths in order to have Li'Sun'Yi restrain her impatient nature. He would teach her to observe, calculate and act accordingly to the situation rather than according to her "gut" as she put it.
Quote:
"

FIRST

find your target with your eye and aim from your shoulder,

THEN

guide your shot onto the target making only fine adjustments with your scope . Your wasting both of our time chasing targets with your zoom."
---Shas'La Li'Sun'Yi to Shas'La Vash during a firing range exercise
Unsurprisingly both fire warriors began to improve drastically with the others oversight. Eventually their bickering turned to friendly jests and frustration turned to pride in the others accomplishments.
His team once more united, Shas'Ui Dier lifted his restrictions from Vash and Li'Sun'yi. Amusingly to him however, the two continued to pair together naturally, both becoming acutely displeased should someone accidently take their place next to the other in the mess hall. Their mysterious absences would continue however, albeit with far fewer resulting injuries. When questions regarding the two Shas were raised, Shas'Ui Dier could not help but to grin broadly and chuckle.
======== Part II ========
One year after being placed within the unit, Shas'la Vash and the 26th Tactical interdiction Cadre are deployed to a verdant ork held world along the north eastern region of the empire. "Groggrokk" as the greenskins had named it, had long served as a stronghold and haven for Ork raiders stabbing into tau space. The world contained six primary continents spanning a number of distinct environments from frozen polar regions to dry arid deserts. Much of the planets surface however was dominated by vast mountain ranges and warm lush forests. The planet had been deemed ideal for colonisation and its position would provide a valuable bulwark along the empires eastern rim once developed. The interloping orks would first need to be forcefully removed however….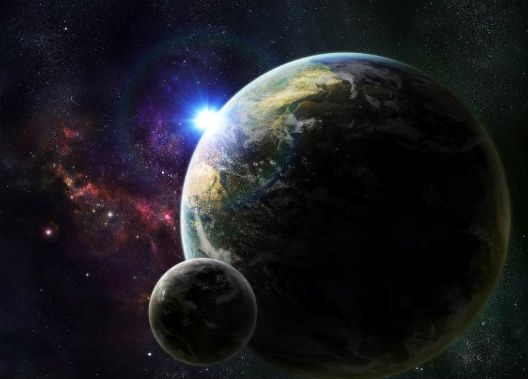 ---
"Groggrokk" and its attendant moon as seen from space"
[5]
The 26th TIC would join with forces contributed from t'au, Dal'Yth, D'Yanoi, aswell as Cadres provided by nearby Ke'lshan and Au'taal. With the application of sudden overwhelming force, it was hoped that the war could be resolved quickly, the enemy eradicated before he could retreat to mountain strongholds to wage a drawn out guerrilla war. This would allow colonisation to begin immediately.
The operation was met with initial success, the fleet successfully navigating a minefield and obliterating the ill prepared Ork ships in orbit. The Air caste proceeded to expertly hunt and destroy anti air assets across the planet's surface as an armada of orca dropships and manta carriers descended upon the planet. So successful had the air caste been in destroying the back footed Ork batteries and fighters that not a single dropship was lost during the deployment.
Quote:
"Groggrokk? Groggrokk?? Ridiculous! Sounds more like a convulsion of the stomach than a name"

"The Be'gel seem to like it well enough. Once we've finished liberating this world though, I'll be more than happy to take down suggestions for a new name"

--- Conversation overheard between Shas'La Li'Sun'Yi and Shas'Ui Dier during final descent to the planets surface

The Fire caste contingents disgorged from their transports before each cadre then diverged to their pre-designated target. Factories, strongholds and habitation centres were all destroyed before they could be properly manned and fortified by the orks. The 26th T.I.C along with several other cadres were tasked with the elimination of a massive mek workshop complex. With the aid of air caste fighters, the workshop along with several un-crewed ork stompas were taken and destroyed within the day. Shas'Ui Dier's fire team collecting a respectable tally of confirmed kills for themselves during the initial operation.
The first phase of the invasion hinged entirely on the combination of speed, aggression and surprise. With this accomplished, the second phase of the operation began in earnest. Caring little for the loss of major installations across the planet, the Ork defenders would inevitably begin to rally and the counter attack would come.
Grogrokk had been heavily infested by the greenskins. Despite the Coalition bringing with them a considerable force of their own, they were still indisputably outnumbered by the Orks on their home ground. To combat this, The high command employed an overall strategy of deception and manipulation. No battle lines, no ground to defend, no permanent bases of operation, the second phase of the invasion would rely solely on mobility and misdirection. This would leave the Orks with no stationary targets to muster and hurl themselves against. The greenskins would need to actively hunt and pursue cadres in order to engage them. The Air castes domination of the sky made any large scale pursuit of tau forces hazardous in the extreme however. The Orks only other option would be to hold within the umbrella of their remaining positions awaiting the next tau raid. Sitting and waiting for the tau to strike could leave a force idle for weeks at a time though, a notion that proved decidedly unpopular with the bestial Orks and led to no shortage of internal strife.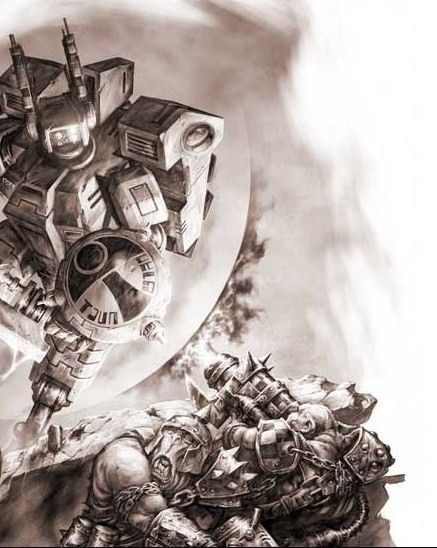 The 26th T.I.C's commander at the time, Shas'El Du'Eio'Eldi ambushes a group of Orks
[1]
Tau forces avoided the strongest positions and struck instead where the enemy was most vulnerable. Settlements which had sent the bulk of their force to chase shadows proved to be prime targets. When strikes eventually did come to defended targets, tau forces continued to remain frustratingly difficult to pin down and engage. Attacks were delivered suddenly and ferociously, causing maximum damage in as little time as possible. The raiding forces would then melt away as suddenly as they arrived before the defenders could deal a telling blow in return. Any warband attempting to pursue the attackers beyond the reach of their surviving anti-air weaponry would fall victim to merciless strafing runs by the unchallenged Air caste.
Despite devastating orbital bombardments, the annihilation of key facilities and catastrophic troop losses, it was The Tau's refusal to meet the Orks in open combat that proved most frustrating to the greenskin psyche. Desperate to get to grips with their foe, many of the more simple minded tribal chieftains abandoned all semblance of strategy and hurled themselves at any opportunity for battle. Needless to say, these tribes were wiped out quickly and efficiently. Across Groggrokk however, other more cunning chieftains adapted to the tau strategy more appropriately ……
Six months into the invasion, the initial momentum of the operation had all but ground to a halt. Plans were carefully laid out and executed by the invading tau, but the Orks remained characteristically stubborn. Those greenskins who had managed to survive this long through unusual cunning or sheer blind luck had learned to avoid moving in large groups and instead dispersed into smaller bands. This left the Air caste with frustratingly few targets of opportunity and was the beginning of the guerrilla war that the Aun had dedicated so much to avoid.
The Orks knew that if they could deny the tau their mobility then they may finally be able to get to grips with their adversaries. As such they began to focus on destroying devilfish transports and orca dropships instead of their combat escorts. Shas'la Vash and the rest of his fire team would nearly be undone by this shift in Ork tactics.
Following a hard fought raid on an Ork munitions facility while attatched to the 72nd Au'taal assault cadre, 'la Vash and the rest of the force were in the process of hastily withdrawing. While passing through an area designated ridge 61B their devilfish was ambushed by a concealed team of Ork "tankbustas". Despite groups of piranhas, hammerheads and battlesuits passing ahead of the devilfish, the tankbustas restrained themselves and waited for the heaviest elements of the armoured column to pass. When a lone devilfish skimmed over the ridge, the Orks seized their opportunity. Their rockets spiralled out from the undergrowth and slammed into the side of the devilfish, violently disabling its grav engines. As the vehicles anti-gravity field failed and dispersed, the nose of the craft dipped and dug into the earth as it skidded into a rocky outcrop.
The blast and resulting crash seriously injured Shas'La Ko'ris, Vash and Fier as well as the devilfish pilot. The battered fire team dragged the wounded free from the crippled craft and took positions around its hull. With Ork forces in pursuit from the munitions facility, the Au'taal commander was unable to turn his cadre around, instructing Shas'Ui Dier to instead continue on foot evading the Orks until they could be evacuated by an orca dropship. With three seriously injured Shas and a devilfish pilot who would likely not survive being moved, Dier refused to leave his men behind.
Quote:
"Shas'El, Route the nearest available transport to my current position. We will be
here
waiting."
--- Shas'Ui Dier
Knowing the smouldering devilfish wreckage was sure to attract the horde, Vash pleaded with his Shas'Ui to lead the rest of the team to safety. A request Shas'Ui Dier and the rest of the fire team stoically ignored. The Fire team fought a desperate defence of their wreckage as more and more Orks began to arrive. Air caste pilots covering the withdrawal of the cadre assisted the beleaguered fire warriors as best they could, but the thick tree canopy coupled with the Orks proximity to the fire team made strafing runs difficult. A pair of Tiger shark aircraft did however manage to deploy a wing of gun drones to harass the Orks around the fire team, buying the fire warriors precious time.
---

Fire team Dier fights to hold back the Greenskins

[4]

The Situation turned gravely worse as troop laden Ork vehicles began to arrive. Suppresive fire from mounted machine guns on the transports made it difficult for the stranded Tau to return fire. A bullet punched through Shas'La Cal'Nars armour below his right shoulder as the last of the gun drones struggled to hinder the advancing Orks.
As the last gun drone crashed to the ground spraying sparks from its deep gashes, the fire team prepared to make its final stand. The Orks roared and began to bound across the open ground towards the devilfish wreckage under a howling gale of machinegun rounds from their junk vehicles. The Orks mere Seconds from impacting with the battered fire team, distant whistling sounds eclipsed even the noisy rattle of the mounted machine guns. The noise closed with incredible speed and a moment later several of the Orkish vehicles exploded in fiery conflagrations as if struck by devastating lightning bolts. The Orks stopped in their tracks and stared slack jawed and flat footed. They froze not out of fear or shock but with simple bestial fascination as another set of distant whistles approached. For a moment the fire team also stood dumbfounded and idle until a familiar voice over short range transmission snapped Shas'Ui Dier back to the battlefield.
Quote:
"Markerlights active, Targets acquired. May I suggest you open fire Shas'Ui Dier?"
--Shas'Ui Ar'raik
The familiar voice refocused Dier back to the task at hand. He rallied his Shas'la and the the fire team sprung back to life, mercilessly gunning down the Orks caught in the open. The timely arrival of Shas'Ui T'au Ar'raik and his pathfinder team gave Shas'Ui Dier the resources he needed to change the course of the battle. An old friend of Dier's, Ar'raik had overheard the fire teams distress call. Disregarding orders, he and his pathfinders halted their withdrawal and turned back.
Utilising the Ar'raik's markerlights, Shas'Ui Dier requisitioned every available seeker missile from the fleeing Au'taal vehicles to supress the surrounding orks. Seizing his chance, Ar'raik ordered the pathfinders attached devilfish to swoop in and extract the stranded fire warriors. Utilising their field craft the pathfinders would extract on foot while the compromised fire time was swiftly ferried back to friendly forces.
Quote:
"Aaah, truly there is no sweeter song than the chorus of an inbound seeker missile. The growing roar of the engine, the harrowing sirens call as the casing whistles through the air. All culminating in the explosive crescendo of impact. The enemy think themselves impervious inside their armoured shells? Little do they know, soon they too will hear my symphony….."

---Shas'Ui Ar'raik
Incredibly the entire team including the devilfish pilot managed to escape the ordeal with their lives. The teams bonds with each other and dogged refusal to abandon their friends shepherded them through the battle and returned each member safetly. This experience would prove to be a profound lesson for the young Vash. It would serve to engrain within him what a group could accomplish with true bonds fraternity and kinship to one and other aswell as the acts of courage performed by separate elements with a sense of brotherhood between them.
Two weeks after the ambush on Ridge 61B when all members had recovered sufficiently, Fire team Dier elected to undertake the ritual of the Ta'lissera swearing bonds of fealty to one and other. The ceremony was conducted by Shas'Ui Dier himself and presided over by Aun'Ui Au'res Seech of the ethereal caste.
Quote:
"With this blade you give of your blood, With this ceremony you give of much more. You give of your very essence. Today you transcend your individuality to something higher. Each of you has been deemed worthy by your kin to carry with you a part of themselves. You now shoulder the weight of many, yet your burdens are shouldered by many in turn. You are joined in blood, Joined in cause, joined in the Greater Good."
--- Aun'Ui Au'res Seech During the Ta'lissera of Fire team Dier.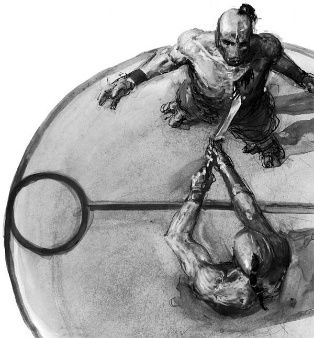 ---
Shas'Ui Dier ritually scarring Shas'La Vash during the Ta'lissera
[1]
Fire team Dier and the rest of the 26th T.I.C would continue to serve on Grogrokk (now renamed Tal'Scea) for a further 7 months. In this time the greenskin threat would greatly diminish as the final Ork chieftains were assassinated by stealth teams and the last Ork strongholds were overwhelmed. After this, the majority of the cadres present during the initial invasion would be withdrawn and re-tasked.
The Orks by their nature would prove all but impossible to eradicate entirely however, small groups persisting in remote isolated pockets. With the Greenskin's capability to offer resistance crushed and their threat contained within acceptable parameters though, the Aun declared the commencement of Tal'Scea's colonization.
Massive resources were dedicated to jump starting the colonies of Tal'Scea. Almost immediately, dozens of Colonist ships laden with Earth caste engineers and pre-fabricated structures of every description began arriving. An Air caste fleet would remain in orbit to safeguard the flow of resources and ferry them in and out of orbit. An army of water caste administrators would arrive to co-ordinate the flow of assets and organise the worlds development. A Standing fire caste force would also remain on world to provide security and Pursue the worlds remaining Orks. All of this would be overseen by an elected council of experienced Ethereals.
Kroot auxiliary troops attached to the fire caste would prove especially effective at hunting down Ork remmnants. Their natural field craft skills allowed them to track the greenskins through Tal'scea's dense woods and inhospitable mountain ranges. Recognising the value of the kroot on Tal'scea, the ethereal council set aside large sections of land with additional incentives to encourage the establishment of Kroot communities. The incentives proved successful with a number of kroot kindred clans choosing to settle on Tal'scea.
In the years after the liberation of Tal'scea, The fledgling colony would enjoy explosive growth thanks in no small part to the massive investment of resources contributed by the empire. Thanks to the efforts of a professional and dedicated Earth caste, The expansion of cities and infrastructure would often outstrip the rate at which new colonists could be brought in to inhabit them. The combined efforts of the fire caste and the Kroot kindred clans ensured that the colonisation could proceed unmolested.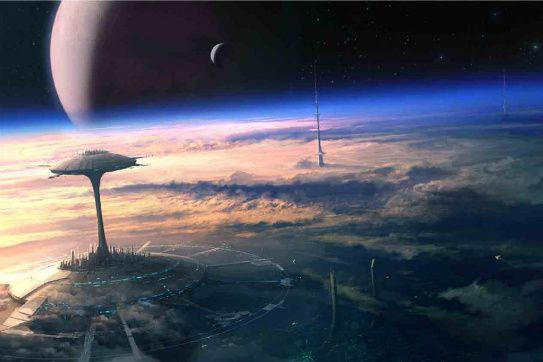 ---
Tal'Scea as it is seen today. The planets primary space port of Vash'aun'an rises high above the planets surface
(Image produced and owned by artist Gary Tonge Click here for his home page)
[3]
The constant persecution of the Orks forced them to revert to a lower form of technology in order to survive, their numbers dwindled and their movements being largely limited to undeveloped parts of the planet. Kroot communities would also flourish in the wilds of Tal'Scea however and the hunting of Ork's would become intrinsic to their culture. When a carnivore would come of age, he would tasked to track, stalk and kill an Ork in single combat in order to prove his worth and join the kindred. Annual competitions would also be held between the Kroot tribes to kill the largest and greatest number of Greenskin's. These competitions would be presided over by the Ethereals and great honour would be visited upon the victorious tribe. This constant routine of merciless culling would keep the Ork populace in check and ensure they would not be able to recover as a major threat.
While Tal'Scea bloomed into a productive and valuable world of the empire, The 26th T.I.C would never have the opportunity to witness the fruits of their hard fought victory. Their task here complete, the 26th would be needed on another hellish battlefield upon another distant planet.
Quote:
"Hey, what happened to you taking down suggestions for the planets new name at the end of the campaign Dier???"

"Well I had suggested to Aun'Va in passing that we name the planet Li'Sun'Yi in your honour Shas'la, but he somehow settled on the name Tal'Scea instead. I'll be sure to lodge a formal complaint for you when we return to the carrier"

"……"

--- Conversation overheard between Shas'La Li'Sun'Yi and Shas'Ui Dier during departure from the Surface of Tal'Scea
======== Part III ========
With the fighting on Tal'scea contained, The T'au 26th tactical interdiction cadre would be rotated off the planet and deployed to new conflict zones. In the two years following Tal'scea the 26th T.I.C would be deployed across a number of theatres against a variety of foes. They would spend time hunting Faressian pirate bands across the east of the empire, battle against the remnants of a Tyranid splinter on the desert world Haik and participate in the annexation of human colonies on the frozen world of Sarroth.
This final campaign would be particularly hard on the 26th T.I.C. When the final settlements on Sarroth surrendered, The Cadre would be rotated off the planet in order to re-organise and replace casualties before their next deployment. While in transit from Sarroth the 26th would intercept a distress call from the planetoid of Embras near the edge of the Perdus rift. The planet held a number of small settlements dedicated to research but the planets lower than average gravity also made it a suitable place for Air caste crews to live and work. The world acted primarily as a way station for ships proceeding towards and away from the Perdus rift anomaly.
The planet reported that it had been experiencing uncharacteristically violent lightning storms for some time now. The physically frail Kor were having difficultly dealing with the events and requested assistance with the relief effort. Relaying this information to the Shas'Ar'Tol, It was decided that the 26th would assist with the relief effort on Embras while they awaited a rendezvous with their reinforcements.
---
The planet of Embras boasts a high level of volcanic activity with vast free flowing rivers of magma both on and beneath the surface.
[5]
The fierce lightning storms on the world made landing hazardous even for large craft and all but grounded small atmospheric craft. The 26th arrived Within the planets main dockyard where they found many of the facilities electrical systems non-functional. Even essential systems such as food and water had been compromised. The Cadre dispersed to assist the colony as best it could. Most were tasked with assisting the few available Fio engineers by performing menial tasks such as clearing debris while others ferried supplies back and forth between colonies and outposts. Shas'El Du'Eio'Eldi would task Fire team Dier with assisting a small research station near one of the planets active magma rivers.
Research station 3F reported they were being harassed by a species of magma dwelling reptile native to the planet. The creatures were not particularly dangerous but the incessant lightning storms had apparently aggravated them. The research station had weapons with which to defend itself and wasn't in immediate danger but with communications failing across the planet, it was decided to ere on the side of caution and dispatch a team of Shas to watch over the isolated station. With the intensifying electrical storms making Sub orbital flight hazardous, the fire team boarded a devilfish and set off into the lightning wracked night.
The storms reached a climax during the night with massive bolts of energy stretching down from the atmosphere and stabbing violently into the earth in a dazzling show of multispectral light while furious winds whipped up great clouds of ash and ripped apart buildings. Communications across the planet failed entirely as the colonists struggled to weather the ferocity of the storm.
When morning finally crept over the dockyards, a solitary Shas'la stumbled over the distant horizon, his armour sundered and his fatigues torn. A deep three clawed gash stretched across his helmet while his chestplate was blackened by what appeared to be pulse fire impacts. Once picked up by perimeter sentries, the bloodied and disoriented Shas'La insisted on being taken immediately to Shas'El Du'Eio'Eldi. When questioned as to his identity or the location of the rest of his team by the sentries, the warrior would repeat only that his name was Shas'La T'au Vash and insist again on being taken immediately to the Shas'El.
Upon reaching the settlements command bunker, the sentries escorted Vash inside to a waiting Shas'El Du'Eio'Eldi to be debriefed. A mere two hours after the arrival of the solitary Shas, an immediate order to dispatch Air caste craft to obliterate research station 3F from orbit was given. All non-essential personnel would be expelled from the bunker and for a full two weeks Shas'La T'au Vash would remain locked inside. A number of Ethereals would also quietly arrive on world and take up residence within the bunker. It was also noted that during this time the anomalous lightning storms subsided entirely.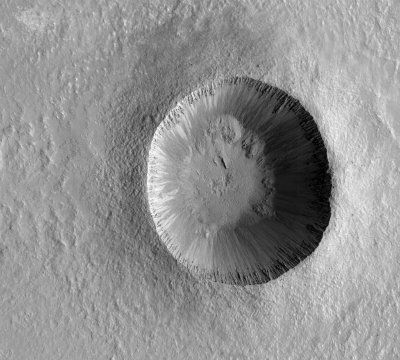 ---
No trace of Shas'Ui Dier, Shas'La Li'Sun'Yi, Shas'La Cal'Nars or any other member of fire team Dier would ever be recovered. Nothing now exists at the site of Research station 3F besides a massive perfectly formed crater.
Quote:
to be totally helpless..... To feel as an insect being shaken inside a jar by a sadistic child.
+++ subject becomes alert and begins to address the gathered council directly +++
It toyed with us, it took pleasure in our fear. It could have ground us to pulp on its mere whim yet it chose instead something far crueller. I cant comprehend what happened... I cant accept what happened....
+++ subject becomes noticibly aggravated +++
everything was wrong! nothing made sense! and then the blood.... I still feel it on me, It still stains my hands.....

---excerpt from debriefing of Shas'La T'au Vash
When Vash finally did emerge from the command bunker he would be a much different Shas to the one the rest of the cadre had known. When questioned by the other Shas as to the fate of Shas'Ui Dier and the rest of his fire Team, Vash would stare blankly and refuse to comment. To this day beyond his initial debriefing within the command bunker, Vash has never again spoken of what transpired that night. The events at research station 3F remain a mystery to all but those privy to the original debriefing. The missing members of fire team Dier remain publicly listed as killed in action with no further explanation or details given.
Being eligible to take his first trial by fire before the incident, it was decided during his interment that Vash would be advanced to the rank of Ui for his actions. The warm hearted Shas'la capable of such evocative speech was instead replaced by a cold and distant Shas'Ui. Vash would become a bitter recluse and avoid contact with others if at all possible. He socialised with no one, consumed all of his meals in solitude and gave only the very bare minimum of an answer when asked a question by another.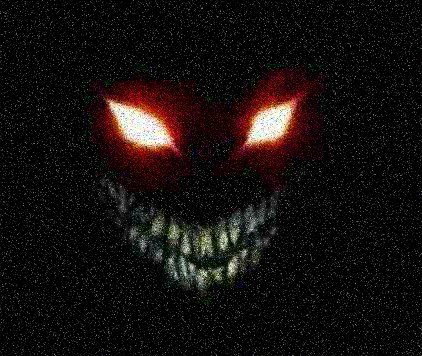 ---
+++ CLASSIFIED +++
The final image recorded by Shas'La T'au Vash's damaged helmet.
[7]
Even after departing Embras, all attempts to reach Shas'Ui Vash failed. Seemingly consumed by his grief at the loss of his bond mates, Shas'Ui Vash flatly refused to be placed within another fire team. Upon the completion of his battlesuit training he also refused to be placed within an XV-8 team opting instead to follow the hazardous path of the monat.
With a degree of sadness, other members of the T'au 26th who had known Vash as a Shas'La took to calling him Bap'rra or "lost shadow". They recognised the deep sorrow within their friend and saw that he had become a mere echo of his former self. They hoped that one day he would accept their attempts to reach out to him but for now he would be known as Shas'Ui T'au Vash Bap'rra
========= Part IV ========
Combat
Shas'Ui Vash would become utterly consumed by it. Where the Shas'La had failed to distinguish himself, The Shas'Ui strived to excel. It mattered little why or to whom he brought death, he cared only that he was given the tools with which to carry out their sentence.
When the 26th Tactical Interdiction Cadre was assigned to the fledgling world of Taish'Ro in order to safeguard colonists and quell the growing Ork population, Vash would maintain his stubborn refusal to take his place within a team. Rather than re-integrate into the cadre after the loss of his team, it appeared as if Vash was doing all he could to stand apart from them.
---The majority of fighting on Taish'Ro took place on the foothills surrounding the larger Ork held mountains
[8]
Upon their arrival on Taish'Ro, Vash would force his way into the Fio workshop and demand that his battlesuit be repainted in a Jet black. Unwilling to argue with the grim "lost shadow" The Fio'La begrudgingly obliged. Some within the cadre had speculated that Taish'Ro harkened too closely to Tal'Scea, the place where Vash was bonded with his team. Others believed that whatever had transpired on Embras had simply shattered his spirit and he was slowly losing his grip on sanity. Whatever the reason though, Vash's Isolation would only worsen as time progressed.
Vash's battlesuit would become instantly recognizable to friend and foe alike. It would likely provide similar feelings of dread to both sides albeit for very different reasons. Beyond the non-standard black armour panels, Vash would spend hours hand painting a complex series of patterns derived from war paint of the ancient fire caste. Symbols for loss, grief and emptiness featured prominently alongside vengeance, death and fury. With his bonding knife lost alongside his Shas'Ui, Vash also painted a number of crimson red panels onto his suit. It was secretly rumoured amongst members of his cadre that the pigment for this paint was mixed with his own blood.
Vash would make it a point to spend as little time as possible within the settlements. During mandatory breaks from active duty, Vash would continue to exist in solitude though. It was noticed by those formerly close to him that he had completely abandoned his meditation and now spent the entirety of his down time preparing for his next engagement. Combat simulations, fitness routines battlesuit modifications. Every waking moment was dedicated to the advancement of martial prowess to the detriment of all else. His social interactions consisted solely of gruff demands for parts to the attendant Fio'Ui. Most within the cadre quickly learned to leave "the lost shadow" a wide berth, lest they fall under his crushing gaze. A newly transferred Shas'La learned this the hard way when he dared to question Shas'Ui Vash's attitude. The resulting confrontation left the Shas'La unconscious for a full two days.
Shas'El Du'Eio'Eldi likely would not have tolerated Vash's behaviour had it not been for the wild success of his operations. On his own insistence, Vash would be deployed alone and unsupported within the Orks Vast mountain strongholds. Taking with him a number of Fio'Vesa drones to rearm and refit his battlesuit, Vash was able to operate unsupported within the heart of the enemy for weeks at a time. By night the lone battlesuit could traverse the vast length of the mountain ranges quickly and quietly choosing where to launch devastating strikes before fading back into the darkness. By day, Vash would return to his hidden stash of Fio'Vesa drones within one of the mountains countless caverns. With his battlesuit refuelled and resupplied, The lost shadow would strike out again under the cover of darkness.
Eventually after days or even weeks without communication, Shas'Ui Vash would arrive unannounced at an outpost with his food, water and ammunition stores exhausted. Saying little of his mission, the extent of Shas'Ui Vash's exploits would only be revealed while examining the mission logs of his battlesuit. Dizzying kill counts, dozens of destroyed installations and the elimination of notable targets would all be revealed by the suits A.I. logs and vid recordings.
---Outpost 42 (pictured above) serves as the only point of Tau presence within the "Irontoof" mountains
[5]
Other battlesuit pilots wanting to share in the success of his missions would routinely petition Vash to accompany him. Even when Shas'El Du'Eio'Eldi formally ordered he take with him a team so that they might learn from his unique actions, Vash still blatantly refused. Rather than take disciplinary action, Du'Eio'Eldi saw past his mask and took pity on Vash. Within him she watched a wounded beast striking out in all directions to protect itself. She would take a keen personal interest in his plight, but for now atleast she would allow him to continue his solitary operations.
Quote:
You serve in your way Shas'El and I shall serve in mine. I serve the greater good by bringing ruin to its enemies. Point me to your enemies and I
alone
will deliver unto them a deserved death or they will deliver it unto me, No one shall perish at my side though.
---Shas'Ui T'au Vash Bap'Rra to Shas'El Du'Eio'Eldi
Vash would remain amongst the settlements only long enough for him to repaint sections of war paint lost to superficial damage with a new unique pattern. In this way the markings of his armour would evolve after each operation. When he left to return to his hunting grounds though, one thing was assured. In the night, the mountains would burn.
As the months passed, word of the lunatic Shas fighting alone within the heart of the enemy spread throughout the colonies and its defenders. Aerial surveillance images of ruined Ork camps in the uncontested mountains began to surface as well as recordings taken by stealth suit teams of a mysterious black tattooed battlesuit ambushing entire war bands on its own. Even the Orks began to take notice of the specific threat. They ineloquently took to calling him "Da Blakk Squiggly Wun" and many amongst their ranks superstitiously grumbled that he was infact a vengeful spirit sent to punish them by Gork or Mork. The Tau of Taish'Ro would however take to calling him Cova'Upt or "Shatter Mountain".
---Screen grab from Shas'Ui Vash's onboard vid log just before the destruction of Be'gel camp #43J
[5]
Despite the growing renown of his deeds and skill as a battlesuit pilot, Vash still chose to remain detached from his kin. He would never claim his fame and the identity of Cova'Upt would remain a mystery to most outside of the 26th Tactical interdiction cadre. To those within the cadre though, he was Shas'Ui T'au Vash Bap'Rra Cova'Upt.
In the meantime Vash would continue his personal war not seeking glory or acknowledgement for his deeds. Things would drastically change with the arrival of an old friend of Shas'El Du'Eio'Eldi's though….