Nothing like a new Codex to bring the lurkers out of the woodwork...
Despite - and possibly because of? - a house move and a crippling number of weddings to attend, I found the time to turn Shas'la Longstrike into a Cadre Fireblade. Promotion! The stock Fireblade doesn't really excite me and I have a plan for my Cadre's Hammerhead captain.
The conversion was really straightforward, mixing in components from the Pathfinders kit to make the infantry Longstrike work. This is my first Finecast piece and I'm impressed how much easier it was to work with than the old metal minis were.
Since Longstrike is pretty askew in a leaning pose I decided to let him remain in a commanding pose rather than equipping him with guns in hand. The left arm has been slightly lowered and the left leg snipped off to rotate at the hip after being dunked in hot water and squeezed at the knee and ankle to produce the 'stepping' off the slate base. Being able to make these little changes
without
clipping it at each joint is a real joy for such a simple conversion.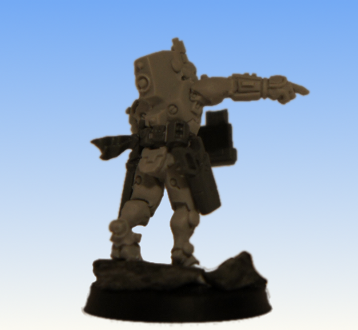 For now the utility belt is a little stacked. I won't be able to get hold of a pulse rifle for a few weeks. When I do I suspect it will be added a samurai style banner up the back of the armour along with a Pathfinder markerlight piece and possibly the carbine underslung photon grenade launcher.
I'm looking forward to painting him when time allows. It's not the most creative use of the kit but I think it does a good job of conveying a leader calling out a warning or target, relying on the strength of those around them rather than their own Might Powers
TM
.
N.B. I only found the excellent photography notes as I uploaded the images above. Next time I take a set I'll have a play with the suggested settings.